Ultraman is Ready for Battle with New Figure from Threezero
Ultraman has arrived with a new figure from Threezero. The figure itself is about 11.5 inches tall and features over 35 points of articulation. The design of the figure is mainly based off of the recent anime version that has recently come out and I believe you can watch it on Netflix right now. Ultraman is made up of a fusion of a plastic and diecast materials. The figure will require a total of 6 batteries and will have the ability to light up his chest in his eyes. He does include a couple of interchangeable pieces from some interchangeable hands to swappable armor. Ultraman does come with a nice variety of weapon accessories too. You do get in Arm Cannon and Vertical Guillotine power effect with him also. The team behind this figure really put some nice effort into it especially with all of the armor design pieces. I would like the fact that it lights up it has a dynamic feel to the character and makes it feel more than just a toy. Fans of the original Ultraman series or fans of the Ultraman anime should look forward to getting this figure in their hands and adding it to their collection today.
The Ultraman 1/6 Scale Ace Suit (Anime Version) Figure from Threezero will be priced at $129. No specific date has set for a release besides the notion that it will come out in the second quarter of 2020. Pre-orders for this figure are already live and you can find them here.
Prepare for battle below: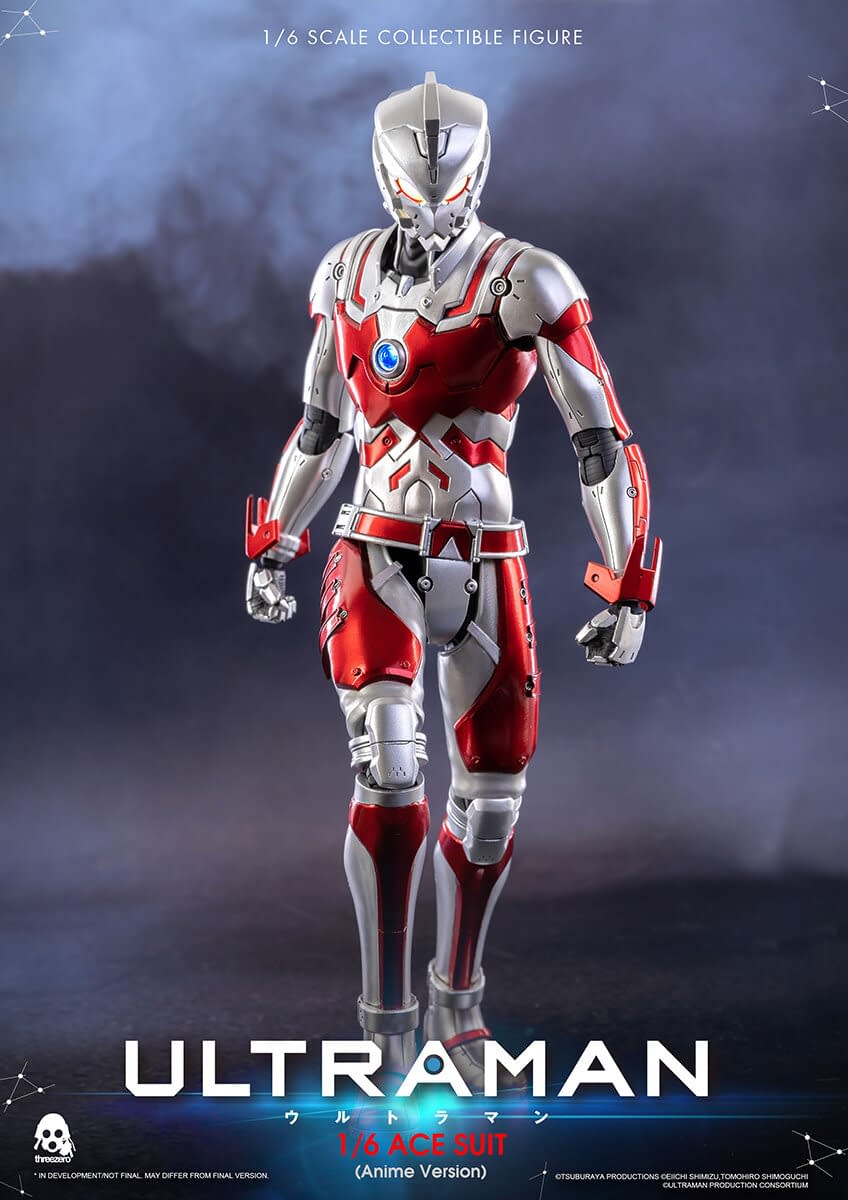 Ultraman 1/6 Scale Ace Suit (Anime Version)
Product Specifications:
1/6th scale, approximately 29cm tall
Materials: PVC, ABS, die-cast zinc alloy, metal parts
Original body with over 35 points of articulation
Exquisitely detailed suit decals & paint application
LED Light-up features in the Color Timer on chest and in the eyes
Accessories:

Interchangeable right forearm cannon
Interchangeable forearm covers for both arms (closed and opened modes)
1 pair of extended wrist parts
Vertical Guillotine effect parts with extended wrist parts attached
4 pairs of exchangeable hands (1 pair relaxed, 1 pair of fists, 1 pair opened, 1 pair for Vertical Guillotine pose)
Interchangeable back-thruster covers (closed and opened modes)