Class is in Session with Umbrella Academy Funko Pops Part 1 [Review]
The Umbrella Academy was a hit last year as the Dark Horse Comics series became a live-action show on Netflix. After a long wait, we finally got to see the first wave of The Umbrella Academy Funko Pop figures hit stores. It seems like its been quite some time since the show has ended before we were able to get our hands on these. The most surprising thing is that this took so long to come out to the collectors. You would think they would want to expedite collectibles like this during the time the show is popular. We can't control that though, and I am just glad we have collectibles for this kick-ass show in the first place. I can't wait to dive in.
If you don't know the story it is about seven kids bought by a billionaire who have superpowers and become a fighting force. The Netflix show takes place years after and that's when the drama ensues. There were 13 Funko Pops in total this release with two Chases and one of them has an exclusive glow-in-the-dark version going to Hot Topic. The packaging for each Umbrella Academy character is the same as every other Funko Pop box, but the design on the side is pretty unique. Not only is there a corresponding number located on the side, but there is a quote on the back flat for each character.
This review is split into three parts this is Part 1 where will cover Luther, Diego, and Allison. We have already covered Number 7 a.ka. Vanya who also got a special Funko Pop Chase variant and you can find that review located here.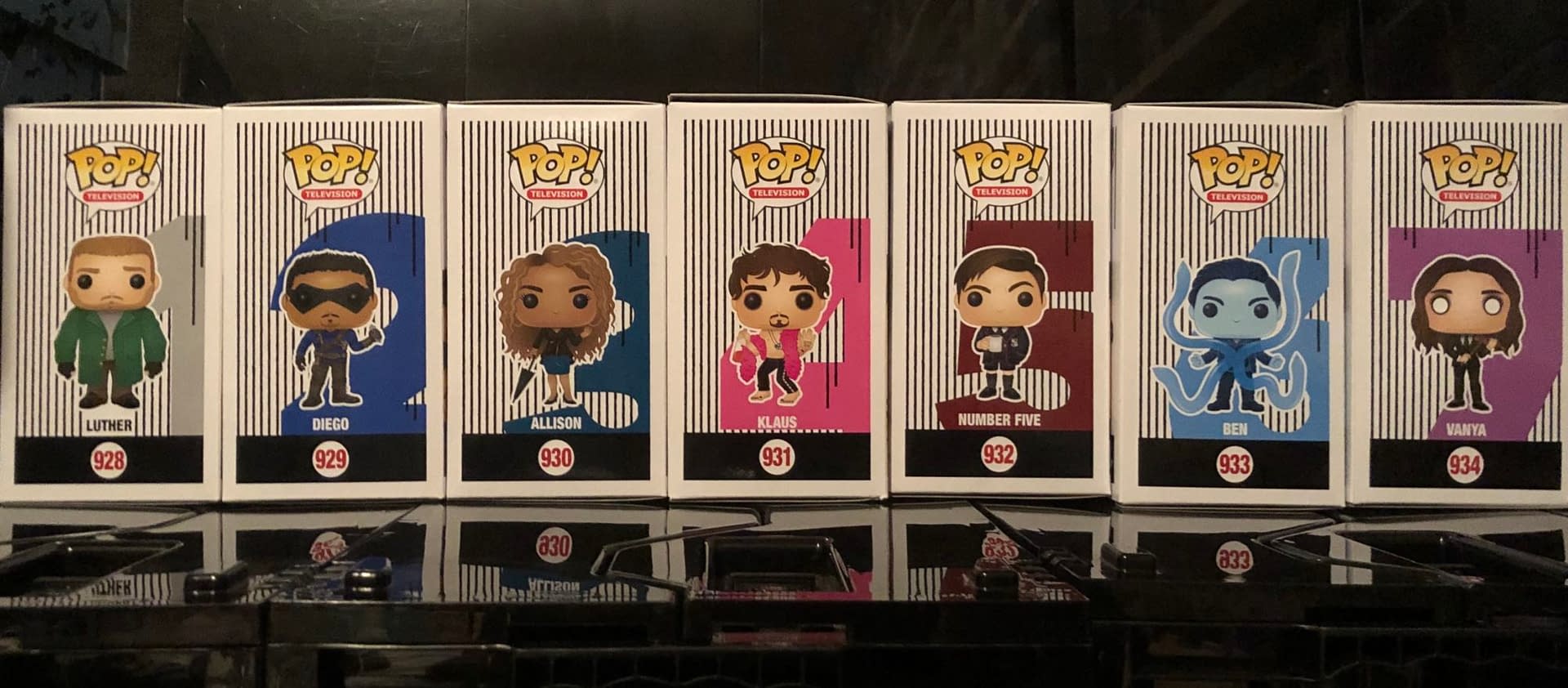 The first character we are taking a look at is Number 1 a.k.a. Luther. The packaging shows a gray number 1 on the side of his box and the quote "Only my father calls me Number One" placed on the back lip.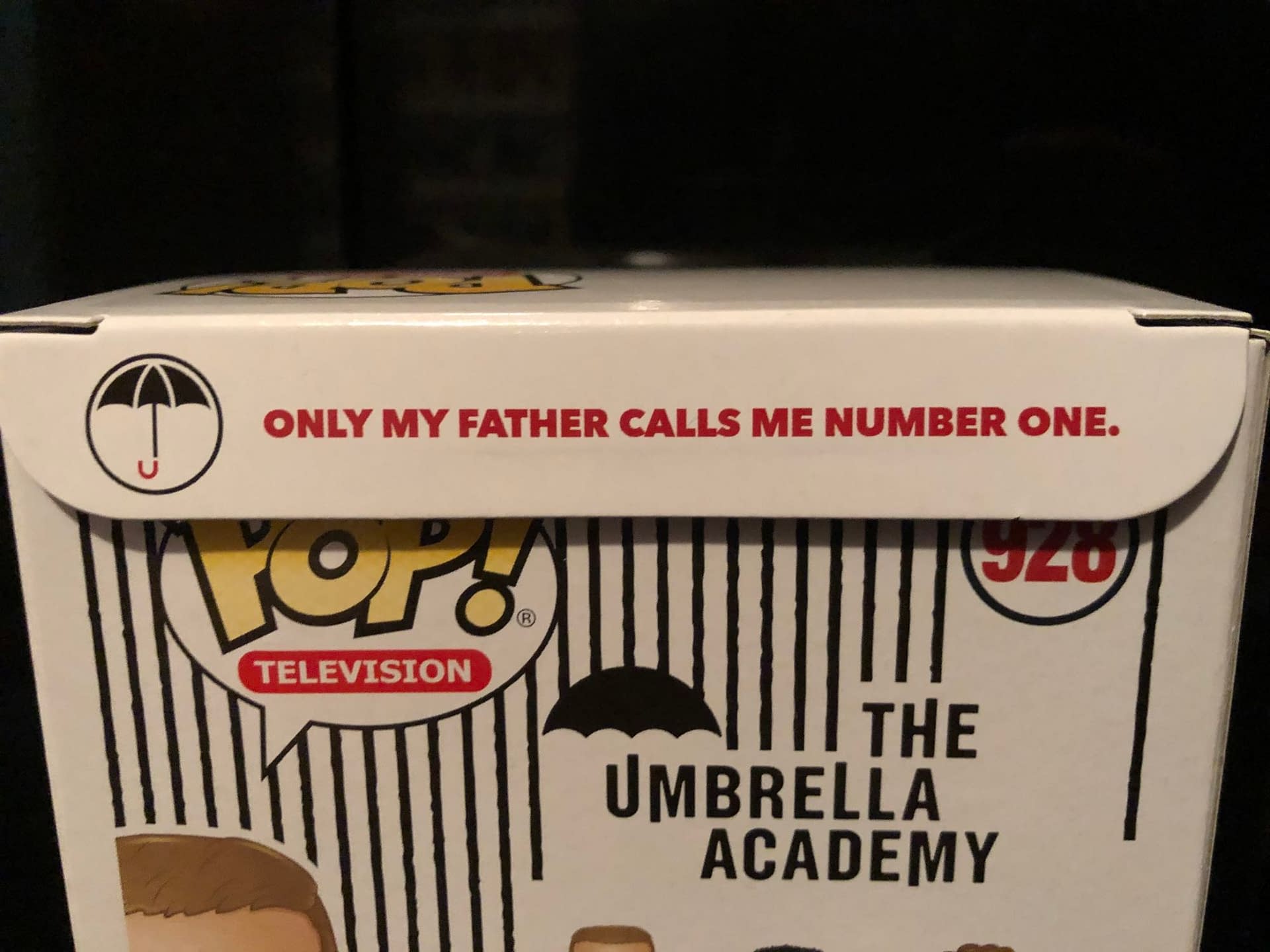 Luther is a pretty simple figure and he is pretty bulky. However, it is perfect because it looks just like the character from the show. His design is fairly basic showing him in his green trenchcoat that has some small details on it. I am curious if we will see a monkey armed version of his come out later on.
Next up we have The Umbrella Academy's Number 2 a.k.a. Diego. His box is just like the rest and is pretty simple with a big blue number two on the side. Under the top flap of his box, we get the quote "You were right. Life's too short."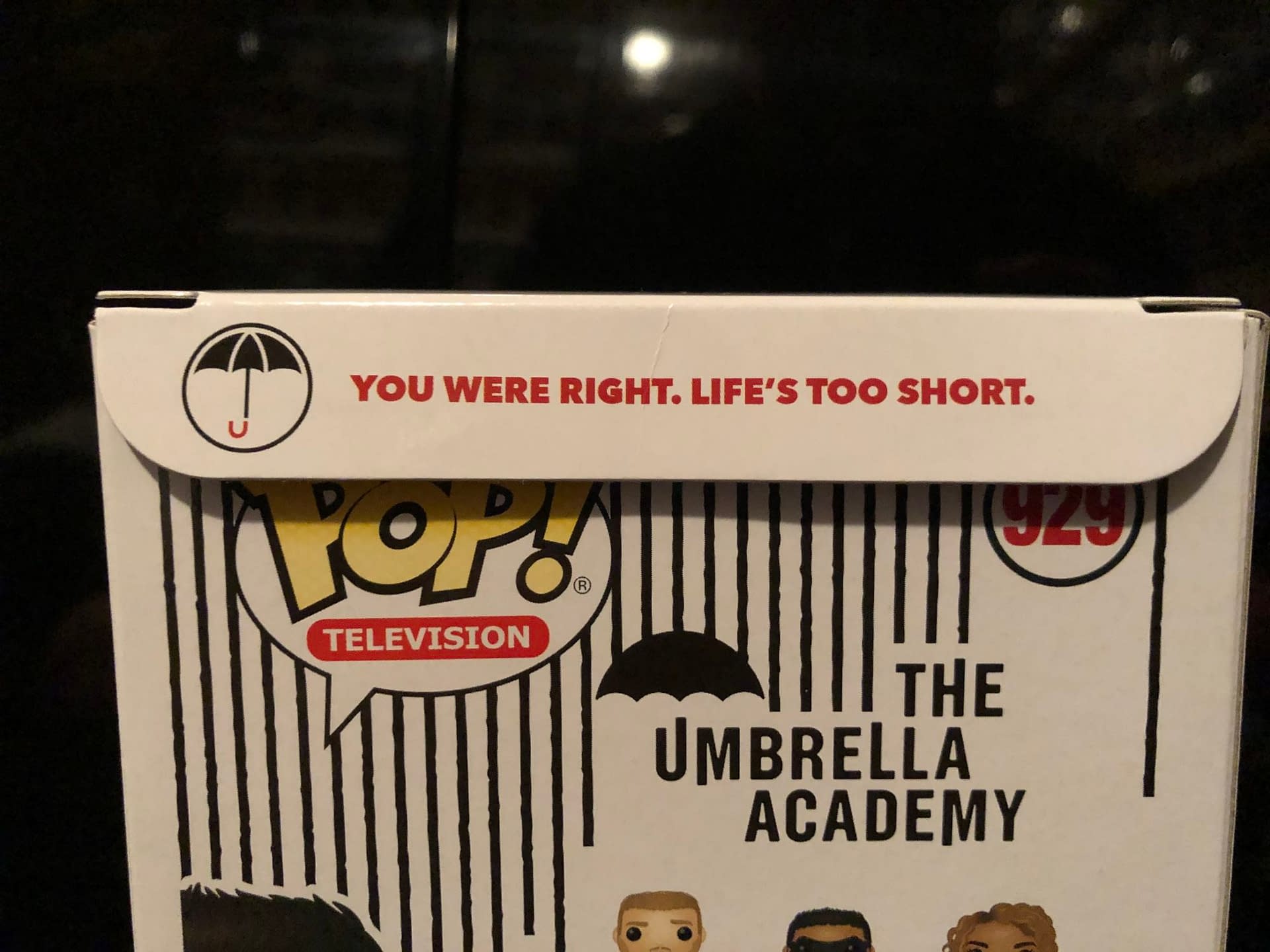 The characters pretty well designed showing the older aged and crimefighting Diego who is wearing his mask, body armor, and tactical boots. Funko did give him his throwing knife which is his weapon of choice as seen in The Umbrella Academy. I do like how the Funko team has added different shades for facial hair and that right there is definitely a new level for any Funko Pop figure.
Our last character will be covering in this review is Number 3 a.k.a. Allison. Her packaging, like the rest, features a lighter blue number three on the side with the quote, "I heard a rumor." on the back. This is making reference to her superpower as she has the power of persuasion.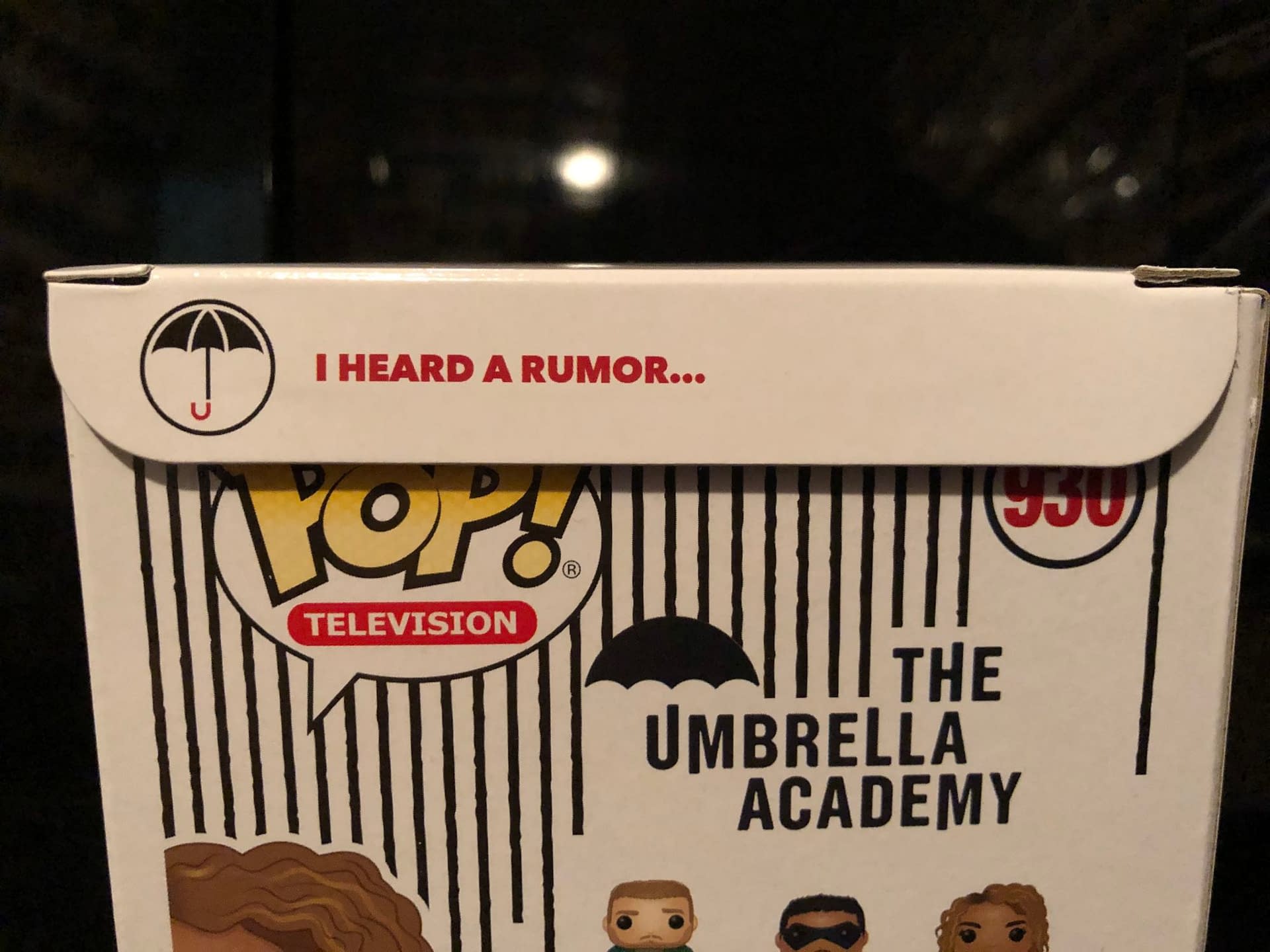 Her character is pretty well designed too from the waves of her hair to her leather jacket. I love the different dimensions that Funko added to the color of her hair. Her umbrella was slightly crooked when I opened the figure, but that's an easy fix by bending it back to place. She does come with a display stand so she doesn't fall over, which gives here a balance to counter the weight. Her jacket is very well detailed as you can see the buttons from the zipper; to a necklace that she wears.
The Umbrella Academy Funko Pop's are very well-designed and perfectly detailed. It's the little things that really count and Funko gets it right in this set of figures. Funko is currently the only company to give us collectibles for the Umbrella Academy. They are cheap and simple and are a must-have for any fan of the show. All of them are still available online and you can find them located here. Or you can test your luck at any retailer that sells Funko Pops like Hot Topic or GameStop. I am sure we will see more of the Umbrella Academy Funko Pops come out once a Season two hits. It wouldn't be a bad idea to lock yours down before it's too late and they all go up in value when the second season hits Netflix in 2020.
Stay tuned for Part 2 of this ongoing Umbrella Academy Funko Pop review where we will cover Klaus, Number Five, and Ben.