DC Bombshells Hollywood Rides die cast vehicles and figures are now available, and this week we are going to take a look at five of them, one each day. Hollywood Rides are maybe Jada Toys most popular line of collectibles, as they take iconic vehicles and characters and recreate them in great detail to add to our shelves in our collections. The cars are some of the best on the market, and these are no different. The DC Bombshells Hollywood Rides all comes with figures of the respective characters, and their Rides are based on actual cars. Jada Toys was nice enough to send these over for us to show you, so let's take a look.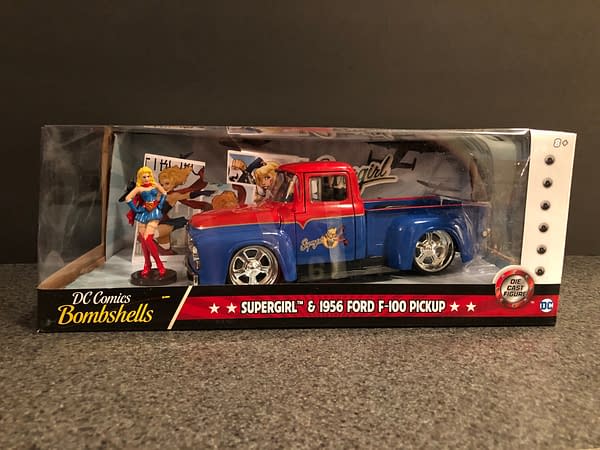 Just like the others we are taking a look at, the packaging is brilliant on these. I am a sucker for a giant window box, I wanna see my toys. That they added all of the little DC Bombshells touches are icing on the cake. I do wish they had reinforced the right side a bit more, as all of my cars were damaged on that side in shipping. Other than that, great stuff.
The Supergirl figure features the same amount of detail as the Wonder Woman did, only a little more vibrant. I love the blues and reds together, it is just iconic. They once again did an admirable job on the face as well, and the little gold "S" looks great.
The car itself this time is modeled after a 1956 Ford F-100 pickup truck. Like the Wonder Woman truck, it features some moving part, including a lifting hood, opening doors, and a truck gate that opens. My truck's hood did not lift for some reason, it looks like there is a bent piece or something under the hood it keeps getting caught on. The other working parts all were fine. It rolls well, so keep that in mind when placing it on display. Other than that, I wish it has the cool paint job the other car so far had. It feels a bit muted compared to the WW truck. Not a bad thing, just a personal preference, I wanna see that ride shine as much as possible. It is a little stocky, but that just speaks to how accurate the car is.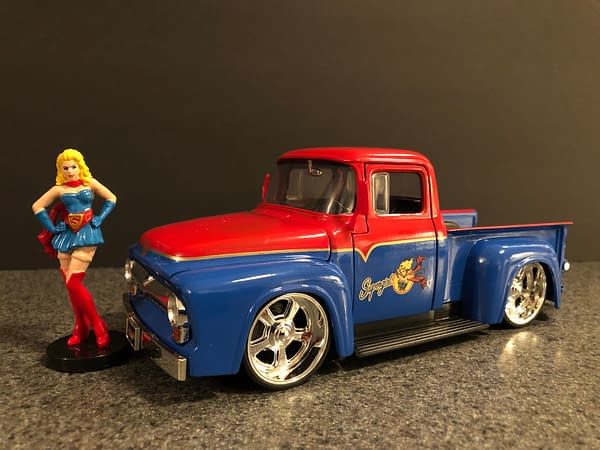 This one is my least favorite of the ones we will be taking a look at this week. That is not to say that it is bad by any stretch, with the figure posed next to the car, it displays incredibly well. I wish my hood wasn't stuck and the paint had been glossier, but paint is nitpicky. At $24.99, these Hollywood Rides are a great deal and make for awesome additions to displays of al kinds. You can place an order for one yourself right here.
Enjoyed this article? Share it!