3 Pages From Batman #77 and 1 From Black Mask: Year of the Villain [Preview]
Batman #77 will be in stores next week from DC Comics, by the creative team of Tom King, Michel Janin, and Tony S. Daniel, and that means that over the next few days, it will likely show up as an EX-X-XCLUSIVE preview on a compliant DC media partner website, part of the quid pro quo relationship between the comic book media and the publishers they cover that drives the click economy of the comics news business.
But we've got one first. At first, we were beginning to worry, as our Mysterious Benefactor had yet to send us any pages from next week's DC Comics ahead of their media partner preview releases, but then, our dog started barking and we heard a rustling on our porch. We opened the door to find these 3 pages from Batman #77 in a neat bundle, along with 1 page from Black Mask: Year of the Villain #1.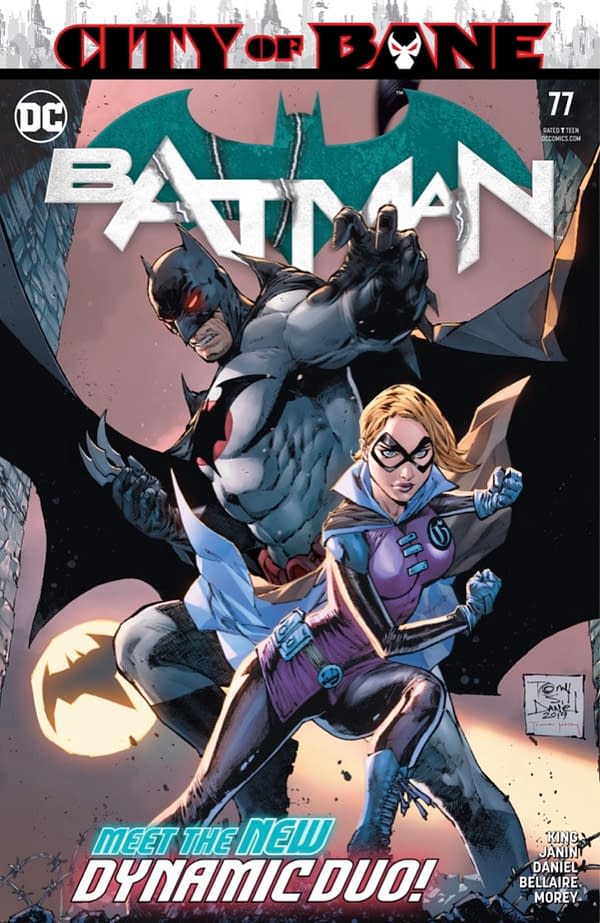 The Batman preview starts out with a battle of the sidekicks, as evil Batman's sidekick, Gotham Girl, takes on Robin…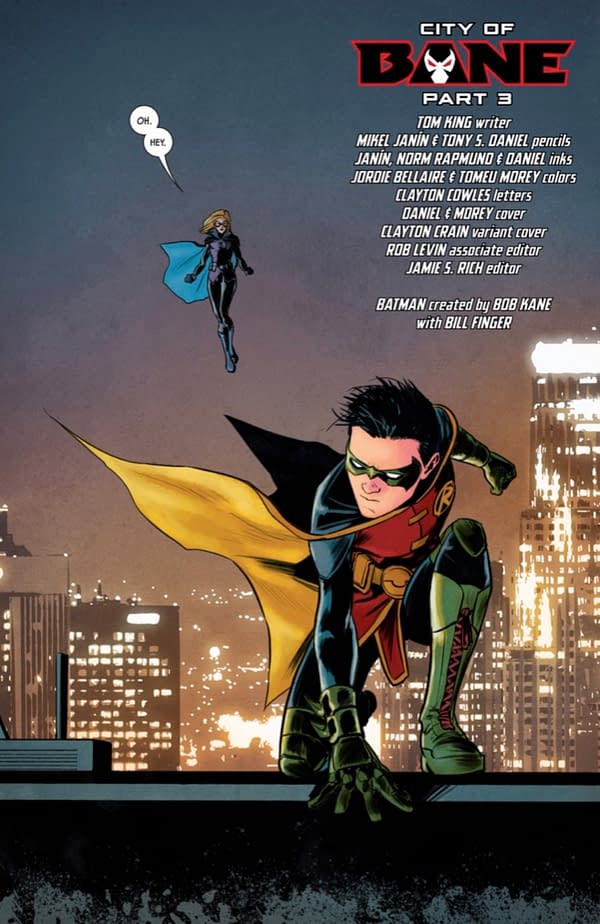 Not only with burning eye lasers… but with a lecture to boot!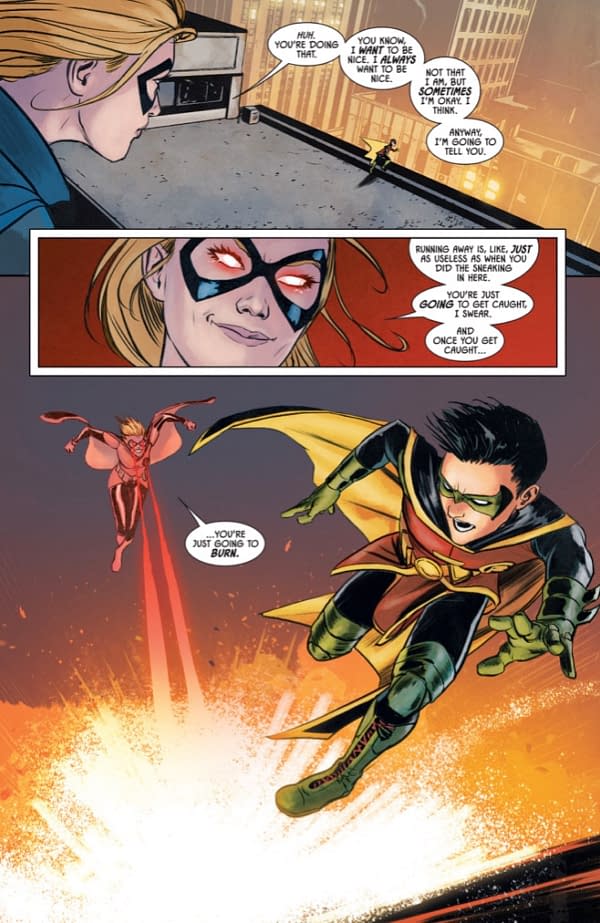 But Damian, it seems, was playing possum.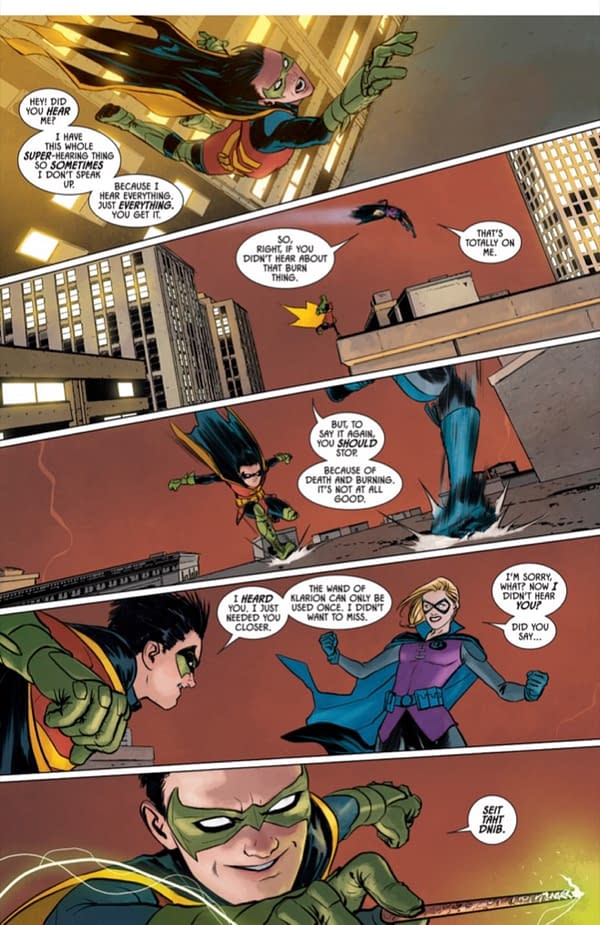 For more, you'll need to pick up Batman #77, in stores next Wednesday.
BATMAN #77 YOTV DARK GIFTS
JUN190479
(W) Tom King (A/CA) Tony S. Daniel
"City of Bane" continues! The last of the independent villains are on the run, leaving Gotham City entirely to Bane and his cronies-including Flashpoint Batman and Gotham Girl! Though this means a semblance of peace on the streets, the iron grip of tyranny is squeezing all life out of Gotham. And with Bane's machinations keeping other heroes out, the city really needs the Batman to return. Is Bruce Wayne ready to face his toughest foes yet…his father and the man who broke his back?
In Shops: Aug 21, 2019
SRP: $3.99
And as a bonus, here's a single page from the Black Mask: Year of the Villain one-shot, by the other Tom, Tom Taylor, and Cully Hamner.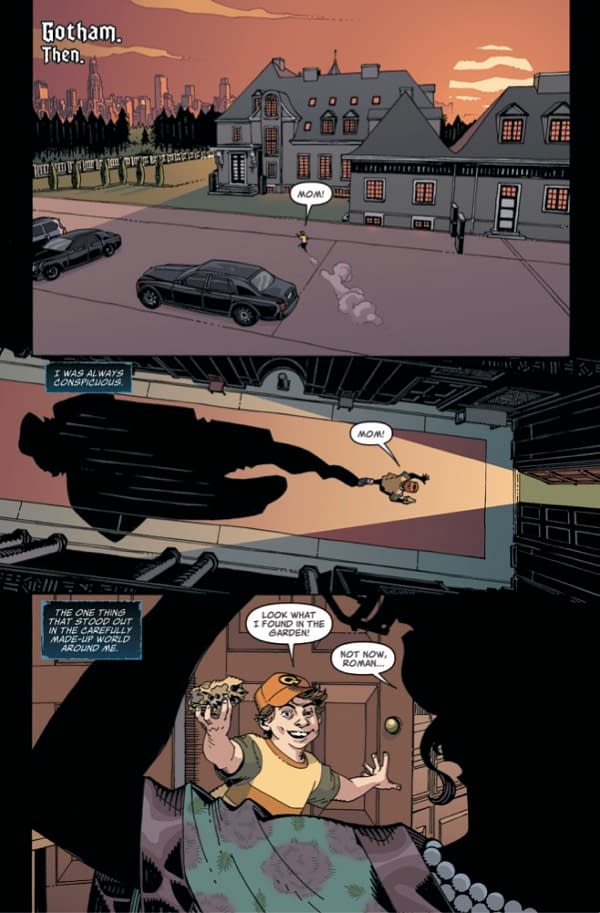 BLACK MASK YEAR OF THE VILLAIN #1
JUN190461
(W) Tom Taylor (A) Cully Hamner (CA) Mitch Gerads
Black Mask was one of Gotham City's most ruthless crime lords. He had money, power and respect. But after months in the Teen Titans' secret prison, Roman Sionis is finally free. Given a new purpose and new abilities thanks to Lex Luthor's offer, he's found a new racket. Corporate crime not only pays better, but it's far less dangerous. At least until Batwoman discovers what he's up to and plans to put an end to Black Mask's latest power grab. Is Black Mask the same crime boss he's always been, or has time and a new approach made him something far more unstoppable than he's ever been?
In Shops: Aug 21, 2019
SRP: $4.99