31 Thoughts About 30 Of Today's Comics – Dark Knight To Nowhere Men To Fight Club To Dirk Gently That's right, Sunstone, and it's a new Wednesday! Tonnes of new comic books out today, here is a very very brief look at a few of them. Cheer up Bloodshot Reborn #11, I'm sure it won't be that bad. Go have a nice relaxing bath, it'll all seem better by the morning. Aquaman #49 sees Arthur and Mera plan an embassy for Atlantis to the rest of the world and acceptance and membership of the United Nations, for mutual benefit.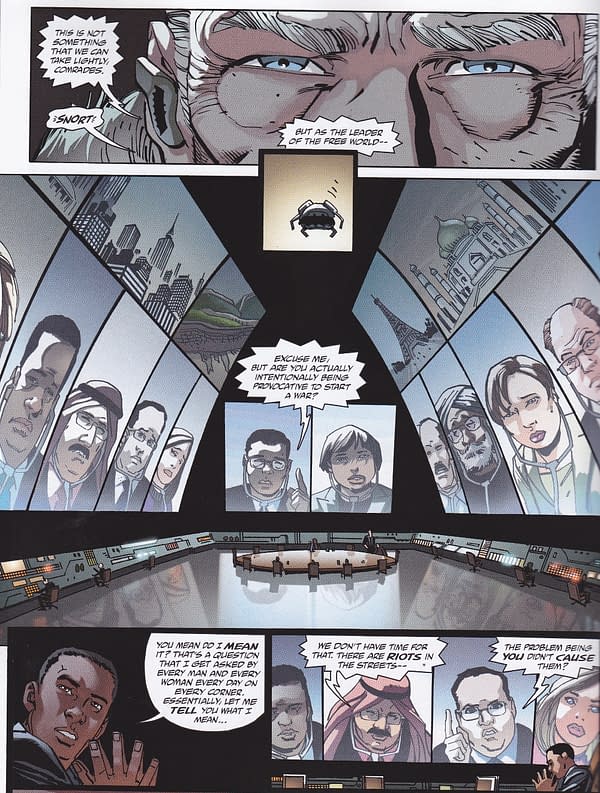 Which probably couldn't come too soon for Dark Knight III: The Master Race, with a President Obama who used the word "comrades" and seems a little on the belligerent side… all because of those Kandorians released and terrorising the world while the people in charge rearrange the deckchairs. What would Aquaman's policy be? Yeah, not that helpful, Arthur.
In other politics news, Cyborg is clearly the subject of Obama's planned gun controls. I'm guessing he failed a background check.
There are no unsolicited opinions on Israel in today's Angela: Queen Of Hel #5, but there should be enough for the haters to sink their teeth into. For the rest of us, we'll continue to enjoy an amusing, entertaining book – until its inevitable cancellation with issue 7, that is. Cry Havoc goes to war big time with its howling commandos, but the book does a great job of filling a life with people – and not just their intestines spread across a wall in Afghanistan. And in four panels sums up a relationship rather perfectly.
One panel sums up the new issues of Wayward rather well as everyone seems to be butting heads in one way or another. As the old gods come back to challenge the modern world.
In fact, there's plenty of godhood in today's comic books. Justice League has seen all its characters become like god, and a prediction of death comes true…

And these Lanterns being snuffed out are just the start. But you know, where there is death, there is the other side of the life equation….
While in Teen Titans, Wonder Girl gets a reminded of her own deity family tree and the responsibilities it brings. And it's a name that resonates in today's Nowhere Men as well. The New Gods return in Neal Adams' The Coming Of Supermen. And welcome to newsreader Lois Lane, happy to cut away mid fight to interview Lex Luthor for commentary. I guess in the DC Universe this is par for the course…. But it's Hercules who has its own New Gods. As in really new ones. They use internet abbreviations and everything. You can't get newer than that – unless you read Journey Into Mystery a few years ago.
But in the end, in comic books, there is only one god that matters.
The creator. And in Fight Club 2, as rose petals and pills spill across the panels, both obscuring and framing the story, the writer continues to be there for his creators. Surrounded by his own peanut gallery of course….
In We Are Robin, it looks like no Robin becomes a Robin without something terrible happening to their parents. Sorry, Duke, if you ant to step up, you have to wear the garb. Karnak returns as an incredibly vital and vibrant martial art comic, the panel-to-panel storytelling bending and buckling with the blows. And a reminder that he is a Terrigen Mists avoider, something a lot harder to do these days it seems. Something Moon Girl & Devil Dinosaur share in common. Any chance of a Karnak/Moon Girl crossover then? It woukd be thematically sound – and would look rather odd. Which is generally a good thing. After all she's pretty good without an Inhuman trigger too…
And yes it is one of those weird days at Marvel.Remember when they used to publish all the Avengers books in one week or all the X-Men books in another? It seemed a strange choice, but it aimed to make sure an Avengers fan didn't try any other publisher's comics that week. Well, there seems to be a certain coterie of titles from Marvel this week, Moon Girl, Squirrel Girl, Silk and Patsy Walker AKA Hellcat, all published together, all appearing next to each other alphabetically on the shipping list. Buy one, buy four, don't bother with anything else from Boom of IDW!? Yeah, sorry Jem And The Holograms #12, Marvel wants you dead. Of course everyone wants to be Squirrel Girl these days, eh Spirit?
Take a shot. Thank you Silk. Wolf #6 still manages to freak me out with its matter of fact tentacles. So much drudgery, so much depression, so much being dragged down by a chain smoking Cthulhu face…
The Inhumans thing also causes international problems in All-New Inhumans, with Crystal not exactly sticking up for Black Bolt in this whole issue. And yes the Black Bolt/Medusa/Johnny Storm/Crystal thing probably doesn't help matters.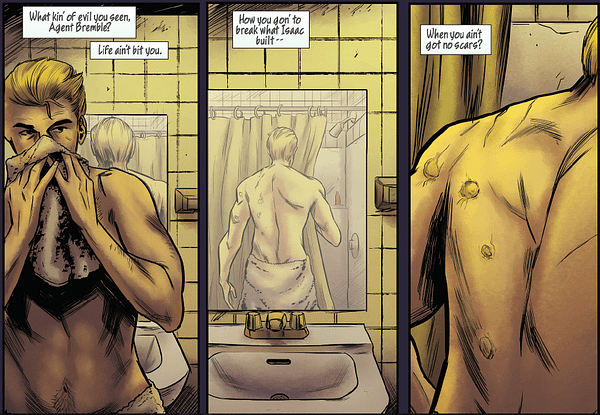 While Postal #10 showcases the sombre brutality at the heart of that comic in a more flagellated fashion.

And Black Magick continues to surprise with its use of colour against black and white to portray an extra dimensional layer that always seems impossible each time it happens. Rick and Morty #11 has Rick taking Morty to a High School Simulation planet and repeatedly killing Morty's character, forcing him to restart in more and more vicious high school experiences. Sounds like my school on Deathworld….
There are, it seems, better fantasies to have, such as in Faith #2…
When exactly does the Doc have a plan that comes close to ever actually working out like he intended? Back To The Future #5 hits 85mph… Dirk Gently uses his standard chatting up technique in a A Spoon Too Short #1. Well, he is from a culture where "sexy nurse" just isn't a Hallowe'en thing…. Judge Dredd gears up for a rewritten version of Jackie DeShannon's song renamed What The World Needs Now Is Law, Sweet Law…. everybody sing along. Wyonna Earp #1 gives killing advice for practically everything that exists. Strangely this works on most things…
Comics courtesy of Orbital Comics in London, hosting a Transformers signing and a Life Drawing Class in weeks to come…