After 32 Years, Spider-Ham Finally Gets Another Comic Book Series
In 1987. Marvel Comics cancelled Peter Porker, The Spectacular Spider-Ham with #17. Thirty-two years later, they're giving him another chance. It's amazing what difference a movie from Sony can make.
Today, Marvel released its special edition of THE PULL LIST, unveiling exclusive information for titles coming to comic shops this December… catch the rest of them here. including Zeb Wells and Will Robson launching a new Spider-Ham title.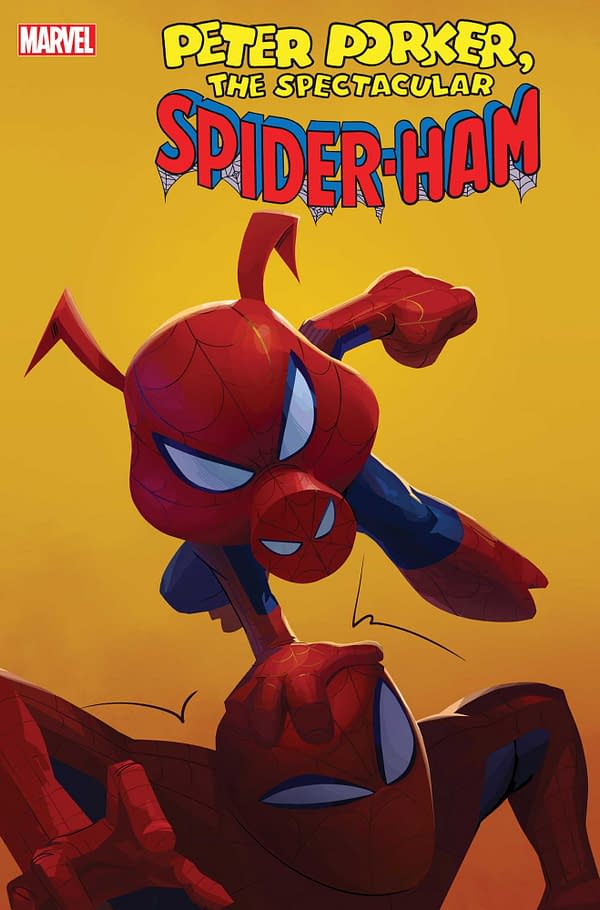 SPIDER-HAM #1 (of 5)

Written by ZEB WELLS

Art by WILL ROBSON

Cover by WENDELL DALIT

APORKALYPSE NOW!

Not a dream! Not a hoax! Not an imaginary tail! Spider-Ham finally has his own series! (Again!) Peter Porker, the Spectacular Spider-Ham finds himself jumping through time, side-by-side with Peter PARKER, the Spectacular Spider-MAN! ZEB WELLS and WILL ROBSON bring you the Ham and Man story you've been waiting for!
This was revealed amongst other titles in Marvel's Pull List vlog, presented by hosts Ryan "Agent M" Penagos and Tucker Markus, THE PULL LIST sheds light on some of the most highly-anticipated Marvel comics news, sharing details on Incoming #1, an sprawling one-shot that will shape the Marvel Universe for the year to come, and Guardians of the Galaxy #12, the exciting conclusion to Donny Cate's legendary cosmic run, as well as first looks at new series Dr. Strange #1, Revenge of the Cosmic Ghost Rider #1, Marvel's Avengers: Iron Man #1, and Spider-Ham #1!