36 Thoughts About 36 Comics – Futures End, Original Sin, Batman Eternal, Adventure Time, Woods, Miles Morales: Ultimate Spider-Man, Grindhouse, Phantom Stranger, Revival, Satellite Sam, Justice League 3000, Batman/Superman, Chaos, Miss Fury, Revenge, Revelations, Aphrodite, Red Sonja, Turok, Sinister Dexter, Sixth Gun, Suicide Risk, Rat Queens, Illegitimates, Rocky & Bullwinkle, Cyberforce, Lone Ranger, Alex + Ada, Black Bat, Powerpuff Girls, Crow, Black Dynamite, Jinnrise, I Was The Cat, Garfield And Dead Letters
It's Wednesday, it's new comics day, which means it's time for 36 Thoughts About 36 Comics' traditionally fabourite way of opening its column. Some gratuitous male nudity. Courtesy of Woods #1 there. Any more for any more?
Okay, that's painful. Thank you Rat Queens. And Suicide Risk #13 gives you some topless restaurant action. Seriously, you'd have thought they'd have a dress code. Say, do you know what the most shocking thing is about Futures End #1?
They're still using Classic Google Glass. They haven't had the corneal upgrade yet. Or maybe this guy is just retro.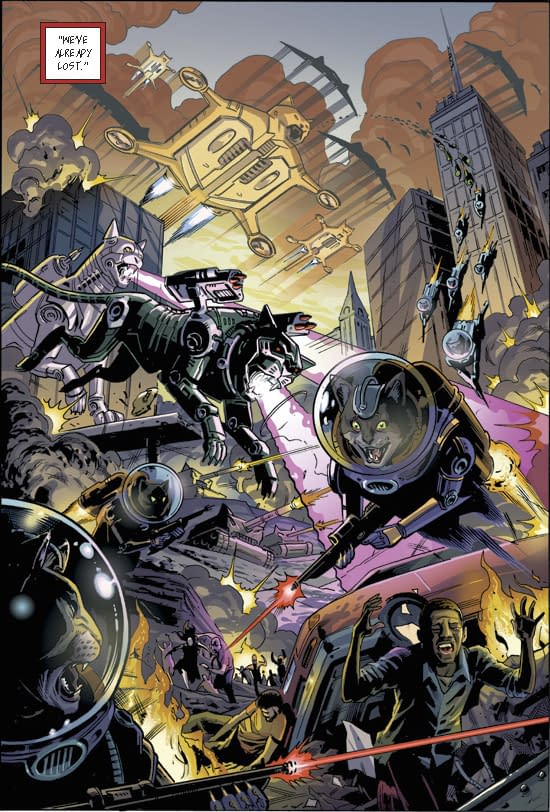 Oni Press' I Was The Cat has a little different idea of the future to DC. But with cats instead of Brother Eye bugs. I also hate it when I spit a little bit more than I was expecting to. Of course I'm not usually in the middle of a duel at the time. Adventure Time Flip Side shows us the grim reality. Not the only facing a bit of a gun crisis though… Dead Letters #2 shows you what happens when you bring an unloaded gun to a gun fight…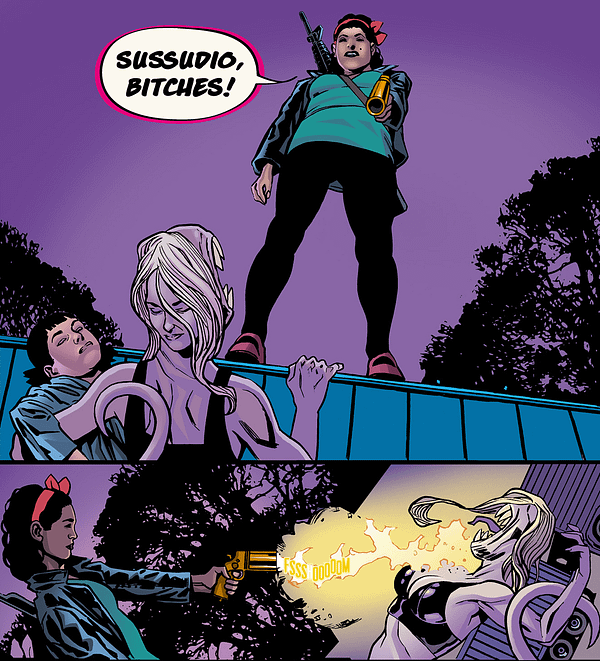 And Grindhouse shows us how a quip is always worth a hundred bullets.
Awwww… Miles Morales: Ultimate Spider-Man #1 there. And Kate Bishop. Sixth Gun #20 tells us all we need to know about The Fifth Gun. And also that Wolverine could probably do with it right about now. In fact why hasn't he knocked on Doctor Strange's door of late? But if that just looks gross to you… Sinister Dexter #6 gives you some possible alternative theories to keep you from throwing up. Though it may not be working… Dunno, Madame Xanadu in Trinity Of Sin: Phantom Stranger, um, the future? What's so special? He's Howard Porter, he is currently DC Comics' best superhero artist and he is having a whale of a time on Justice League 3000. An Icthyosaur shows us it has a fine sense of irony in Turok, Dinosaur Hunter #4. See, even dinosaurs understood it, why can't Alanis Morissette? Okay, is this Red Sonja? Or is this Groo The Wanderer? Seriously, you could totally swap them out in this scene and no one would notice the difference. But it's good to know the ninety-nine percenters have always behaved like this. CyberForce #9 has some serious First World problems too. Poor Miss Fury. No one considers her problems either. It's a cruel world. What's a girl to do? Anyone else suggest any subtle messages?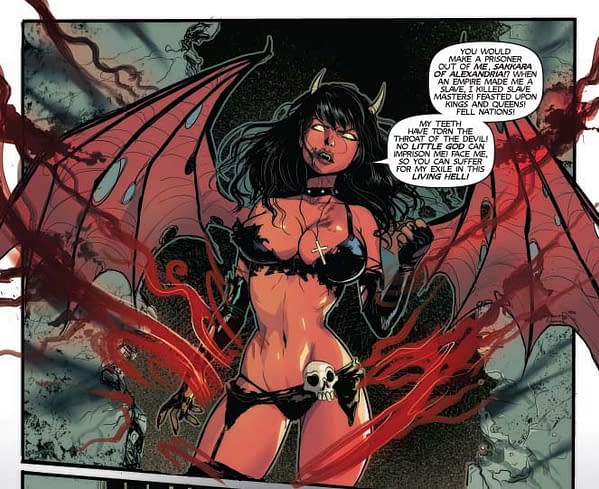 Well, yes, something like that I'm sure. From Chaos #1. Revenge makes its feeling known about Hollywood mice and clear. Writer Jonathan Ross used to review films on BBC 1. I think he's getting a lot out of his system. Presenting… the Satellite Sam Tijuana Bible. Did you get your facsimile free version of this publication? Not if you lived in the UK you didn't… Revival names the inevitable Sharknado spinoff as the franchise begins to grow in stature… The internet, in flesh form, folks, courtesy of Nailbiter.
And in Alex + Ada, Alex hears more about his grandmother that he's comfortable with. How else might have been listening in? Lone Ranger #24 demonstrates some super hearing. Even though his ears are covered by his mask. Well, it works fine for Daredevil. A new name on the top of your list Black Bat? Is this your list of BFFs? I bet it is. Do you change your list as often as my eldest daughter changes hers? One day its Sophia, then Mia, then Shada, then Elly, I mean I just can't keep up. A fun little dig at Burch's and the Chairwoman's appearance in the early-2000s Aphrodite series there. Talking of folks with stupid bald heads…

Nick Fury on the moon as Super Detective in Original Sin #1! And he'll be looking for all sorts of motives… Rocky & Bullwinkle #3 also takes us to the moon and back. But with slightly less eye gouging. And more governmental austerity measures. But I'm not buying it. Exactly. And The Illegitimates #5 provides the means to get there… Haircuts are always torture for me. Black Dynamite #2 gives the kind of instruction I'd always like to give but never can. By the way, did you know side burns are named after an American Civil War general Ambrose Burnside who sported rather bushy ones? Thank you QI for educating me. Come on Crow, the haircut isn't that bad… what we need is some positivity around here. Yay! Thank you Powerpuff Girls #9! Any more negativity defeaters?
Woo! Thank you Jinnrise #10! Okay, so… now something to bring you down. Don't want to be too hyped.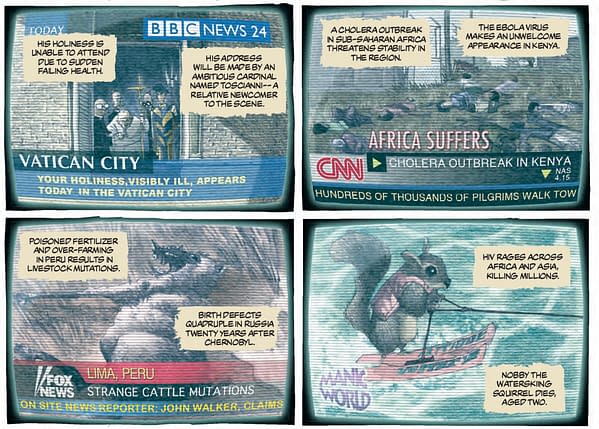 No! Not Nobby the water skiing squirrel! We only just met him! How could you do this to us, Revelations #5. Also, what's with the BBC headlining the Pope as Your Holiness, as if it's talking directly to him? Garfield #25 shows us exactly how Stephanie Brown came back into the Batman comics. Talking of which, is she in this week's Batman Eternal? No. Stand down. But you do have a Harper Row… and while we're her, let's take a look inside Batman's blood in Batman/Superman. What will we find there?
Blimey.
So… what are you reading today?