Mel Rubi writes,
I've been working in comics for over 20 years. During my time, I've worked on books including Aliens Vs. Predator, Star Wars, and Red Sonja. These were all crazy properties for someone like me to work on, but I always wanted to publish a comic that was -you know- mine. That's why I spent the past decade working on my own original series, Boundead.
Boundead is a post-apocalyptic fantasy/horror that takes place a millennia after the world has ended, with the Earth overrun by demons and the undead. As I poked and prodded at this project over the years, a lot of details changed, some big (like making the hero into a heroine) and some little (such as tweaking character designs). But I kept at it, and I was finally able to digitally publish the first issue of Boundead on both Amazon and ComiXology.
Digital comics have definitely disrupted a publishing model that's been in place for nearly a century, giving many of us the chance to get our stories into readers' hands when we wouldn't have had the chance otherwise: Between the lack of physical publishing costs and incredible access to potential readers around the world, going digital provides us little guys a lot of opportunities we likely wouldn't have had otherwise.
There is one drawback, though: Digital comics don't provide you with something tangible to hold in your hands or store on your bookshelf. And, let me tell you something: There's almost nothing as satisfying to something on a store shelf and saying, "That right there? I made that."
But now, Kickstarter is helping me make Boundead a physical reality.
A week last Monday, I launched a Kickstarter campaign to publish hard copies of my comic's first issue. It's going well so far; as of right now, we're almost at 75 percent of our goal. I think a lot of this success is because -as opposed to a lot of Kickstarter projects- I'm not trying to launch an entire series, I'm just trying to get the funds together to physically print a first issue that's already completed. That makes the campaign rather unique compared: There's very little risk for any backers, since the lion's share of the work to assemble this project is already done.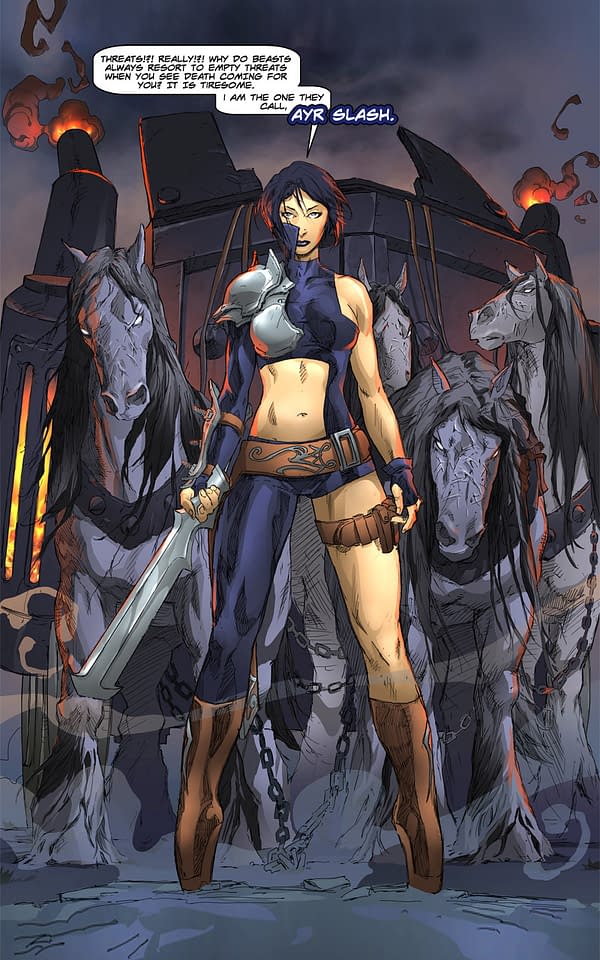 Additionally, this campaign is helping me continue to build up awareness of Boundead without having to spend anything on marketing or working with a publisher. Hopefully I'll be able to repeat this success on Kickstarter with future issues (and who knows, maybe even a collected graphic novel).
Currently, the campaign for Boundead Issue #1 still has 19 days to go. If you're interested in backing it, there's a special offer for Bleeding Cool readers: ( A free sticker of Ayr Slash). Simply send me a message after backing the project through Kickstarter that you've heard it here at BleedingCool!
Whatever happens, though, I'm incredibly grateful. I'm grateful to those who already bought Boundead on ComiXology and Amazon. I'm grateful to those who've believed in me enough to back my Kickstarter campaign. And I'm extremely grateful to those of you who've taken the time to read this. Hopefully it won't be too long before I get to tell you about my plans for the comic's second issue.
Enjoyed this article? Share it!