All 50 Free Comic Book Day 2015 Titles, Now With Pictures And Text
Earlier this morning, Bleeding Cool ran all fifty names of next year's Free Comic Book Day titles. Well, they have now announced them officially, with visuals and text to match… so here we go. And, yes, last year's 50 Silver-level titles have been cut back to 38…
GOLD BOOKS Dark Circle – Archie Comics
Duane Swierczynski (W), Mark Waid (W), Dean Haspiel (W/A), Michael Gaydos (A), Francesco Francavilla (CA), and Various (W/A)
THE BLACK HOOD! THE FOX! THE SHIELD! Get in on the ground floor of Dark Circle Comics and experience the cinematic and creator-driven reinventions of these iconic properties. Who is the new Shield? How did the Black Hood come to be? Can things get more unpredictable for The Fox? Learn the secrets of the Dark Circle universe from the creators themselves via sneak peeks at the new series, creator interviews and a first glance at the next Dark Circle series—all held together by an eye-popping cover from Afterlife with Archie artist, Francesco Francavilla! 32 pgs. 2014 Comics-Free-For-All – Bongo Comics
Matt Groening (W/A) and Various (W/A)
Get in line for the foremost Free Comic Book Day four-color giveaway of the year! When Bart brings one of Professor Frink's recent discoveries to school, it leads to some hair-raising hilarity! Then, Lisa finds a doorway to an ancient past, Comic Book Guy gets a hip new girlfriend, and Homer tries his hand at some home improvement… and much more! 32 pgs. Boom! Studios Tenth Anniversary – Boom! Studios
Various (W/A), Cover Artist TBA
2015 is Boom! Studios' Tenth Anniversary year, and to help us celebrate we've gathered short stories from several current and new all-ages titles for Free Comic Book Day. From Archaia's Mouse Guard, Jim Henson's Labyrinth, and new title Iscariot; KaBoom!'s Garfield, Peanuts, Regular Show, and a new Adventure Time with Fionna & Cake story; and Boom! Box's Lumberjanes, Munchkin, and Help Us! Great Warrior, there's something in this free, 48-page issue for everyone! 48 pgs.

Fight Club/The Goon/The Strain—FCBD 2015 Edition – Dark Horse Comics
Chuck Palahniuk (W), Eric Powell (W), David Lapham (W), Cameron Stewart (A), Eric Powell (A), Mike Huddleston (A), and David Mack (CA)
Dark Horse Comic's most thrilling FCBD to date! Chuck Palahniuk and Cameron Stewart premiere Fight Club! Eric Powell serves up an all-new tragedy in The Goon! And Guillermo del Toro presents an all-new chapter from The Strain! Need we say more? 32 pgs. DC Comics FCBD 2015 TBA
(W/A/CA) TBD
A special, Top Secret project too big to announce! Please check back in the February issue of PREVIEWS and at freecomicbookday.com for future updates! 32pgs. Bob's Burgers – Dynamite Entertainment
(W) Mike Olsen, Justin Hook, Chad Brewster, (A) Brad Rader, Tony Gennaro, Hector Reynoso, Frank Forte, (CA) Frank Forte
Bob's Burgers, the hit TV show created by Loren Bouchard, is now a comic book! The Belcher family — parents Bob and Linda, and their children Tina, Gene, and Louise — appear in this special Free Comic Book Day edition that collects the "Best Of" in-canon stories from Dynamite's first-ever Bob's Burgers comic book series. Thrill to Tina's "Friend Fiction", Louise's "Unsolved Mysteries and Curious Curiosities", "Gene Belcher Presents: The Musical", and more! It's an all-ages extravaganza that captures the feel of Bob's Burgers perfectly — because it's a comic 100% created by show writers and animators! 32pgs.
Transformers: Robots In Disguise #0 – IDW
(W) John Barber, Tom Scioli (A) Priscilla Tramontano, Scioli
(CA) Priscilla Tramontano
Optimus Prime is gone — and Decepticons are on the loose! It's up to Bumblebee and an elite crew of Autobots to track them down before their rampage spreads across Earth! Transformers comics have never been hotter, and the excitement spreads to this all-original comic inspired by the all-new animated series! Plus: previews of IDW and Hasbro unbelievable publishing slate for 2015, including an exclusive Transformers vs. G.I. Joe strip! 32pgs. Savage Dragon: Legacy #1
(W/A/CA) Erik Larsen
The generational saga of Savage Dragon reaches a new milestone as Malcom Dragon graduates high school and follows his father's footsteps to the Chicago Police Department. Every young new officer has a lot to live up to, but for the son of a world famous figure as renowned as he is reviled, navigating the world of law enforcement is especially challenging. The cost of failure is high in a city becoming more dangerous by the day: Can Malcom step out of his father's shadow and become the hero Chicago needs, or is he doomed to make the same mistakes? 32pgs. Secret Wars – Marvel Comics
(W/A/CA) TBD
Prepare yourself for the final days of the Marvel Universe as you know it as the march to the biggest comic event of the year continues! From the ashes of a decimated cosmos rises… Battleworld! Amid the strange, patchwork realm, refugees from thousands of obliterated universes struggle for survival. Even if they can endure the horrors of Battleworld — the home they knew has been destroyed! Time has run out, and the opening salvo of Secret Wars has been fired. But can anything restore the Marvel Universe that once was? 32pgs. Doctor Who Special- Titan Comics
(W) Nick Abadzis, Al Ewing, Various (A) Various
Take a blistering trip through time and space with three stunning all-new short stories featuring the Tenth Doctor, the Eleventh Doctor and the brand-new Twelfth Doctor, written and drawn by the ongoing Doctor Who comics creative teams. PLUS: A sneak peek of the Top Secret Summer 2015 event! Be the first to get a hint of the epic that will shake the Doctor to his very core! It's a must-read for fans, and the perfect primer for anyone looking to jump on board the TARDIS! 32 pgs. Spongebob Freestyle Funnies – United Plankton Pictures
(W/A) Graham Anable, Various (CA) Gregg Schigiel, Rick Neilsen
This year's SpongeBob Comics FCBD offering features a 22-page story by Boxtrolls director and Grickle cartoonist, Graham Annable! In "Tangy!" Plankton's new special sauce made from jellyfish jelly has strange effects on SpongeBob and the rest of Bikini Bottom's residents. The only one unaffected, the only one who can save them all, is a very reluctant Squidward! Plus, more undersea sequential stories by James Kochalka, Maris Wicks, Gregg Schigiel. and other awesome aquatic artists! 32pgs.
(W) Hidenori Kusaka (A) Various
All your favorite Pokémon game characters jump out of the screen and onto the pages of this action-packed Free Comic Book Day edition comic! Legendary Pokémon Xerneas and Yveltal's battle against each other is destroying Vaniville Town. Can X and Y save the town in Pokémon X*Y?! Bonus Feature: More action in Pokémon Adventures and Pokémon Adventures Black and White! 32pgs.
SILVER BOOKS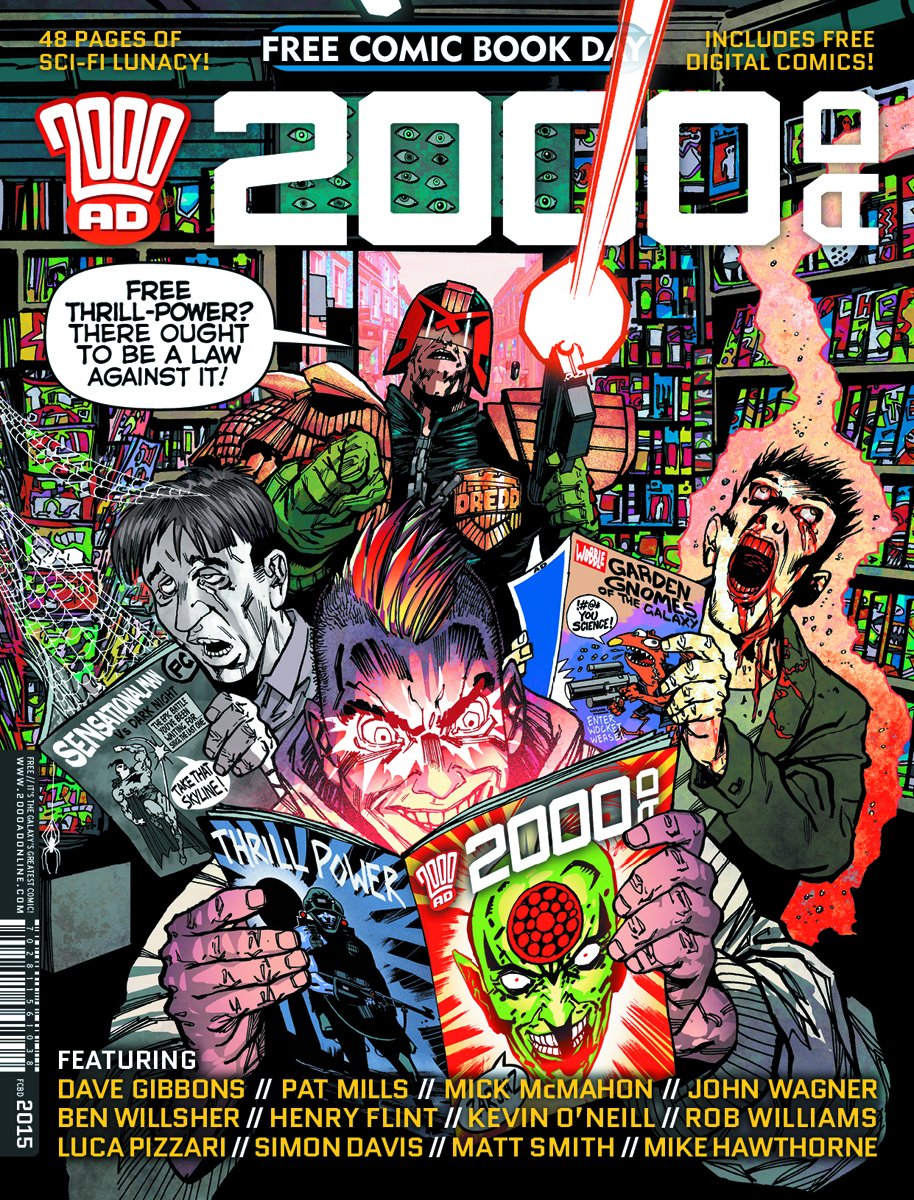 Publisher: REBELLION / 2000AD
(W) Matt Smith & Various (A) Norm Breyfogle & Various
The galaxy's greatest Eisner-nominated SF anthology returns to Free Comic Book Day with a 48 page zarjaz line-up of stories. In Through the Out Door, a brand new story from Matt Smith and Norm Breyfogle, Judge Dredd uses the iron fist of the law to settle a block dispute; in 3000 AD some jobs are murder, as proved by The Traveller from Mick McMahon; galactic frontiersman Ajax Bloodthirsty meets his match on the astronomical object of oblivion known as the Death Rock in a new tale from Ben Willsher and Barry Krishna; the Grand Master of Termight is sickened to find that his final resting place has been defiled by the legendary alien freedom fighter, Nemesis the Warlock in Tomb of Torquemada by Pat Mills and Kevin O'Neill; wizened master of the occult, Doctor Sin returns to pass on his mantle (and battle a demon) in Don't Call It A Comeback by Rob Williams and Luca Pizzari; pilot of the future, Dan Dare, discovers an alien satellite in Star Slayer by Dave Gibbons and Gerry-Finley Day; Celtic warrior Sláine acquaints more enemies with his axe in A Simple Killing by Pat Mills and Simon Davis; Judge Dredd upholds the law in some classic Dredd newspaper strips by John Wagner, Alan Grant and Ron Smith; and Prepare your mind to be melted by Tharg's Alien Invasions from supreme craz-o-naut Henry Flint.
If this wasn't enough each strip comes with a FREE digital story attached!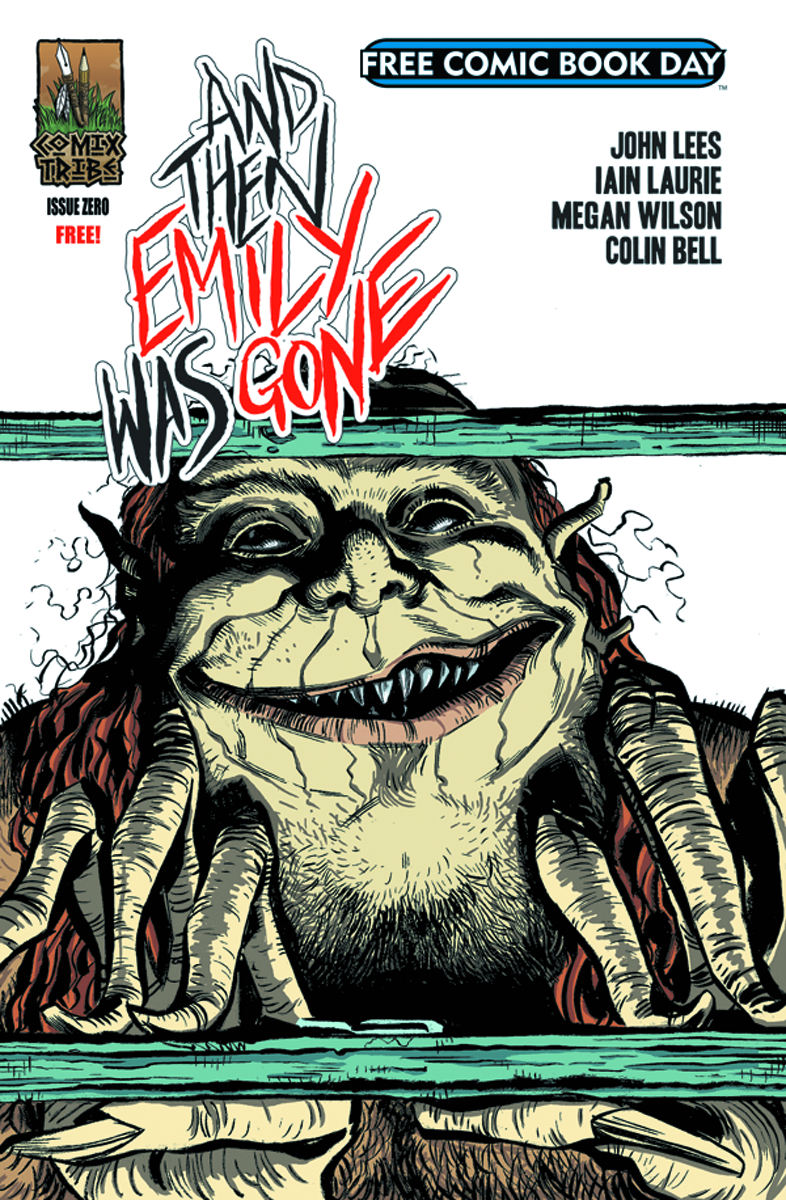 Publisher: COMIXTRIBE
(W) John Lees (A) Iain Laurie (CA) Ryan Stegman
A chilling prelude to the cult horror sensation, AND THEN EMILY WAS GONE! Bonnie Shaw is a terrifying creature of Scottish folklore who would grant parents their hearts' desire… in exchange for their child. Young Billy McTaggart has nothing to fear from Ol' Bonnie, as his mother and father love him, don't they? DON'T THEY?! Featuring a cover by superstar artist Ryan Stegman (Inhumans, Wolverine.)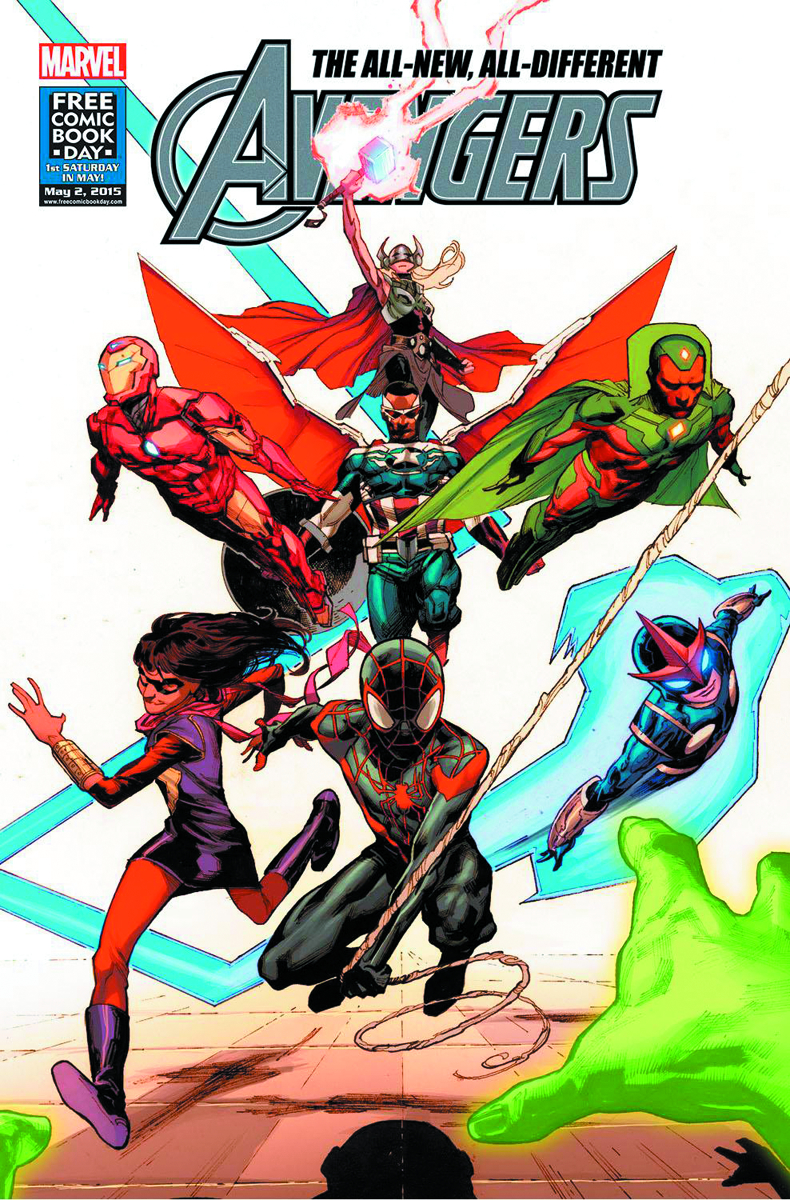 Publisher: MARVEL COMICS
WHAT BETTER WAY TO CELEBRATE FREE COMIC BOOK DAY THEN BY ASSEMBLING EARTH'S MIGHTIEST-AND MOST POPULAR-HEROES?!
Iron Man! Captain America! Thor! Black Widow! Hawkeye! Hulk! Vision! Everyone's favorite heroes take on a dangerous new threat!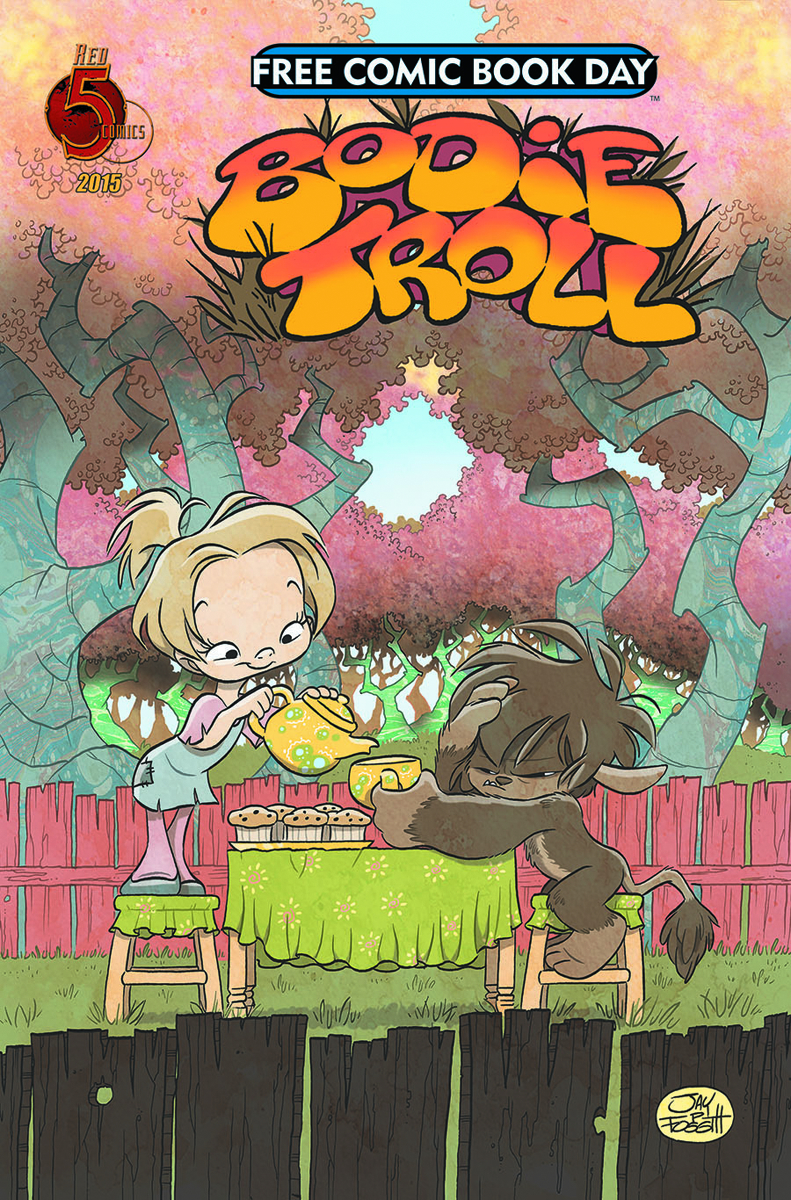 Publisher: Red 5 Comics
(W/A/CA) Jay P. Fosgitt
With a mix of playfully irreverant humor, attention-grabbing art and incredible heart, BODIE TROLL is a perfect first comic to give to a non-comic-reader of any age. In an all-new exclusive adventure, things turn ugly for cute BODIE TROLL when he gets hijacked into that most agonizing of events – a little girl's tea party! Plus, an all-new adventure from the world of DRONE and previews of 2015 Red 5 favorites and new faces.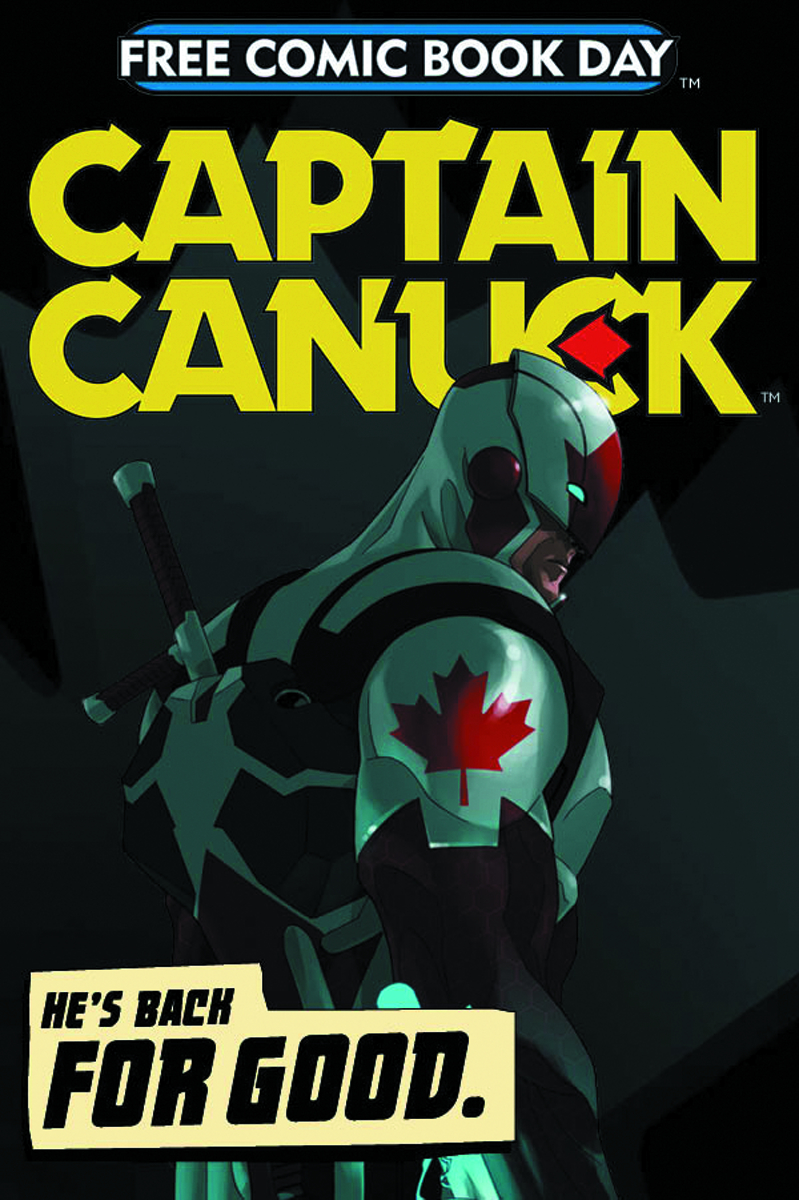 Publisher: CHAPTER HOUSE PUBLISHING, INC
(W/A) Kalman Andrasofszky & Various
Captain Canuck is a hero born in battle, tested in war, and granted the choice of how to use his incredible powers and advanced technology, which could alter the fate of the world.
Tom Evans is a brave but troubled Canadian soldier. When he and his brother Michael gain superpowers from an alien artifact, they both must work through a lifetime of differences to ensure their gifts are used for the betterment of all humankind. Thrust into battle by Equilibrium, a fledgling intervention agency, Tom must find his way as figurehead and hero Captain Canuck to save humanity- and his brother's soul- from the machinations of Mr. Gold… and even more dangerous forces that lurk in the shadows.
The complete reboot of the classic comic book hero featuring words and art by Kalman Andrasofszky, George Freeman and Ed Brisson, premieres with #0 on FCBD and the ongoing monthly later in May 2015. Don't miss out!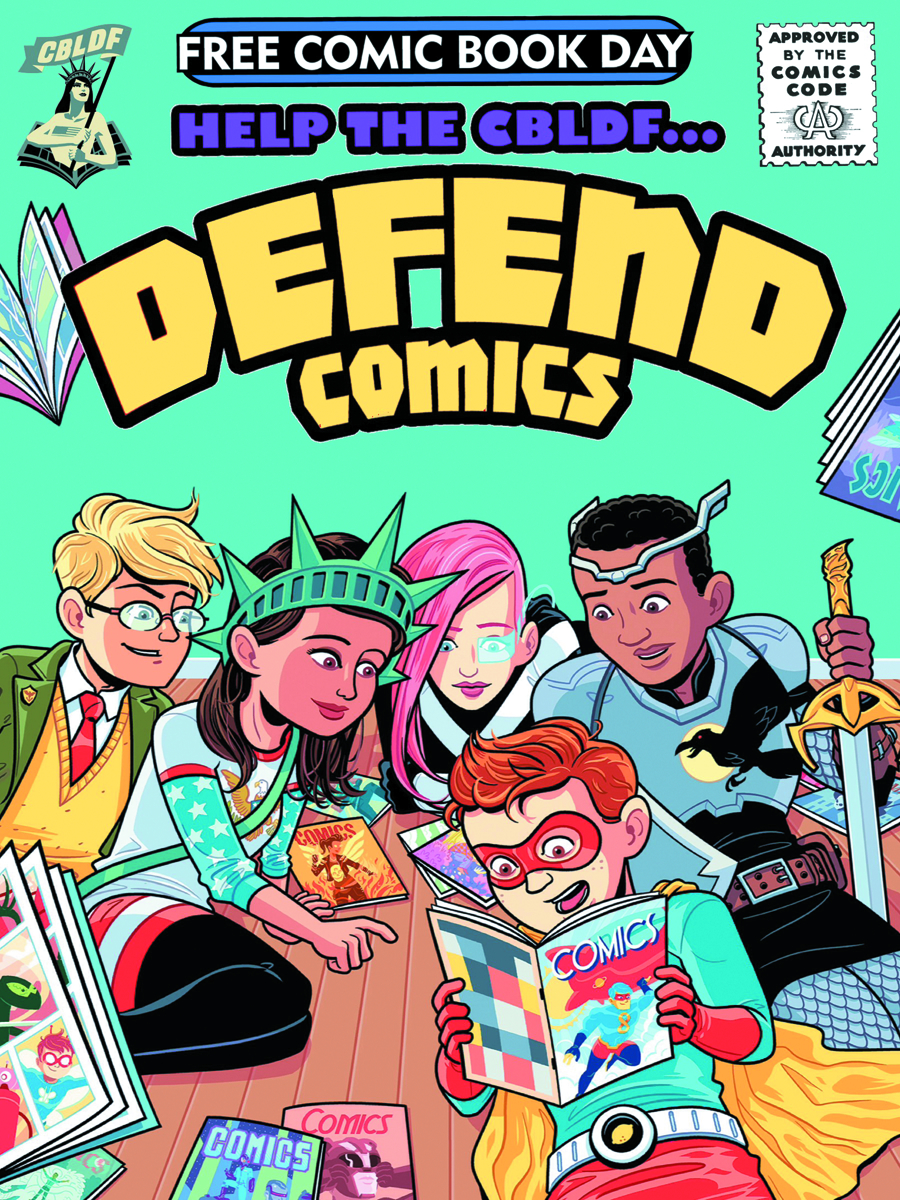 Publisher: COMIC BOOK LEGAL DEFENSE FUND
(W/A) Various (CA) Dean Trippe
For over 25 years, the CBLDF has fought to protect your right to read, and that crusade continues with this light-hearted look at a serious topic. Defend Comics is a sampler of the great YA comics available, and explores the censorship of comics with some of today's most talented creators! Writers on Defend Comics include Andi Watson, Gene Yang, George O'Connor, Dan Parent, Larry Marder and Jorge Aguirre, with art by Watson, Sonny Liew, O'Connor, Parent, Marder, and Rafael Rosado.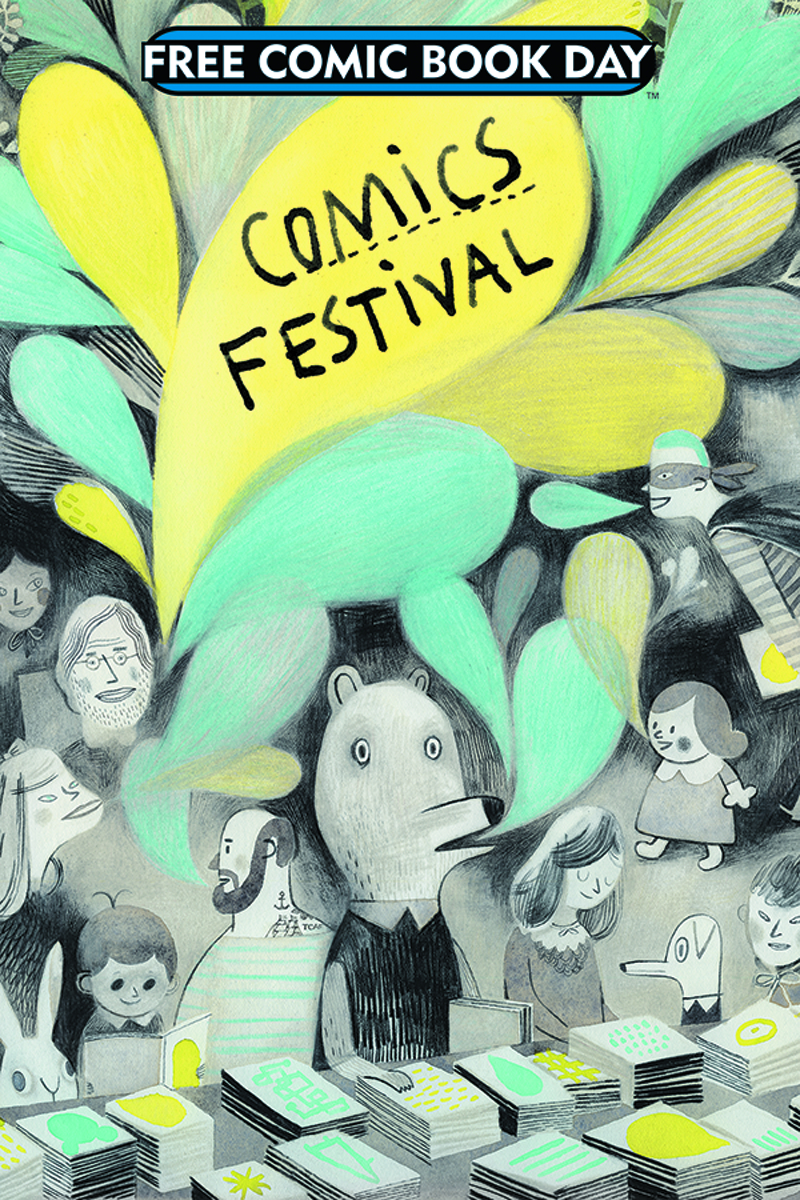 Publisher: COMICS FESTIVAL
(W/A) Various
It's a Comics Festival! Continuing the tradition of featuring all-new short stories by some of the greatest comics creators in Canada! A wonderful showcase for existing and forthcoming comics & graphic novels! Not to be missed!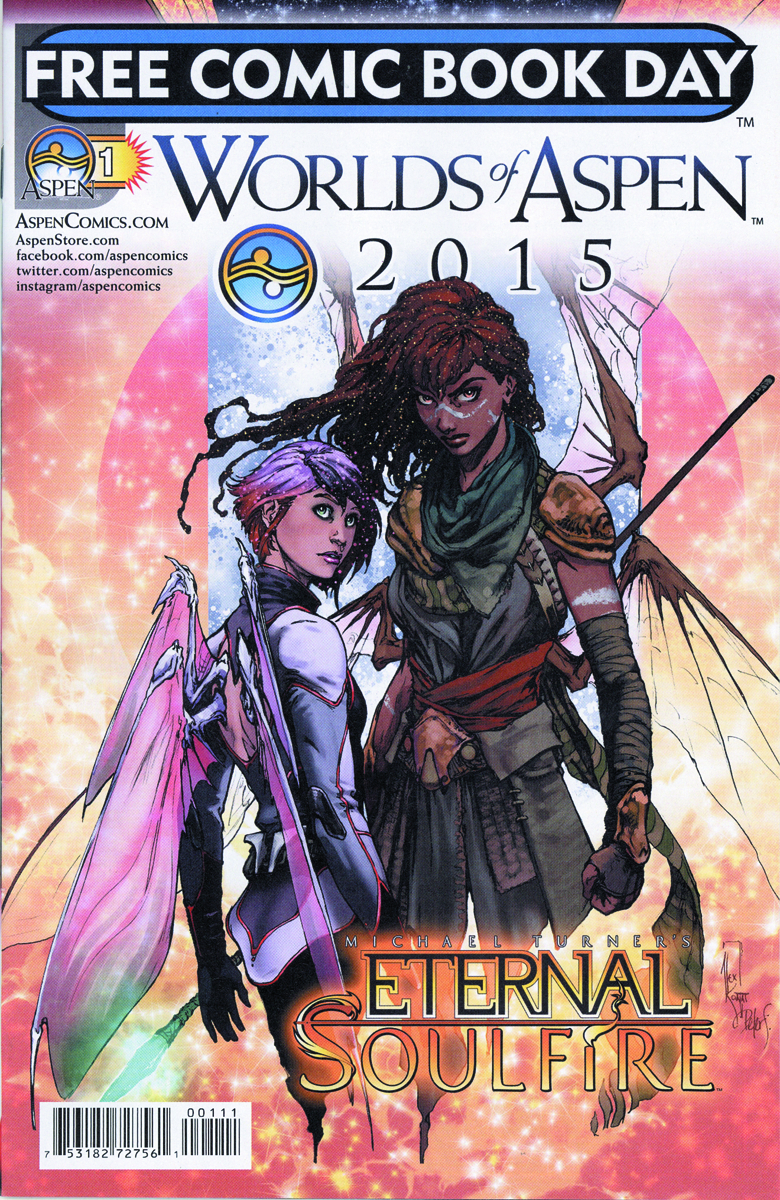 Publisher: ASPEN MLT INC
(W) J. T. Krul (A) Vince Hernandez (CA) Alex Konat
Two all-new FATHOM and SOULFIRE series begin right here!
Aspen's flagship universes grow larger with two original series debuting exclusively in this year's Free Comic Book Day flipbook offering! MICHAEL TURNER'S FATHOM: BLUE features a brand new cast of Blue outlaws from under the surface, coerced together by the U.S. Government for a covert war against their own kind-but if they fail their mission-their lives are over!
Meanwhile, in MICHAEL TURNER'S ETERNAL SOULFIRE, a new wielder of magic emerges! Cassidy, a young girl with a huge power hidden within her, must place her trust in one of the Soulfire Universes' most fierce warriors, Miya, in order to escape not only those seeking to kill them-but also their own demons from the past!
Make sure to stop by your local comic book store and pick up these two exclusive zero issue offerings only in this year's Worlds of Aspen 2015!
VALIANT 25TH ANNIVERSARY SPECIAL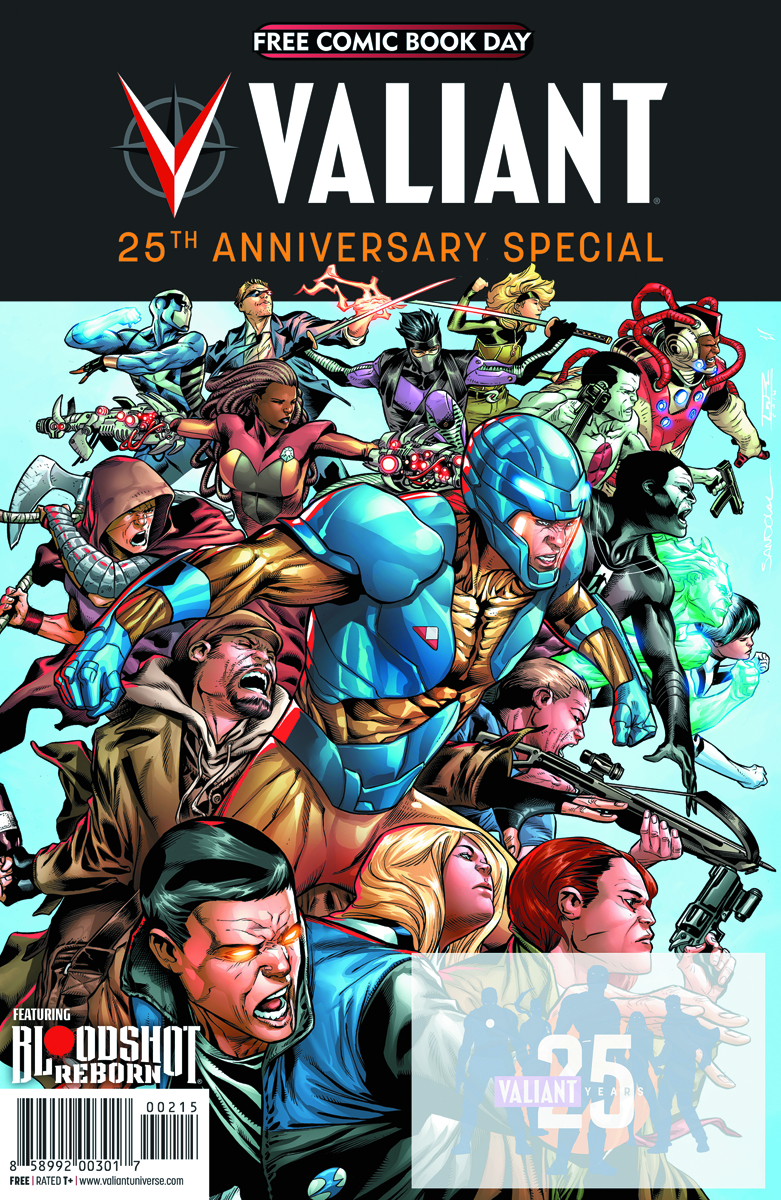 Publisher: VALIANT ENTERTAINMENT LLC
(W) Jeff Lemire & Various (A) Butch Guice & Various (CA) Rafa Sandoval
Valiant's 25th year is going to be the biggest one yet! The silver anniversary celebration begins right here on Free Comic Book Day!
Bloodshot, X-O Manowar and the rest of Valiant's fearless heroes are taking center stage for a star-studded, jam-packed anniversary smash celebrating 25 years of Valiant comics! Featuring an essential selection of brand-new stories and never-before-seen artwork, alongside exclusive interviews and "best of" features, jump on board here to relive the ground-breaking journey that established Valiant as the largest and most acclaimed independent universe in comics – and witness the action-packed first steps toward 25 more history-making years!
The year's can't-miss celebration begins with two all-new stories – only available here on Free Comic Book Day! First, New York Times best-selling writer Jeff Lemire and blockbuster artist Butch Guice chronicle the devastating fallout of THE VALIANT as Bloodshot rises from the ashes to unleash BLOODSHOT REBORN! Then, Valiant superstars Robert Venditti and Diego Bernard throw down the gauntlet for an action-packed introduction to the world of X-O MANOWAR and the heroes that set the Valiant Universe in motion! Plus: NINJAK; IMPERIUM; DIVINITY; IVAR, TIMEWALKER; RAI; special guests from throughout Valiant's decades-long history and even a few surprises! In 2015, the story starts here!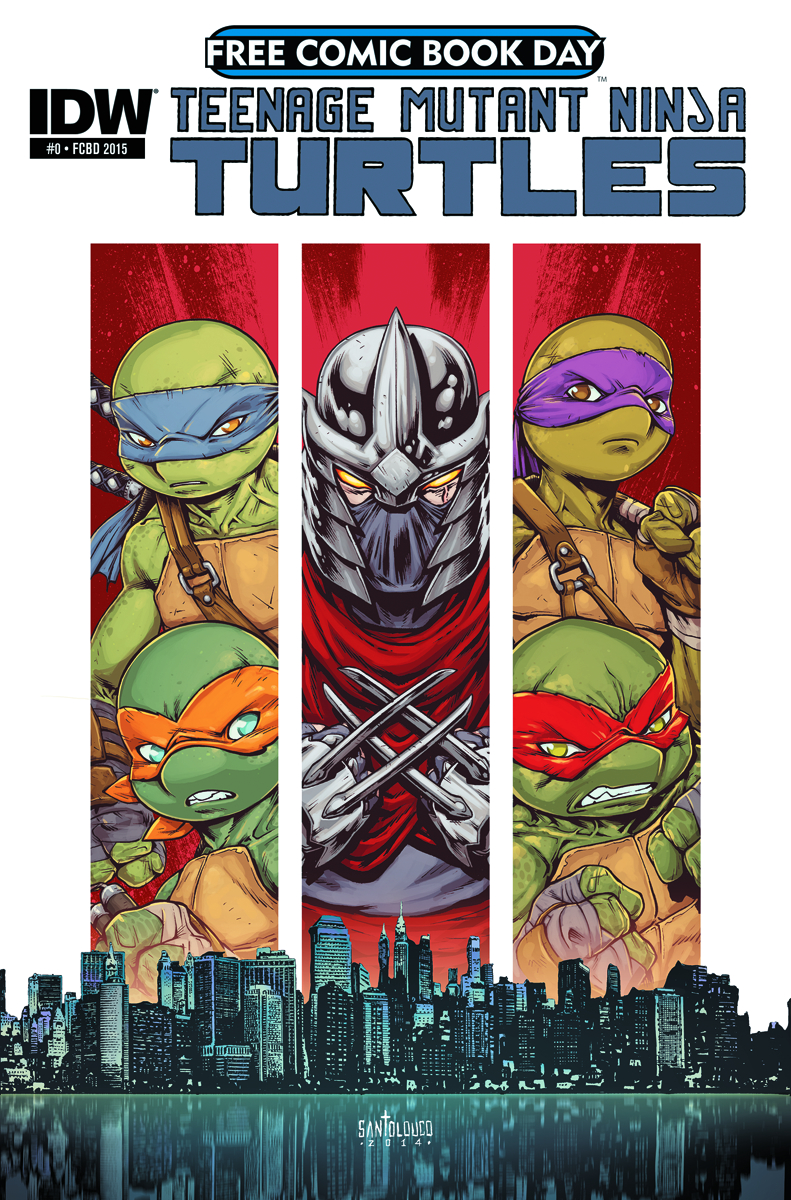 Publisher: IDW PUBLISHING
(W) Tom Waltz, Bobby Curnow (A/CA) Mateus Santolouco
The Turtles' final battle with Shredder begins here! This book will take us inside the minds of key characters in the TMNT universe, revealing the epic moments that have led to the present, as well as setting the stage for the biggest storyline yet with all new material!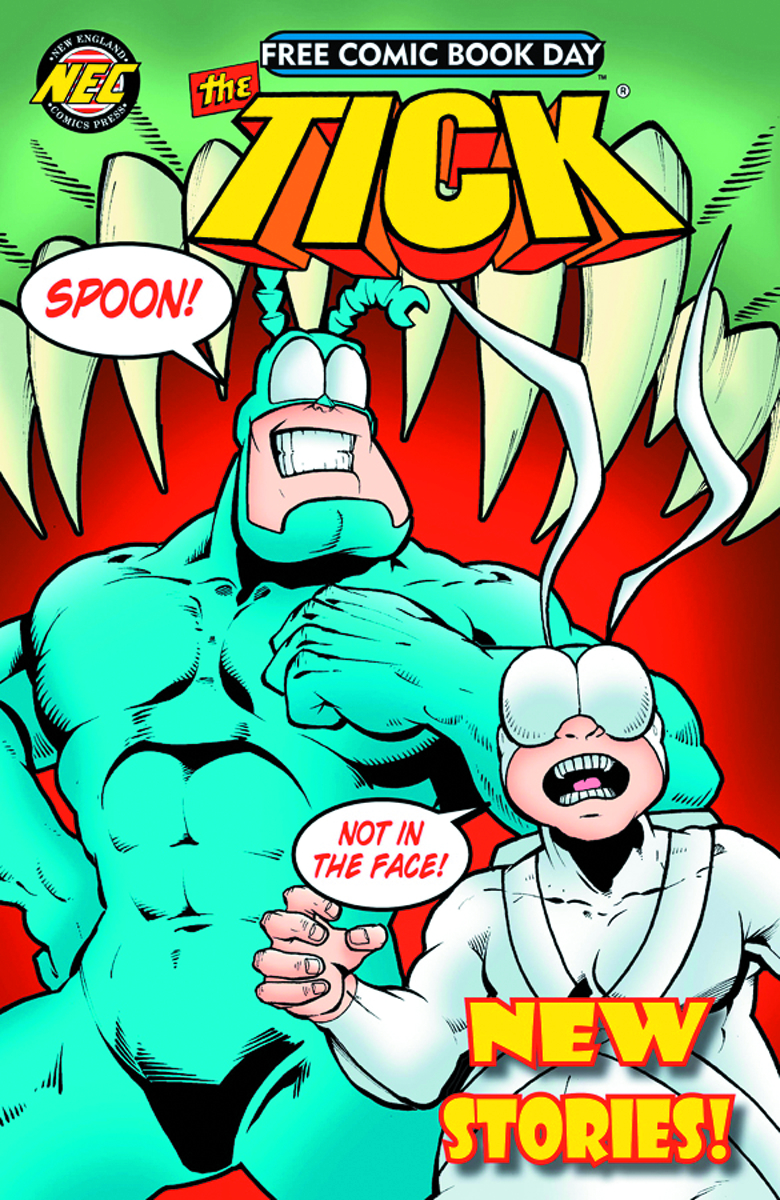 Publisher: NEW ENGLAND COMICS
(W) Jeff McClelland (A/CA) Duane Redhead
THE TICK returns for FCBD 2015 with 32 pages of FULL-COLOR comic book fun! In the ALL-NEW lead story, The Tick & Arthur's apartment is haunted by a ghost from The Tick's mysterious past—an entity who claims to be The Tick's FIRST sidekick and it won't rest in peace until… well, we can't give everything away! Plus more full-color story fun featuring The Tick! Great for fans new and old!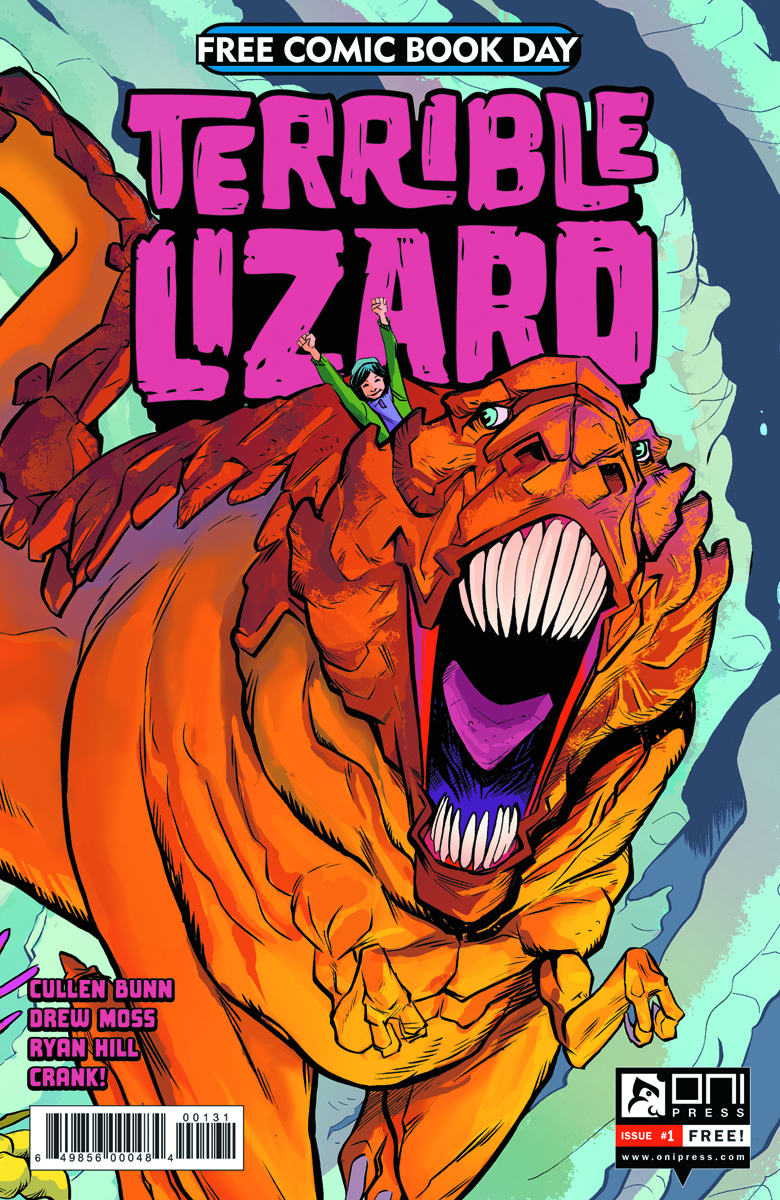 Publisher: ONI PRESS INC.
(W) Cullen Bunn (A/CA) Drew Moss
The touching story of a girl and her T-Rex… with a healthy dose of collateral damage and kaiju fighting on the side! When the scientists of Cosmos Labs punch a hole through spacetime, they pull a ferocious dinosaur into the present. The dinosaur imprints on teenage Jessica, proving to be more mischievous than vicious. But he is not alone, as transdimensional monsters begin attacking our world, and now Jessica and her new friend Wrex have to save the universe! For fans of bad science, dinosaurs, giant monster battles, and friendship, the all-ages friendly and action-packed TERRIBLE LIZARD begins here!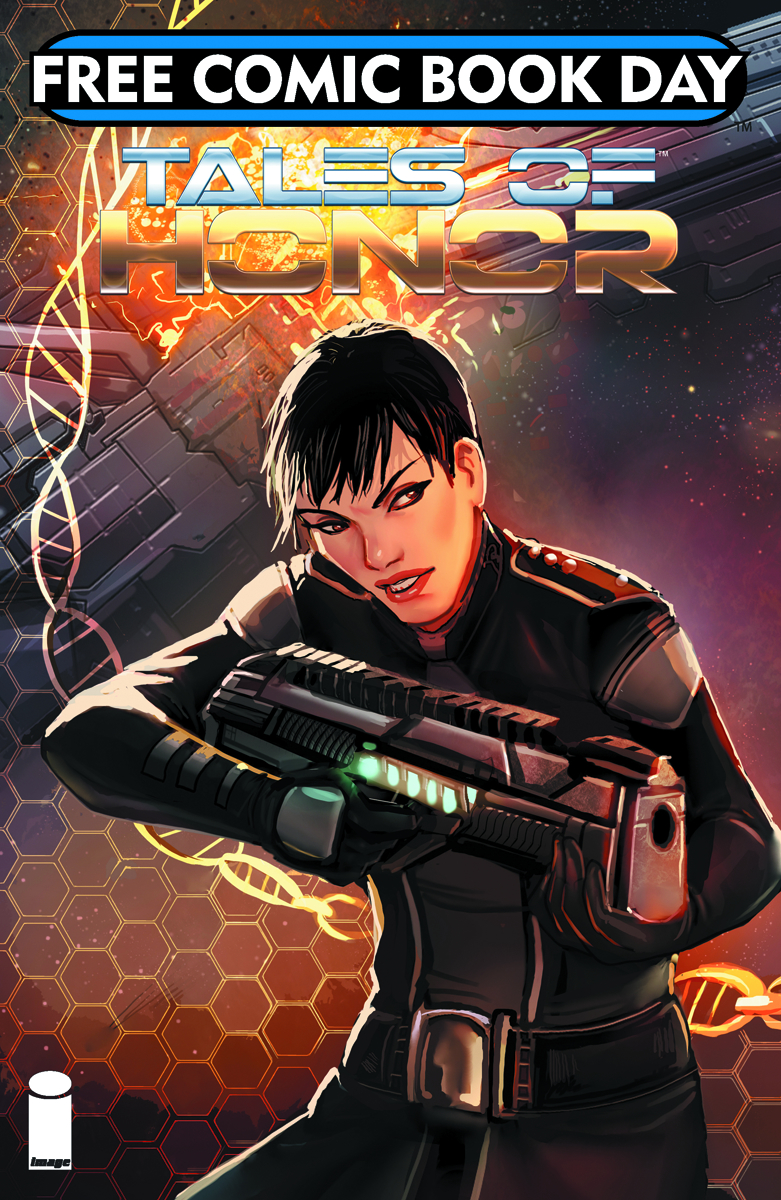 Publisher: IMAGE COMICS
(W) Matt Hawkins (A/CA) Linda Sejic
An original Honor Harrington story! Set in the universe of the best-selling military science fiction novels by David Weber, this self-contained zero issue is the lead in for the new ongoing series also launching in May. On patrol in the Silesian Confederacy, Honor and crew chase a pirate vessel only to have it eject its human cargo of slaves into space. Horrified at the callous disregard for life, the crew of the HMS Fearless investigate and uncover a vast conspiracy by the planet Mesa to provide genetically enhanced slaves to the seedy underbelly of the various Star Kingdoms.
SUPERMUTANT MAGIC ACADEMY STEP ASIDE POPS COMBO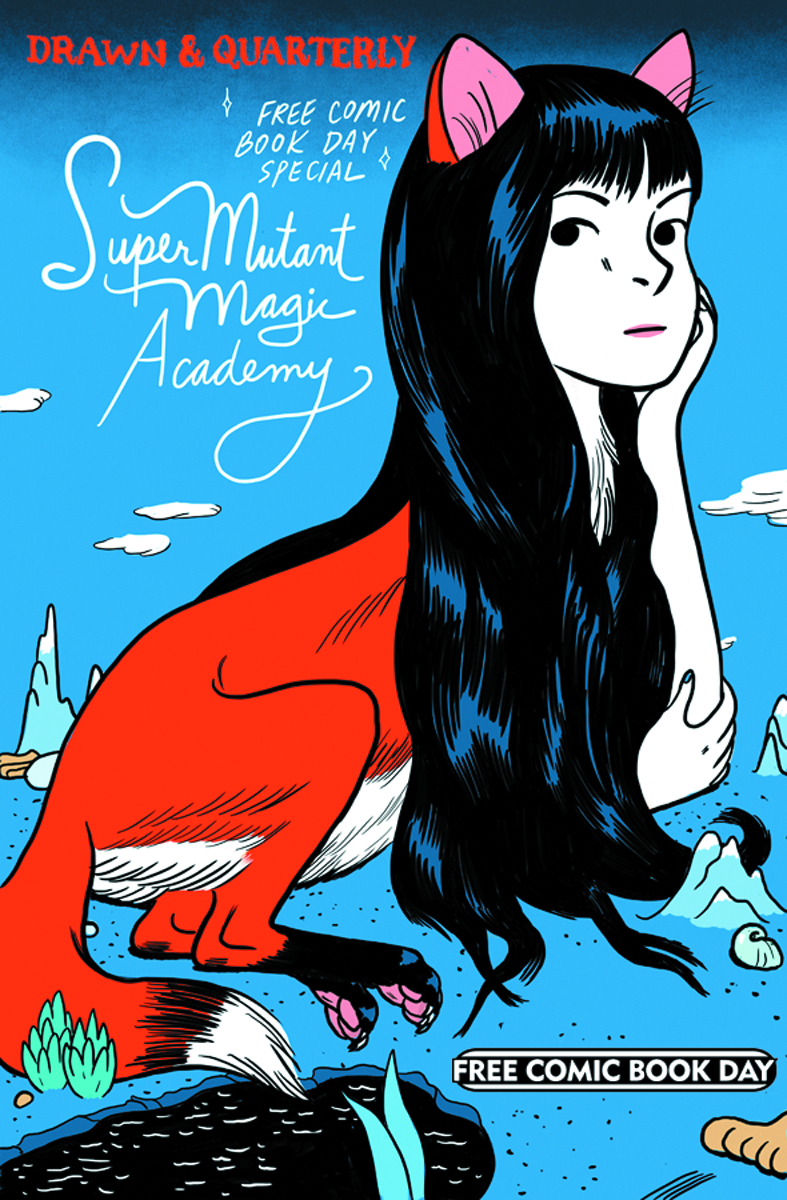 Publisher: DRAWN & QUARTERLY
(W/A/CA) Jillian Tamaki, Kate Beaton
Drawn & Quarterly celebrates its 25th year in publishing with this special edition all-ages FCBD previewing two of its biggest books for 2015.
Kate Beaton is back with Step Aside, Pops! her 2015 follow-up to her bestselling debut, Hark! A Vagrant, with more irreverent and hilarious comics on history and literature. Sharing the billing is Jillian Tamaki, best known for co-creating Skim and This One Summer – moody and atmospheric award winners. SuperMutant Magic Academy, which Jillian has been serializing online for the past four years, paints a teenaged world filled with just as much ennui and uncertainty, but also with a sharp dose of humor. Drawn & Quarterly's FCBD showcases two of the best known women in comics today and is ideal for retailers looking to expand and diversify their customer base.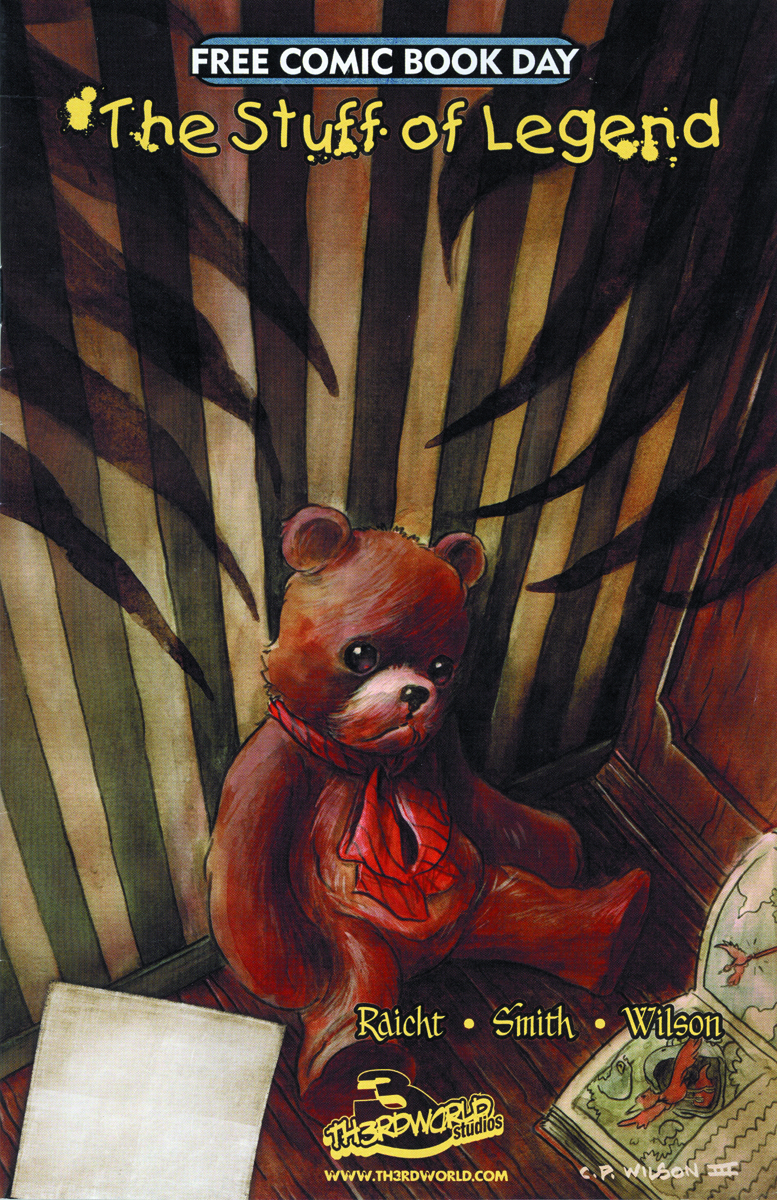 Publisher: REBELLION / 2000AD
(W) Mike Raicht & Various (A) Charles Paul Wilson, Alex Eckman-Lawn (CA) Mike Raicht
Th3rd World Studios is proud to announce the triumphant return of The New York Times bestselling series, THE STUFF OF LEGEND. Left scattered across the Dark in the aftermath of the Boogeyman's deceit, our band of Toys must pick up the pieces or risk losing their boy forever in this Preview of The Stuff of Legend, Volume 5 – A Call to Arms. Also featured is a preview of the brand new all-ages original graphic novel series being hailed as the next Avatar – The Last Airbender: THANATOS DIVER! When Samantha dares to search for adventure in the sunken city beneath her boring island home, she discovers a portal to a world both impossibly exciting and even more dangerous than anything she'd ever imagined. While opening the portal brings Sam to a place full of mysterious creatures, strange cities, and uncharted lands, it also
STREET FIGHTER SUPER COMBO SPECIAL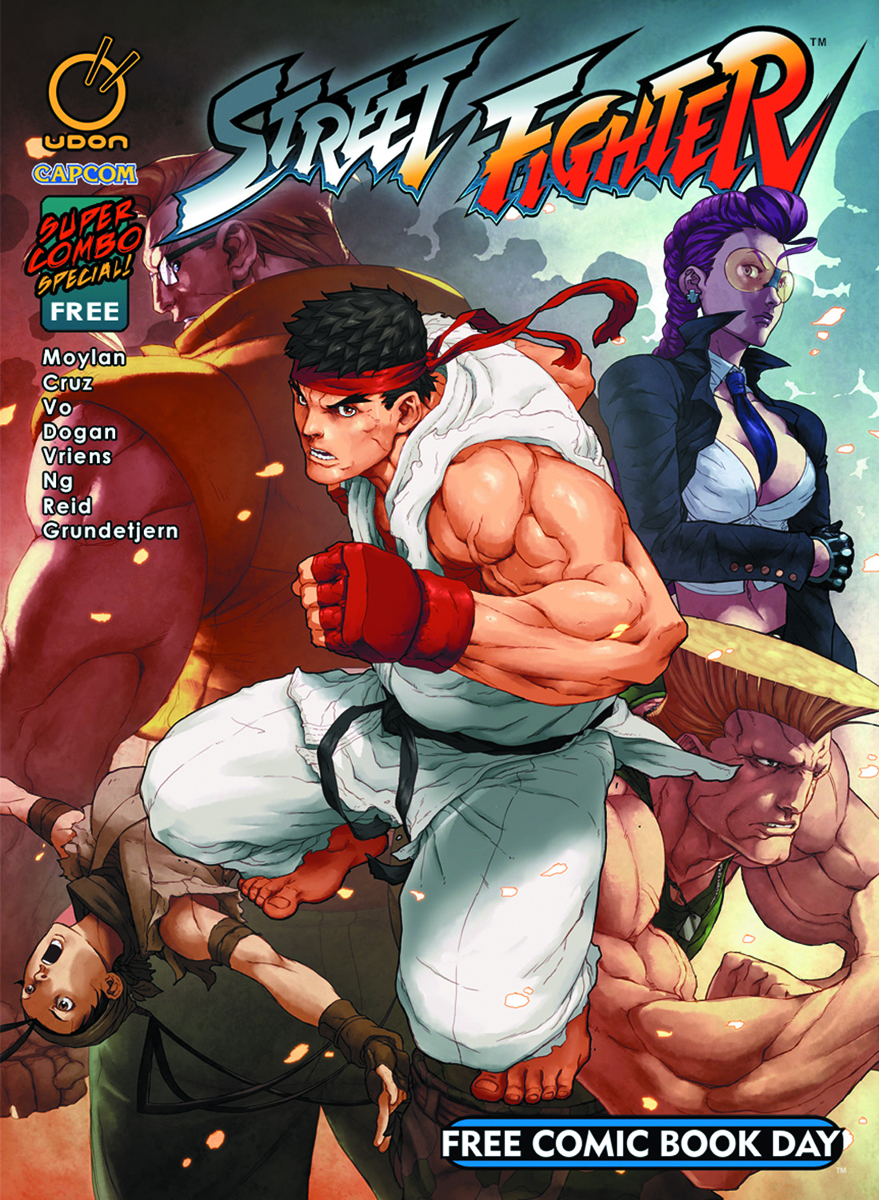 Publisher: UDON ENTERTAINMENT CORP
(W) Matt Moylan (A) Jeffrey Chamba Cruz & Various (CA) Joe Ng
Five generations of World Warriors collide in this epic new Street Fighter story! Ryu, Charlie, Crimson Viper, Ibuki, and more put their martial arts skills to the test as they battle across the globe. A self-contained story, perfect for newcomers to the Street Fighter universe, or longtime fans!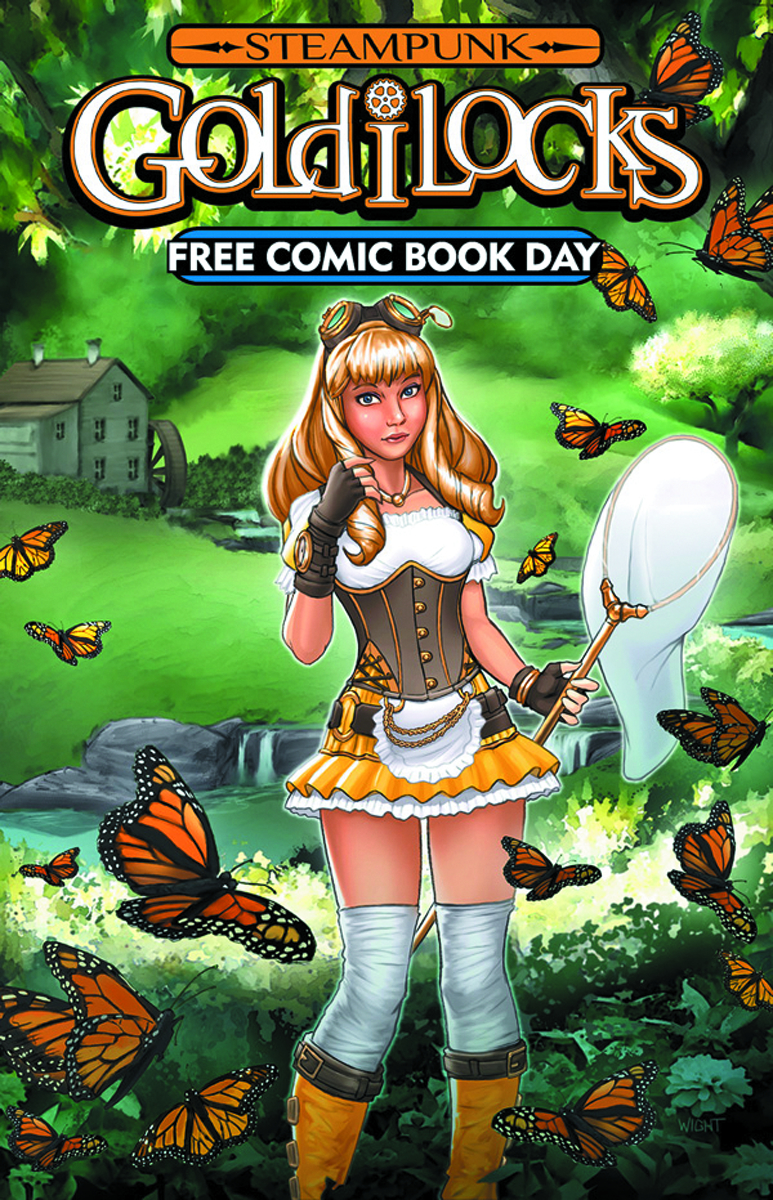 Publisher: ANTARCTIC PRESS
(W/A) Rod Espinosa
This new Goldilocks may find that the three bears' boilers are too hot or too cold, that their armor plating is too big or too small, or that their mechs' piston-cycling is too hard or soft…but when Rod Espinosa brings you yet another classic fairy tale spun steampunk style, the results will be just right!
STAN LEE CHAKRA THE INVINCIBLE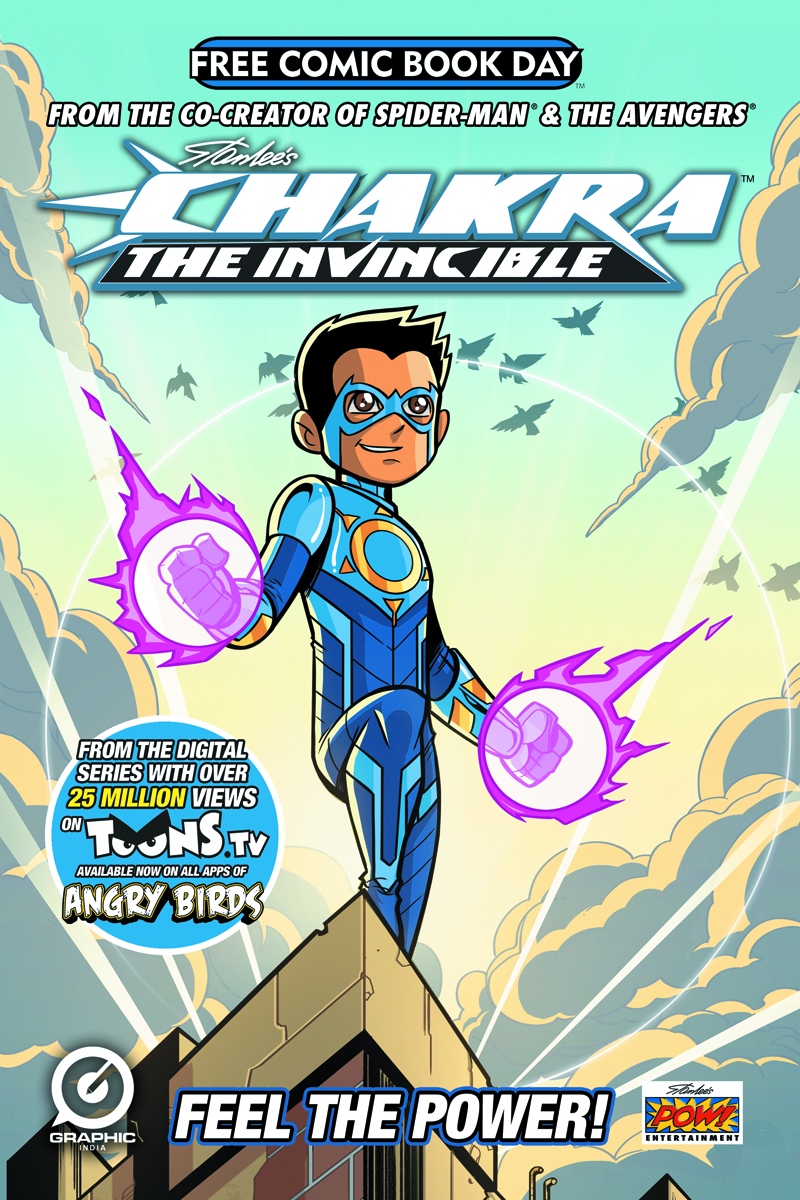 Publisher: GRAPHIC INDIA
(W) Stan Lee & Various (A) Jeevan Kang & Various (CA) Jeevan Kang
Based on the animated shorts seen on Angry Birds ToonsTV with over 25 Million views worldwide, 'Chakra The Invincible' is the latest superhero from legendary creator, Stan Lee, co-creator of Spider-Man, X-Men, The Avengers, X-Men, Iron Man, and more. This all-ages comic features short stories of Chakra The Invincible for kids and superhero fans of all ages.
SONIC THE HEDGEHOG MEGA MAN WORLDS UNITE PRELUDE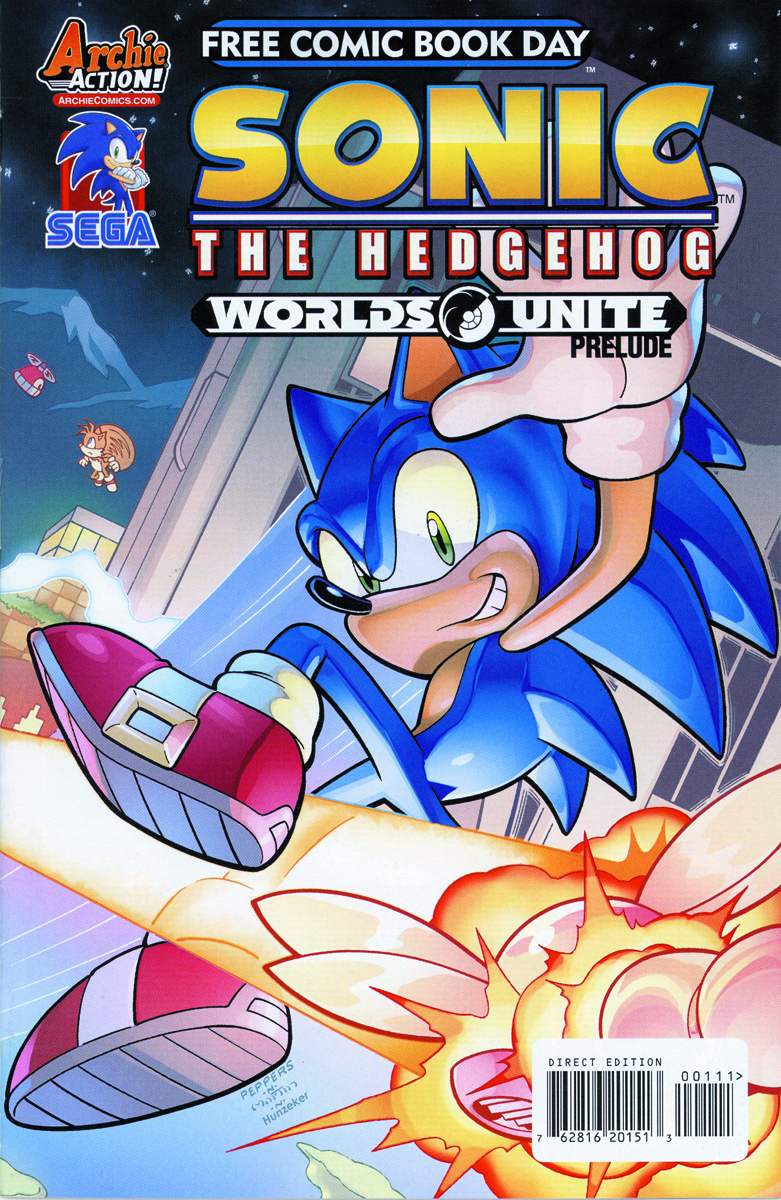 Publisher: ARCHIE COMIC PUBLICATIONS
(W) Ian Flynn (A) Gary Martin & Various (CA) Evan Stanley & Various
"Worlds Unite: PRELUDE" – It's TWO free comic books in ONE! Just in time for the start of the ALL-NEW epic Sonic the Hedgehog and Mega Man crossover event, "Worlds Unite," comes a primer issue exclusively for Free Comic Book Day! The road to "Unite" began in the history-making "Worlds Collide" storyline, continued in 2013's "DAWN OF X" storyline, and once again our heroes must meet-Mega Man's journey chronicled on one side, and Sonic the Hedgehog's on the other! This is the must-have primer for the biggest comic book event of 2015-as two video game icons must come together… or risk dying alone! Featuring art from both Sonic and Mega Man comic book fame!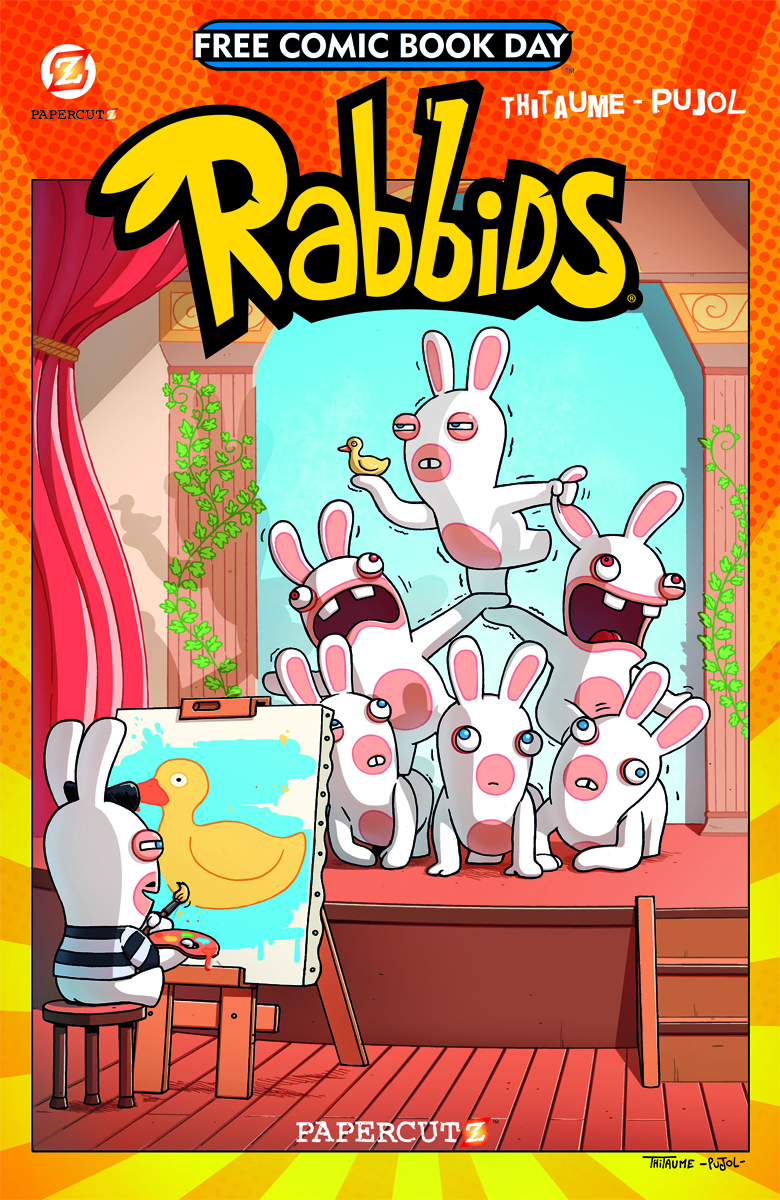 Publisher: PAPERCUTZ
(W) Thitaume (A/CA) Romain Pujol
Spinning Out of the hit videogame and TV series, the Rabbids are taking over FCBD. Their hilarious antics are sure to entertain fans of all ages!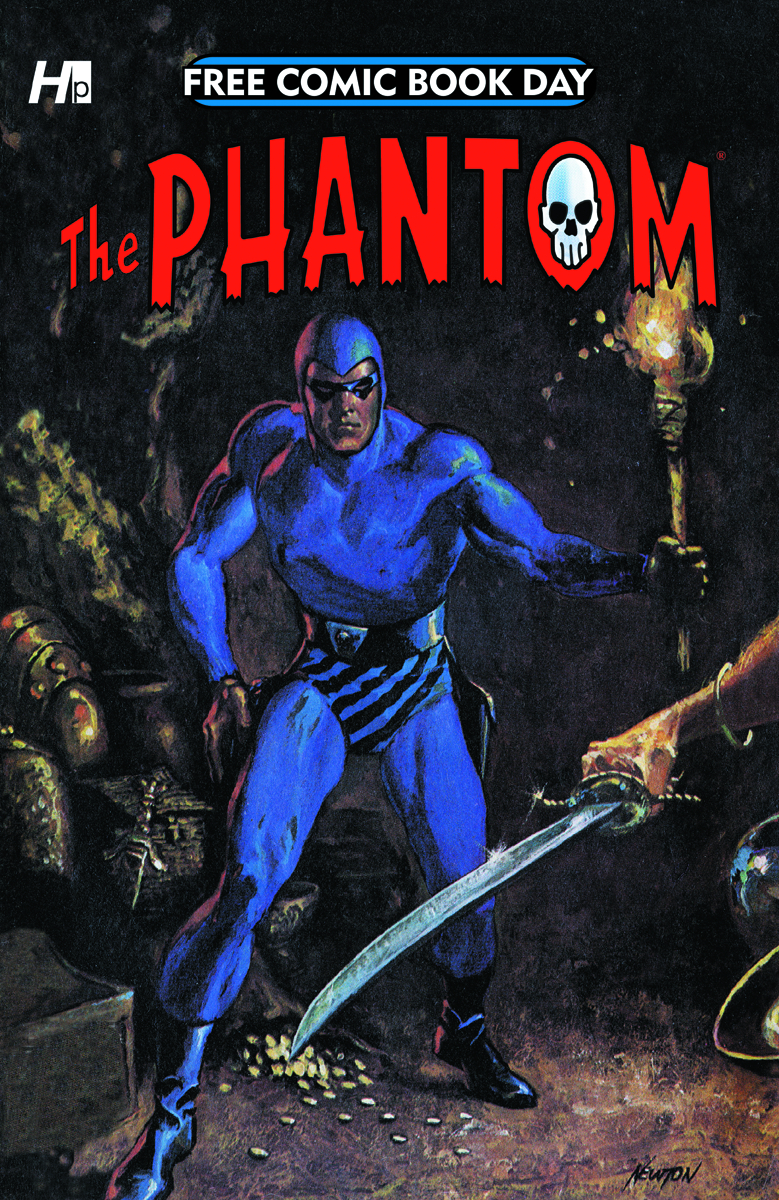 Publisher: HERMES PRESS
(A) Bill Lignante & Various
The Phantom, the grand-daddy of costumed heroes celebrates Free Comic Book Day 2015 with a volume showcasing stories by some of the greatest artists to ever create tales for this ground-breaking title featuring The Ghost Who Walks. This 32 page book will feature work from the Gold Key and King Phantom comics created by Bill Lignante; from the Charlton Phantom comics created by Jim Aparo and Don Newton and will offer samples of the newest Phantom story created by Peter David and Sal Velluto. Hermes Press' Phantom FDBD issue will also offer bonus material and tons of surprises!
OVERSTREET COMIC BOOK MARKETPLACE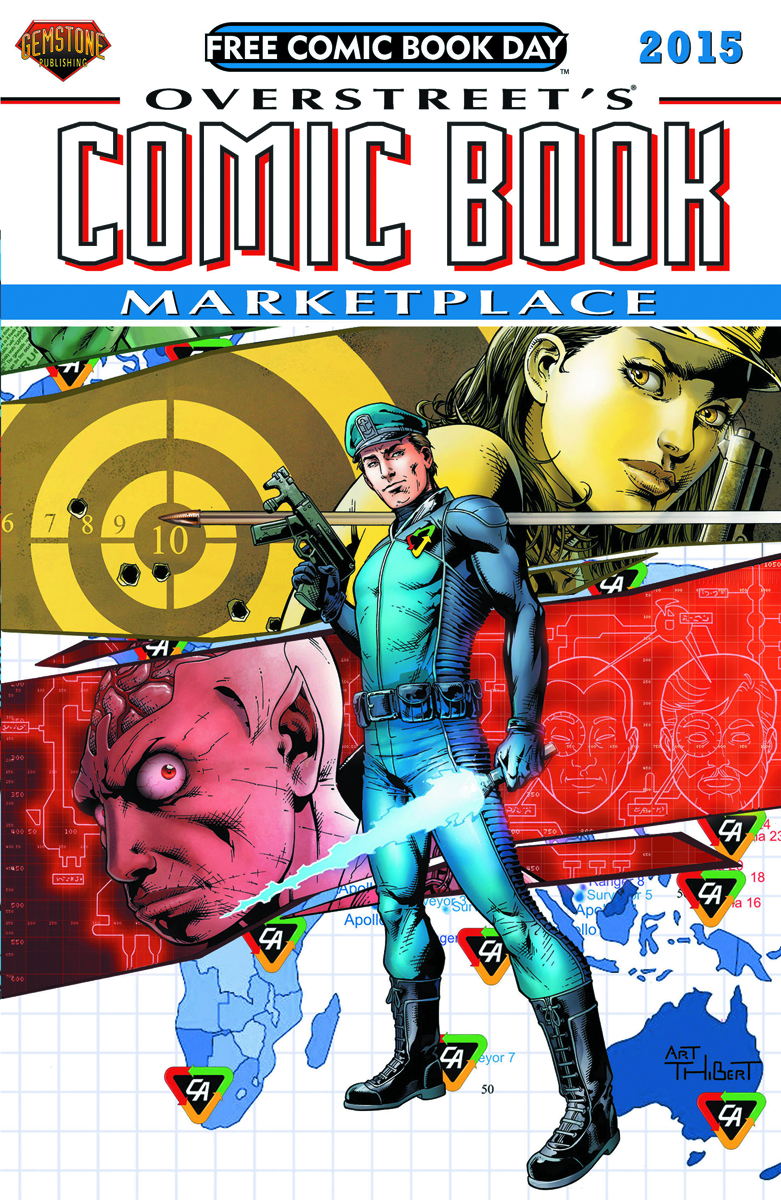 Publisher: GEMSTONE PUBLISHING
(W) Robert M. Overstreet, J. C. Vaughn
When Action Comics #1 sells for $3.2 million, Incredible Hulk #1 sells for $326,000, the original art for Wolverine's first brief appearance sells for $657,000, and when cosplay has exploded to unparalleled heights, it's time for a look inside the market. The Free Comic Book Day 2015 issue of Overstreet's Comic Book Marketplace from the team behind The Overstreet Comic Book Price Guide and the new Overstreet "How To" series is a perfect introduction to the fun and history of comic book collecting.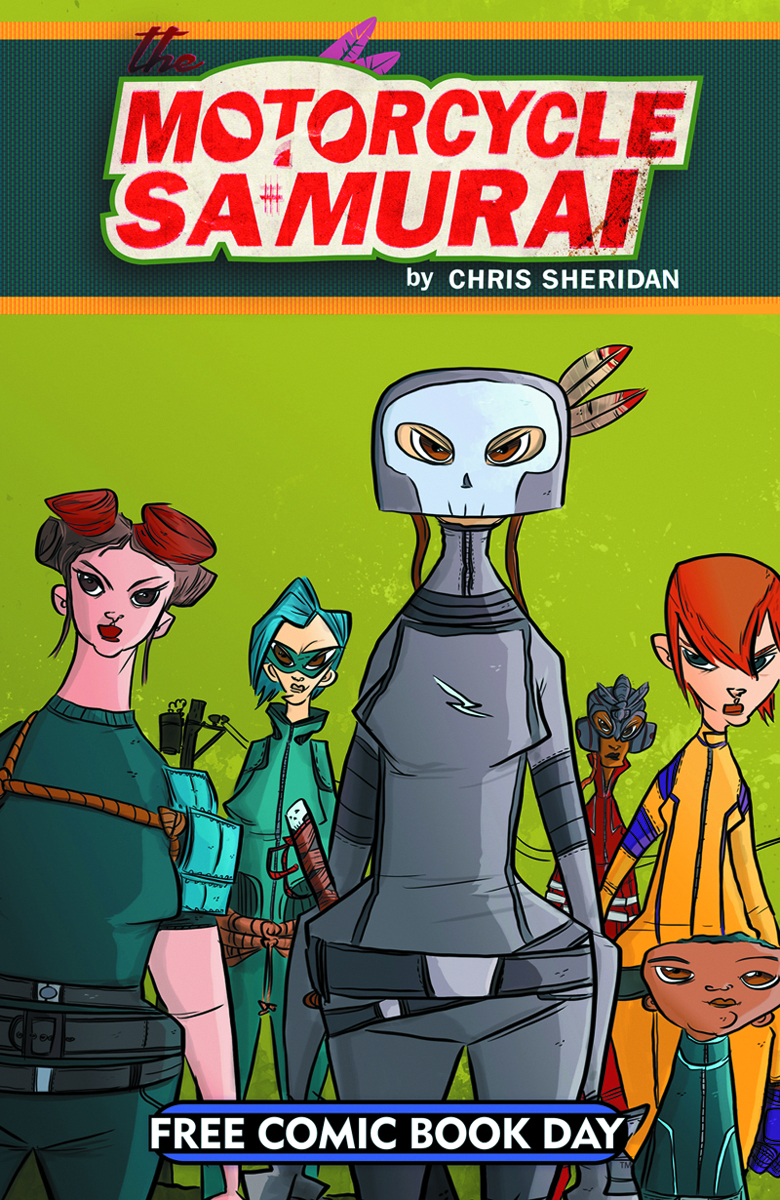 Publisher: TOP SHELF PRODUCTIONS
(W/A/CA) Chris Sheridan
Look hard into the storm clouds. You may yet see her, mounted on her electric steed, streaking past. The last hero of the West. THE MOTORCYCLE SAMURAI! It's been called "the new benchmark for indie digital comics." Now discover the mad genius of THE MOTORCYCLE SAMURAI for yourself, as Chris Sheridan does the unthinkable: brings his creation to print! Top Shelf celebrates FREE COMIC BOOK DAY with 24 pages of full-color action, whetting appetites around the world for the future release of the MOTORCYCLE SAMURAI graphic novel. Now saddle up and let's ride!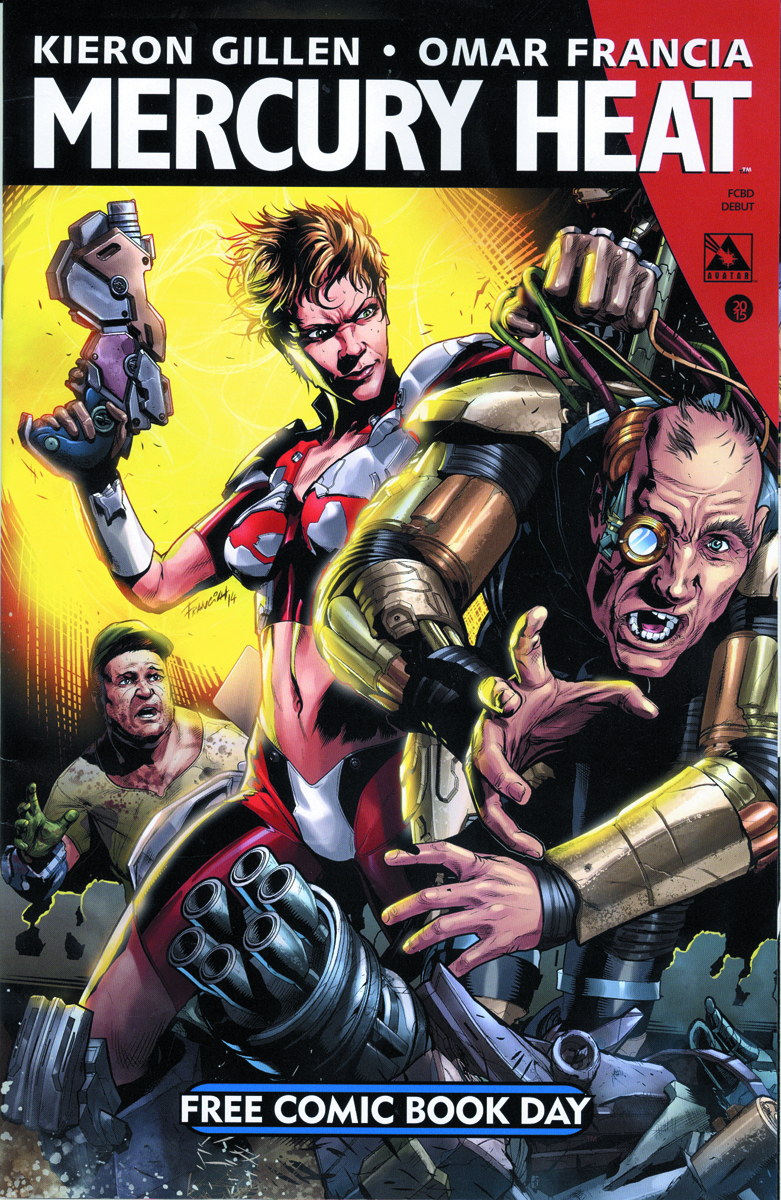 Publisher: AVATAR PRESS INC
(W) Kieron Gillen (A/CA) Omar Francia
Kieron Gillen blasts into Free Comic Book Day with an exclusive preview introduction to his all-new sci-fi series, Mercury Heat! Over the last few years, Gillen's work has gained a massive following from titles like Uber, The Wicked and the Divine, and Iron Man. Now Gillen takes you to Mercury, a slow turning planet where you can outrun the sunrise. Along with the blistering heat it brings. This is the new frontier of space, where humanity's insatiable need for energy is being fueled by Mercury. It's a tough environment and it attracts a rough crowd. So Luiza is bringing her own heat as a cop on Mercury, since she's just a bit too intense to be one on Earth. This special issue features the first chapter of this ongoing saga, a special introduction to the World of Mercury Heat, and a look at the ships, designs, and making of this epic. The future is here with this primer and first chapter of 2015's biggest sci-fi title!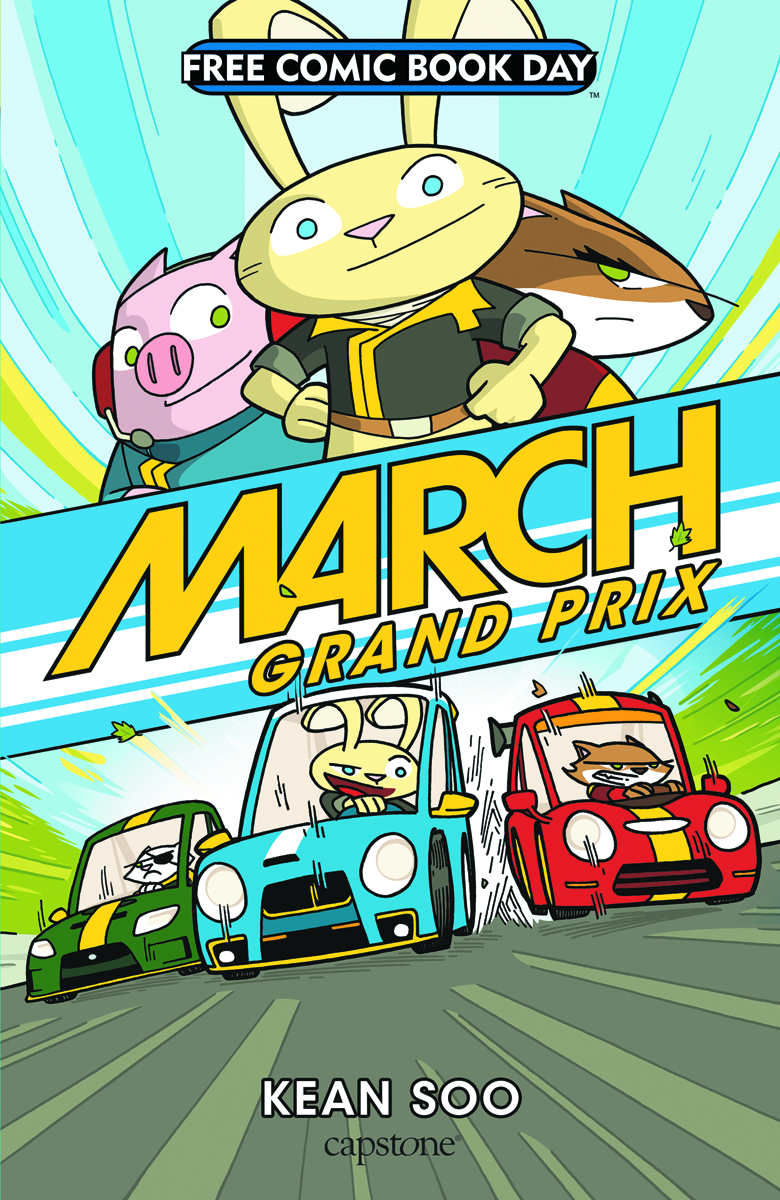 Publisher: CAPSTONE PRESS
(W/A/CA) Kean Soo
A Free Comic Book Day 2015 sneak peek of the new, turbo-charged graphic novel by Kean Soo, author of the award-winning series JELLABY! March Hare wants to be the fastest and furriest racecar driver around. But first, this rabbit racer must prove his skills at the speedway, on the streets, and in the desert. With pedal-to-the-metal illustrations and full-throttle action, MARCH GRAND PRIX is sure to be a winner! Featuring a full tank of bonus materials: creator Q & A, pinup art, and much more.
Publisher: LEGENDARY COMICS
Working with industry-leading talent such as Grant Morrison, Frazer Irving, Matt Wagner, Simon Bisley, Judd Winick, Geoff Shaw, Jonathan Hennessey and Shane Davis, we've created an ever-growing library of thrilling sagas including Annihilator, Epochalypse, A Town Called Dragon, The Harvester, The Tower Chronicles: DreadStalker and more, alongside cinematic tie-ins such as Godzilla: Awakeningand the best-selling Pacific Rim: Tales from Year Zero.
Join us this Free Comic Book Day as we unveil an exclusive first look at the exciting next chapter of Legendary Comics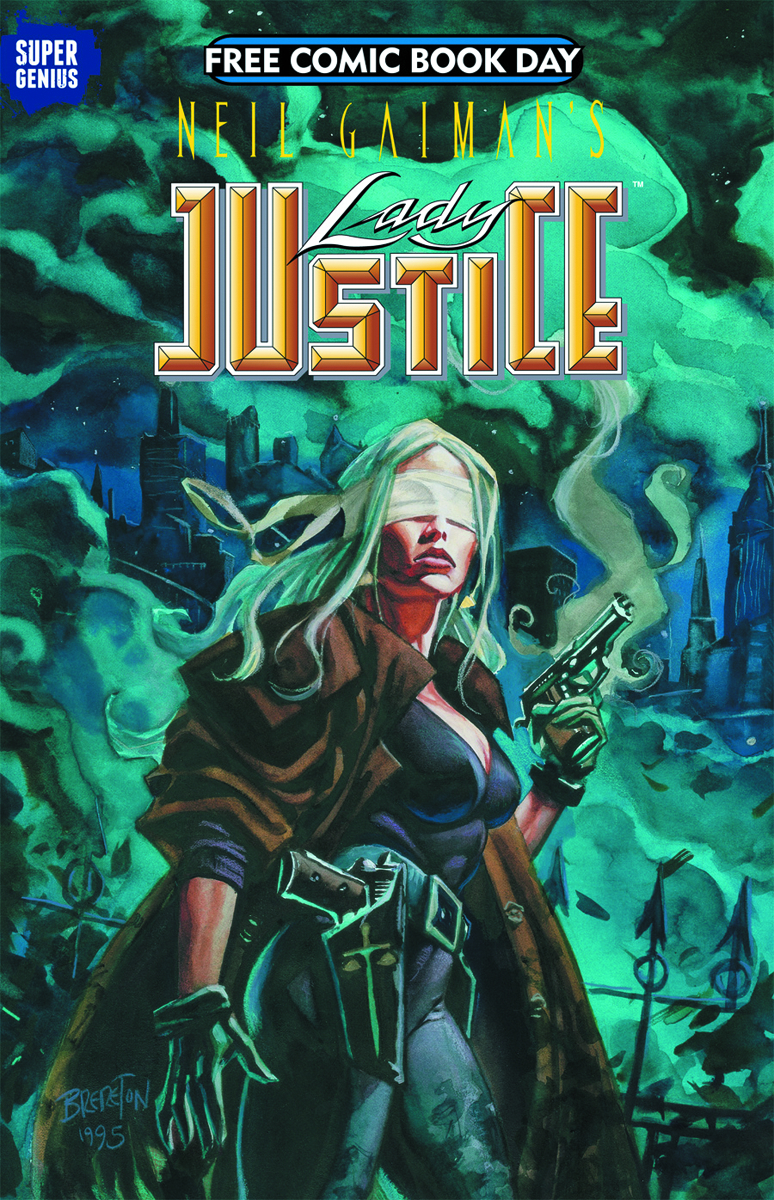 Publisher: SUPER GENIUS
(W) C. J. Henderson (A) Daniel Brereton & Various (CA) Michael Netzer & Various
Back in print for the first time in two decades! Lady Justice FCBD edition reprints issue #1 of Neil Gaiman's lost comics classic.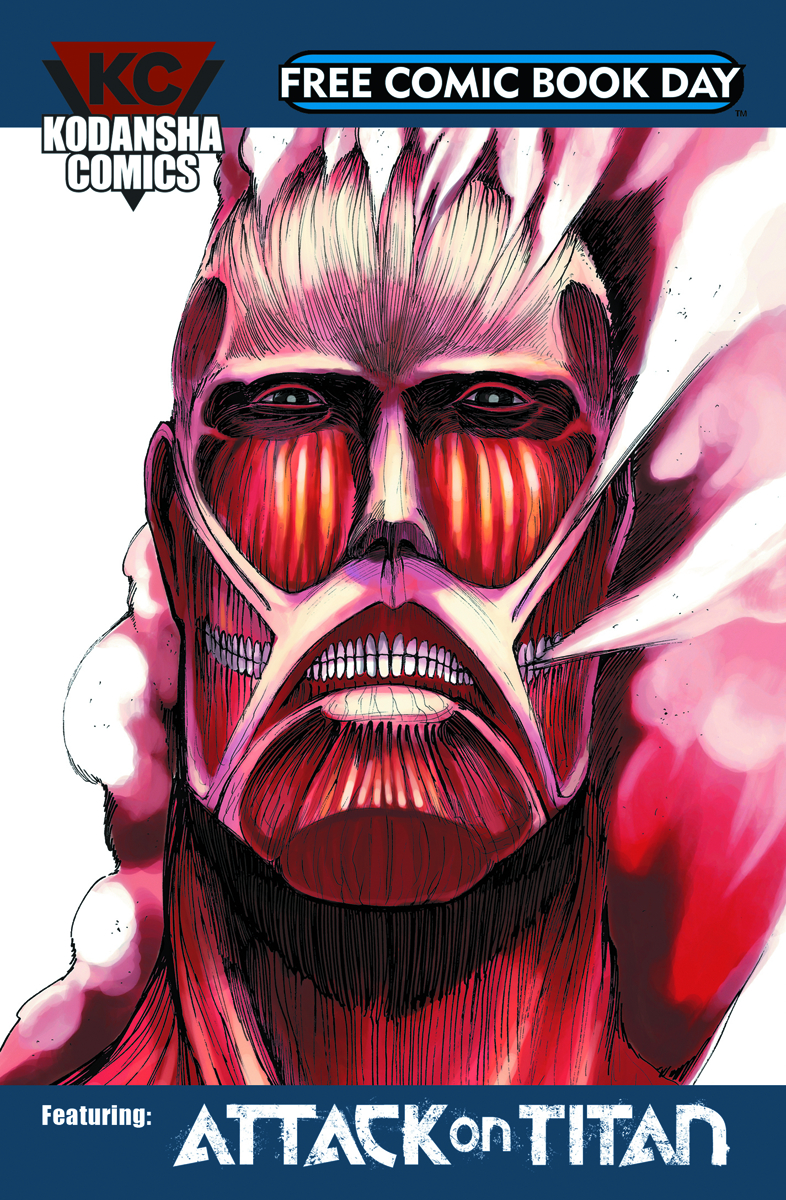 Publisher: KODANSHA COMICS
(W/A) Various (CA) Hajime Isayama
If you aren't reading Attack on Titan, you're missing out on the biggest manga and anime phenomenon to sweep the world in years. But don't worry, now you have the chance to see what all the fuss is about with an excerpt from the first volume, along with samples from other top manga series, including Fairy Tail, The Seven Deadly Sins, Noragami, and more!
JURASSIC STRIKE FORCE 5 ONE SHOT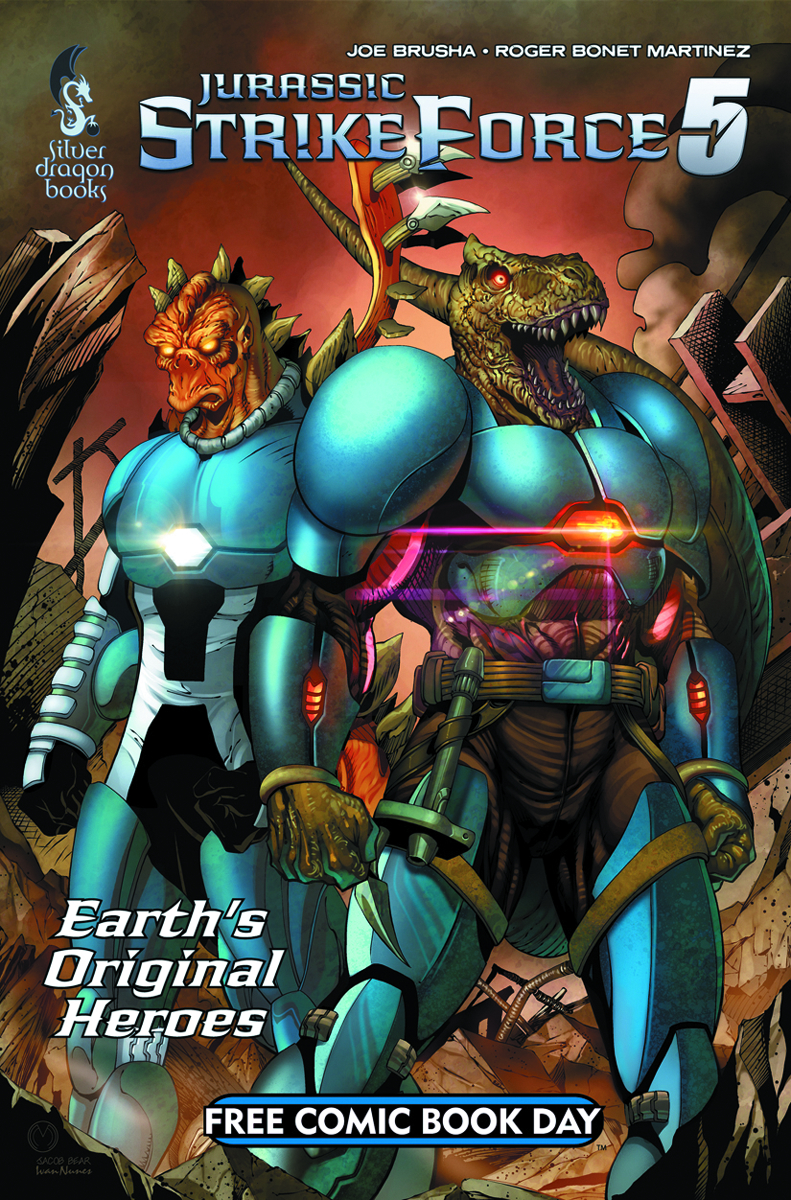 Publisher: ZENESCOPE ENTERTAINMENT INC
This is the prequel issue to Silver Dragon Books' All-Ages hit series featuring Earth's Original heroes!
The evil Zalex has returned to shatter Earth's peace with his army of mutated dino-soldiers. Now the Jurassic Strike Force 5 will be called into action to stop Zalex's evil plan!
JOJOS BIZARRE ADVENTURE AND YU GI OH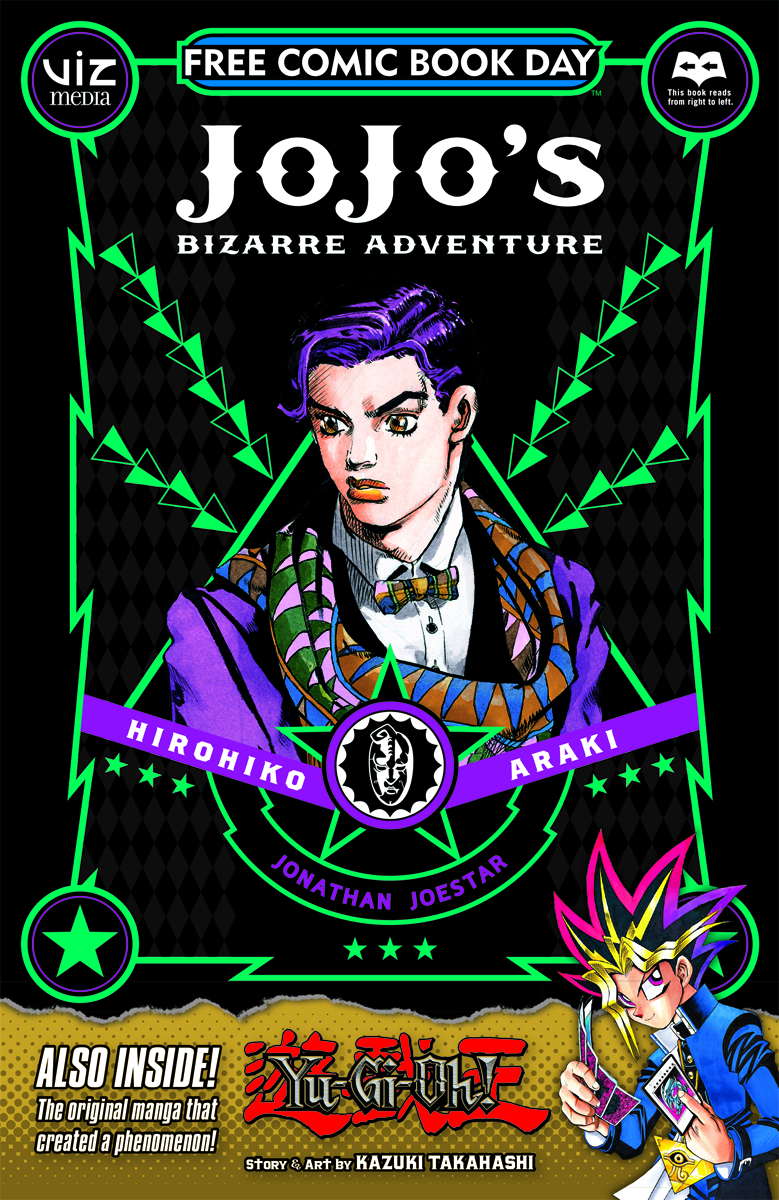 Publisher: VIZ MEDIA LLC
(W/A) Hirohiko Araki, Kazuki Takahashi
Jojo – The legendary Shonen Jump series, now available in English for the first time, in a deluxe edition featuring color pages and newly drawn cover art! JoJo's Bizarre Adventure is a groundbreaking manga famous for its outlandish characters, wild humor and frenetic battles. A multigenerational tale of the heroic Joestar family and their never-ending battle against evil!
YGO – Tenth-grader Yugi always had his head in some game–until he solved the Millennium Puzzle, an Egyptian artifact containing the spirit of a master gambler from the age of the pharoahs! Possessed by the puzzle, Yugi becomes Yu-Gi-Oh, the King of Games, and challenges evildoers to the Shadow Games…weird games with high stakes and high risks!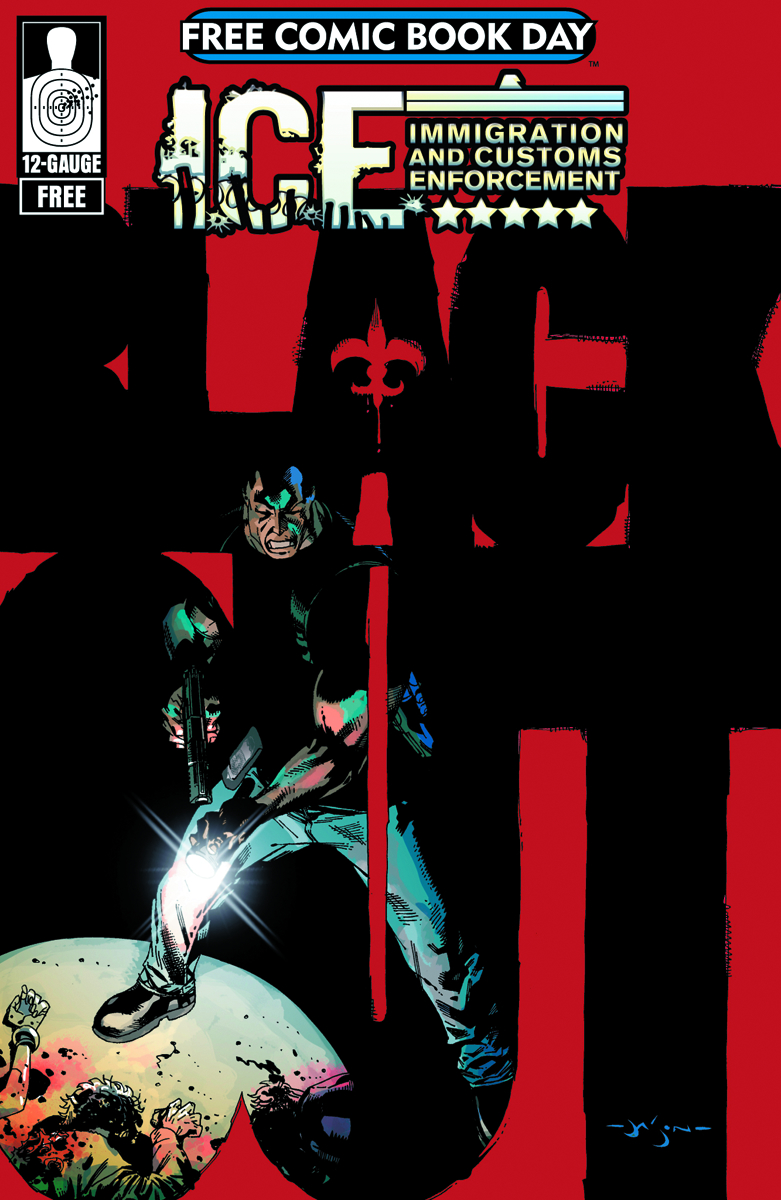 Publisher: 12 GAUGE COMICS LLC
(W) Doug Wagner, Ron Marz (A) Daniel Hillyard, Nelson Blake (CA) Jason Pearson
When a group of Chechen mercenaries attack New Orleans, ICE agents Cole and Ezra must stop them before they can complete their mission to destroy a main hub of the US power grid. To keep these murdering psychopaths from achieving their goal, Cole must let go of his fear and unleash his true self. As an added bonus, this FCBD issue includes an extended preview of the next installment of critically acclaimed anthology THE RIDE, from writer Ron Marz (Green Lantern) and artist Nelson Blake (Witchblade)!
HIP HOP FAMILY TREE 3-IN-1 FEATURING COSPLAYERS (MR)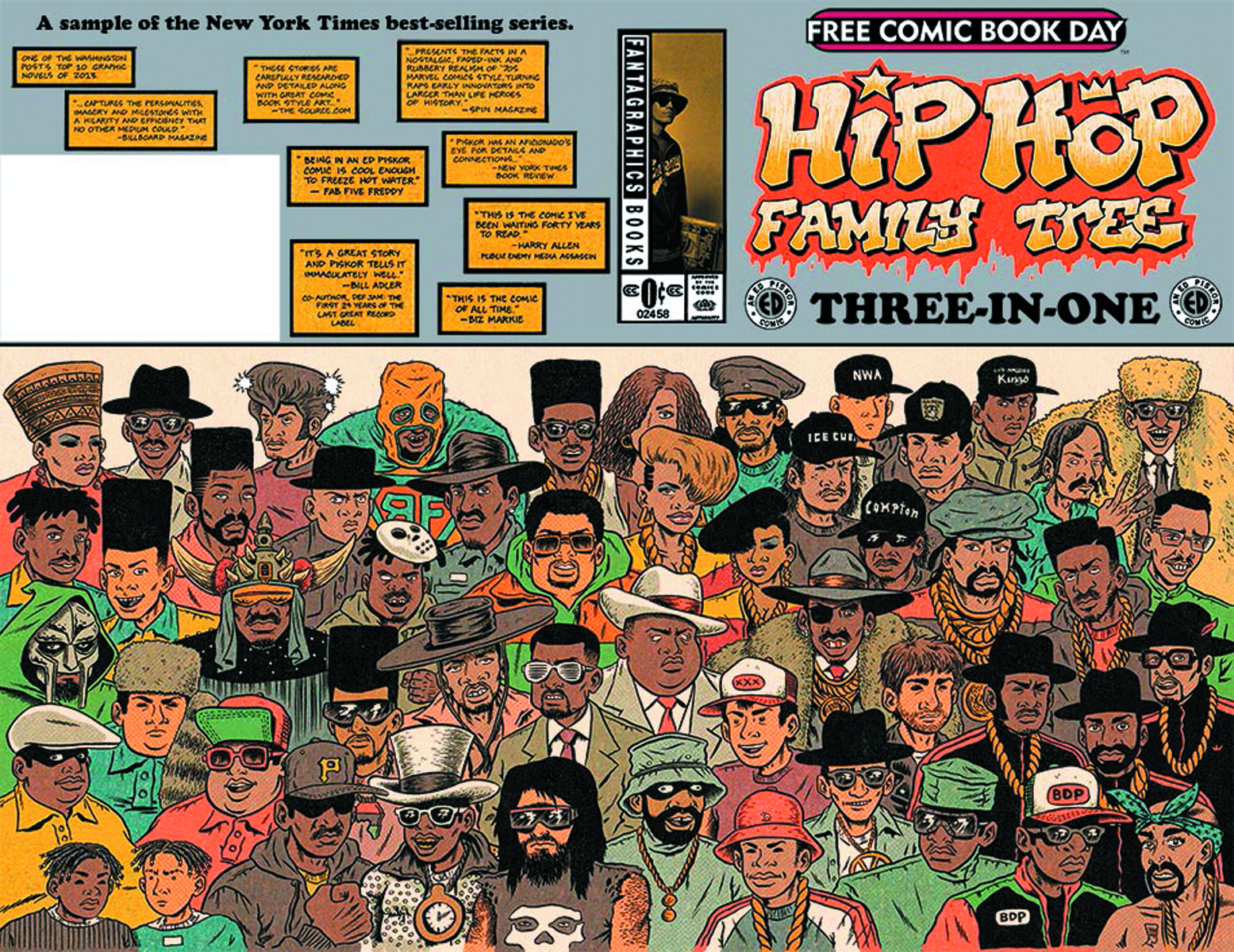 Publisher: FANTAGRAPHICS BOOKS
(W) Ed Piskor, Dash Shaw (A) Ed Piskor & Various (CA) Ed Piskor
Featuring Ed Piskor's Hip Hop Family Tree series and Dash Shaw's Cosplayers! Piskor's half features excerpts from all three existing HHFT volumes, plus the Rob Liefeld/Spike Lee commercial adaptation and exclusive pinups by R Crumb, Scottie Young, Jim Rugg, Ben Marra, and more…! Shaw's side delivers an all-new, 24-page issue of his thoughtful and funny exploration of human endeavor and social interaction as seen through the lives of two cosplayers. Enjoy the works of two of the great contemporary graphic novelists of their generation! With exclusive wraparound cover by Piskor.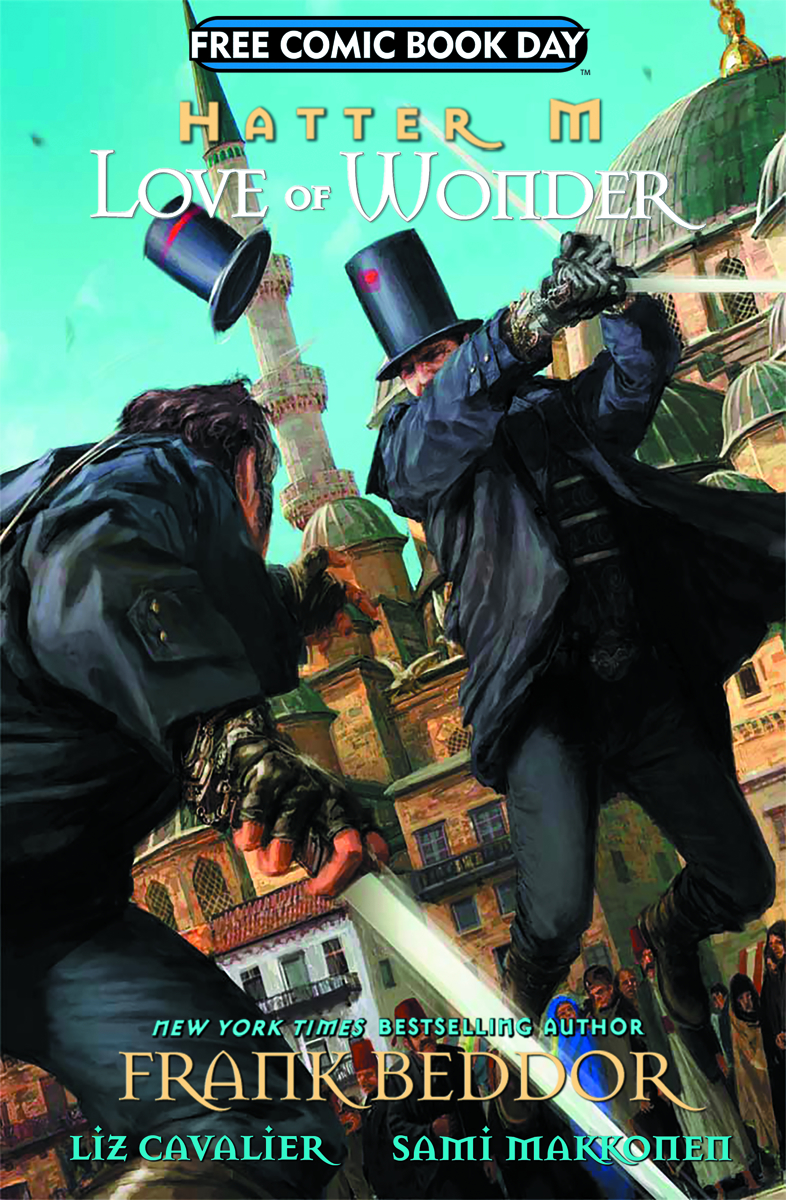 Publisher: AUTOMATIC PICTURES
(W) Frank Beddor, Liz Cavalier (A) Sami Makkonen (CA) Vincent Proce
Looking Glasses shatter as heroes and villains from Wonderland arrive to aid or block Hatter in his quest to find Alyss. Hatter's reunion with his brother Dalton leads to an epic showdown as savior meets assassin in the struggle for Wonderland's future!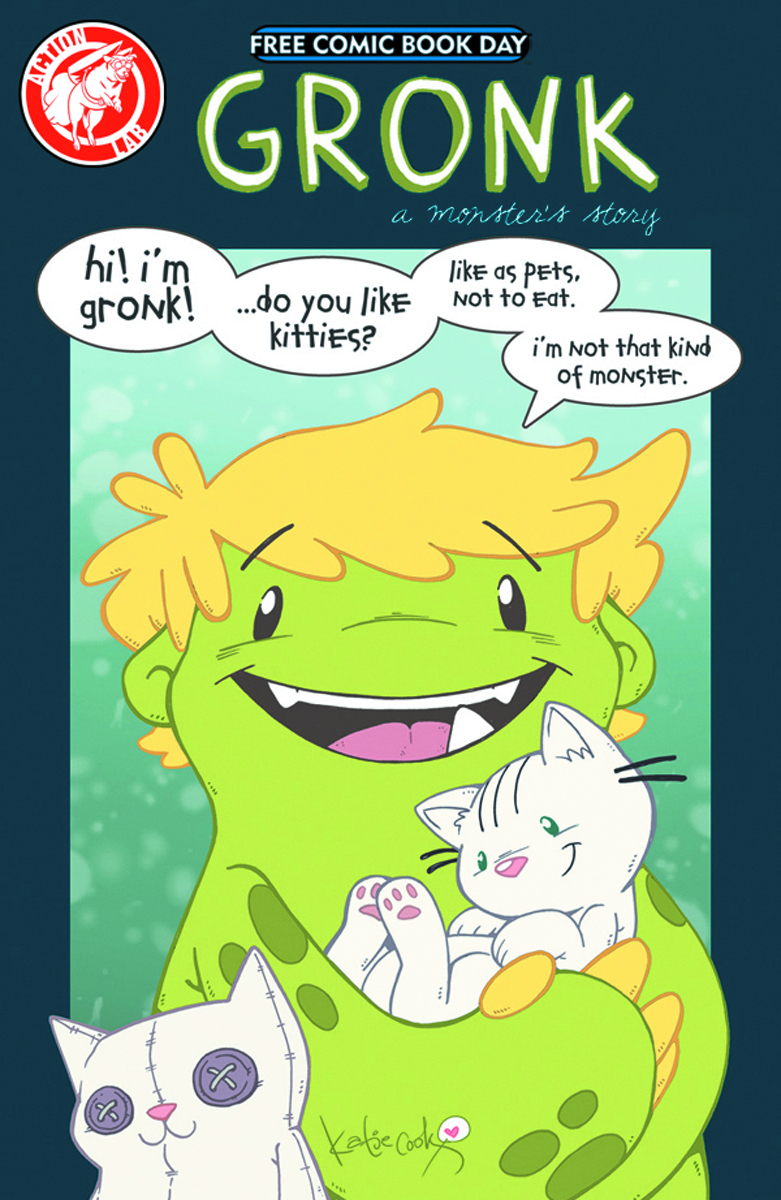 Publisher: ACTION LAB ENTERTAINMENT
(W/A/CA) Katie Cook
Gronk is a monster…and not a very good one! Follow Gronk's continuing adventures as she learns about the world around her from her "teacher", Dale, in this all-new Gronk story from fan favorite Katie Cook!
GRAPHIX SPOTLIGHT CLEOPATRA IN SPACE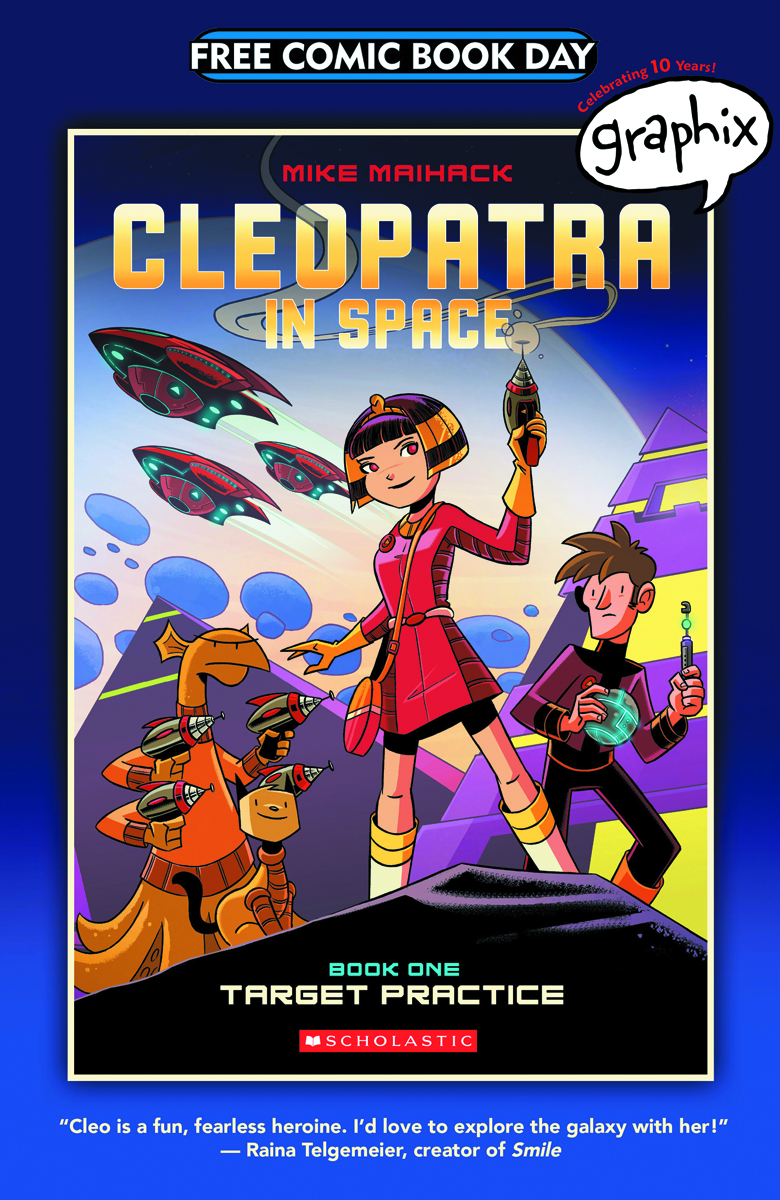 Publisher: GRAPHIX
(W/A/CA) Mike Maihack
When a young Cleopatra (yes, that Cleopatra) finds a mysterious tablet that zaps her to the far, really far future, she learns of an ancient prophecy that says she is destined to save the galaxy from the tyrannical rule of the evil Xaius Octavian.
GFT WONDERLAND SPECIAL EDITION ONE SHOT (MR)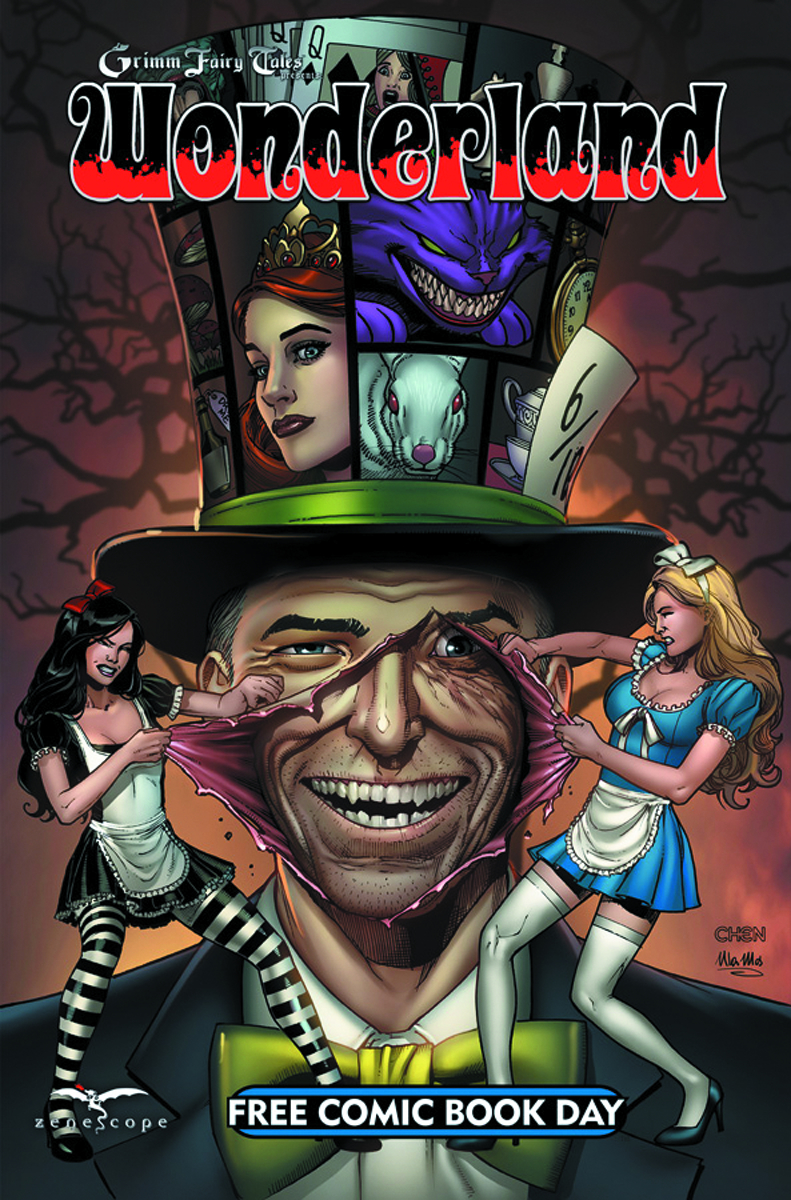 Publisher: ZENESCOPE ENTERTAINMENT INC
Zenescope has published over 100 Wonderland comics and spinoff comics since 2007. Now this special Free Comic Book Day offering will give readers a chance to jump on board the incredible mind-warping horror series that will leave you wanting more. Travel down the rabbit hole and rediscover the madness!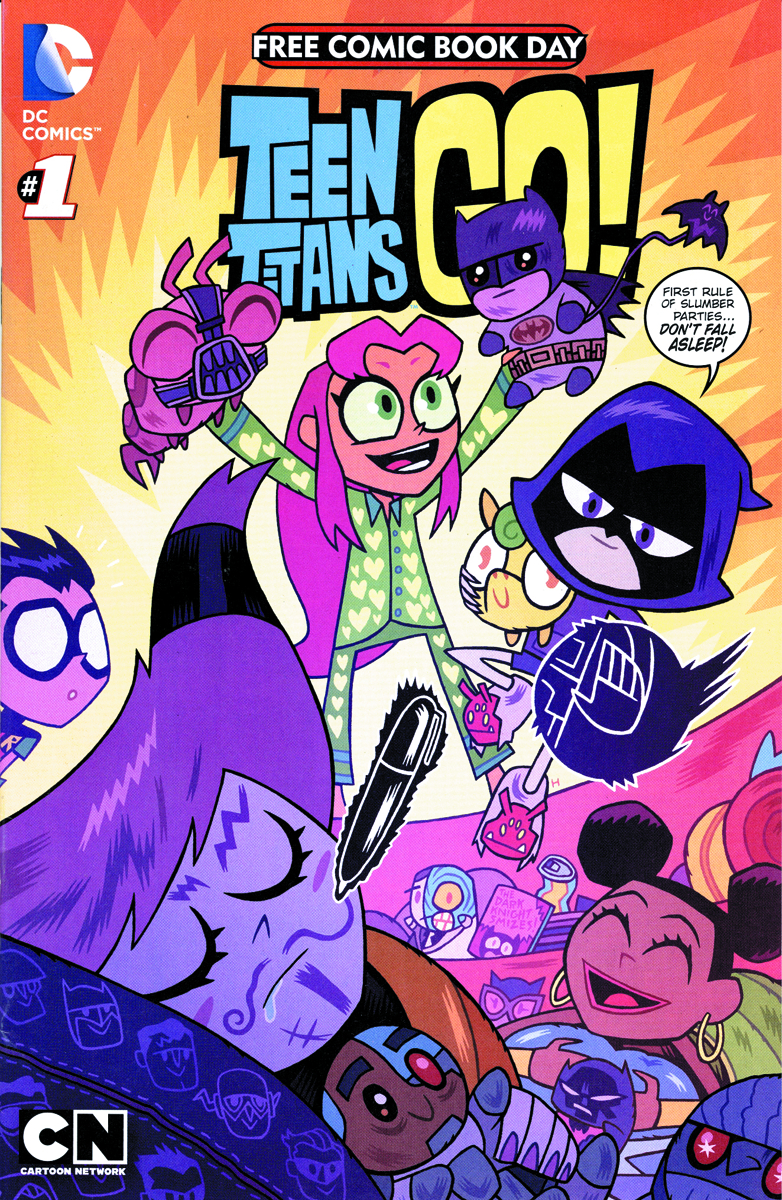 Publisher: DC
Information to be revealed at a later date.
DARK HORSE ALL AGES AVATAR PVZ BANDETTE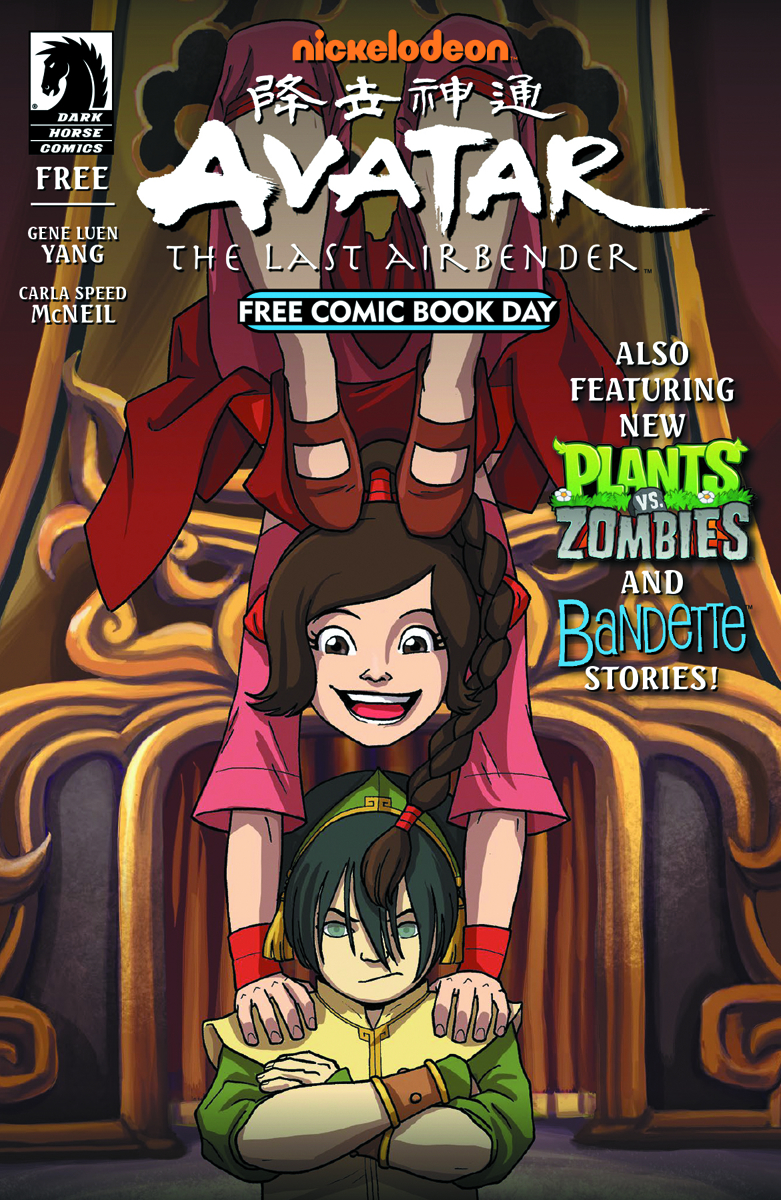 Publisher: DARK HORSE COMICS
(W) Gene Luen Yang, Paul Tobin (A) Carla Speed McNeil & Various (CA) Carla Speed McNeil
All-ages action, fantasy, and humor! All-new stories that make great entry points to new worlds! Gene Luen Yang and Carla Speed McNeil deliver an Avatar: The Last Airbender adventure! Dr. Zomboss and Crazy Dave clash in a new Plants vs. Zombies battle! And the crafty Bandette stars in a tale of her own!