C2E2 is coming in Chicago next week, and there will be plenty of exclusive and debut comic books there from publishers and creators alike. Here are 66 we found. Many more to come, no doubt… feel free to tell us about them at richjohnston@gmail.com.
UPDATE:
C2E2 themselves will be selling a Rick & Morty variant by Sean Dove (selling like crazy through pre-sale) and an Infinity Countdown #1 variant by Kris Anka.
$10 each and for sale at the ReedPOP Supply Co. Official Show Store in the South Hall.
Dark Horse Comics (Booth #619) has one C2E2 exclusive for American Gods and two debut convention exclusive variant covers for Black Hammer: Age of Doom #1 and Xerxes: The Fall of the House of Darius and the Rise of Alexander #1.
Image Comics (Booth #513) has C2E2 exclusives for
ANALOG #1 by Gerry Duggan & David O'Sullivan, art by O'Sullivan, $10 (+tax)
ISOLA #1 by Brenden Fletcher & Karl Kerschl, art by Kerschl, $10 (+tax)

#C2E2 ONLY DAYS AWAY! (BOOTH #540)

We are days away from @c2e2 and can't wait for our loyal #CaveDwellers to pick up our debut title, BATTLECATS! If you can't make it to the show, you can get your hands on a copy of Issues 1 and 2 at your #LocalComicShop.#SupportYourLCS #LCS pic.twitter.com/s9d3FbS0Iz

— Mad Cave Studios (@MadCaveStudios) April 2, 2018
Devil's Due Comics has an exclusive print series of Chicago's artists. The four 11" x 17" print series contains work by Shawnimals, Junkyard, Squarriors' Ashley Witter, Rawooh, Hard Decora, Elloo Elloo, Revise, and Josh Blaylock.
Comics Experience and Source Point debut trade paperback edition of Wretched Things by Devon Wong, Ken Perry, and John Hunt. Wretched Things reveals the secret lives of vermin — those scurrying creatures who live in the shadows that humans regard with disgust — as being complex, with rich experiences and legends all their own. A young mouse named Bran, guided by a six-legged spider named Impatience, must come face-to-face with a new destiny — a world where vermin no longer skulk in the darkness.
Monster-filled sci-fi series Family Graves to debut at C2E2 from @SourcePtPress & @ComicExperience. https://t.co/gGev5AsWLg pic.twitter.com/CdCW27aXZO

— HorrorDNA.com (@HorrorDNA) March 25, 2018
Comics Experience and Source Point Press also have the debut of Grief, a comic book short story collection written by Frank Gogol, with art by Nenad Cvitcanin, Kim Holm, Ryan Foust, Bethany Varni, Jey Soliva, colored by Luca Bulgheroni, Esther P. Gil-Munilla, Emily Elmer, lettered by Sean Reinhart, and with a cover by Dani Martins.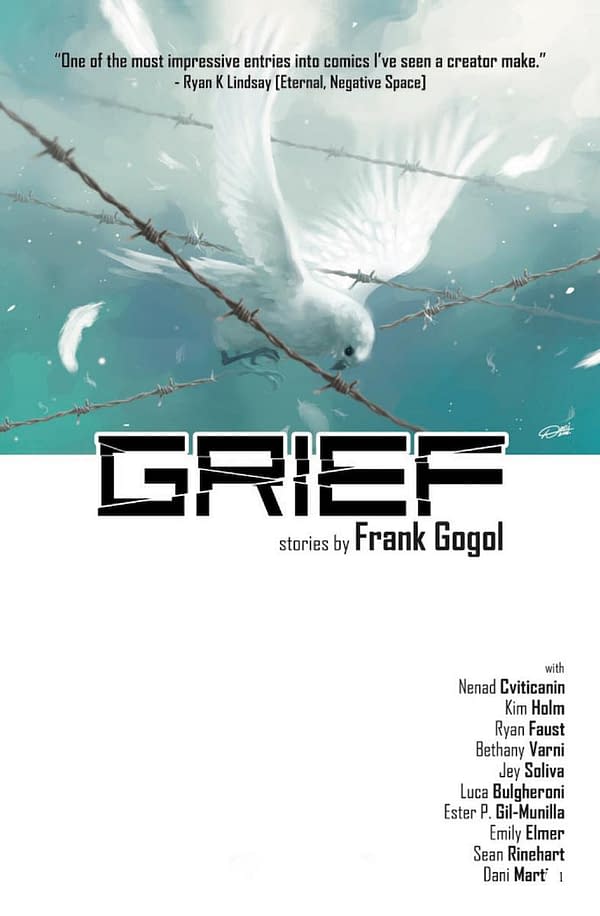 Bogus Books debuts Beef Jams Tournament Edition (Artist Alley Tables L5/L6)!
Beef Jams Tournament Edition is a full-color 46-page anthology comic featuring a ragtag group of Basketball Playing Long Haul Truckers and their off-the-court hi-jinx, led by their All-American Mascot, Phylo the Cheeseburger. Phylo is joined by smut philosopher power forward, Axel Suede, feral old tymey prospector point guard, Big Run, and vaping Romeo center, Cheef Chaw.  Cover by Grammy-Nominated artist Benjamin Marra. The writers of Beef Jams, Marc Koprinarov and Dave Landsberger, along with co-creators and artists, Greg and Fake, will be at table L5/L6 in the artist alley all weekend to sign copies and talk hoops. Other show exclusives include:
-Phylo Jumpman color vinyl sticker
-Greg and Fake Cartoon Hour Matchbooks
-Beef Jams Guide to Flat Earth, Informational Brochure
-Signing and exclusive poster by Brian Mead
-Chess matches vs. Greg of Greg & Fake
I have another print besides the Gravity Falls/X-Files one! Pretty excited to debut this one, too! pic.twitter.com/CYwfjk8G9j

— Andy Kluthe (@AndyKluthe) March 29, 2018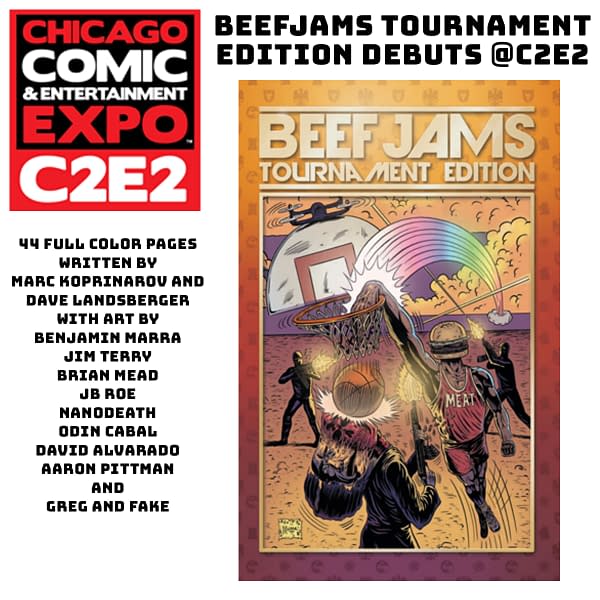 Storm King Comics' Exclusive cover for John Carpenter's Tales of Science Fiction: Vortex #6 at booth #419' Storm King Comics con exclusive $1 buttons get you entered into a mystery box raffle. Four buttons to choose from and each mystery box includes over $50 of goods, some signed by the creators.
The books have arrived in Illinois! #huzzah! #Mendicant #1-4 Bundle will debut at @C2E2! #Mendicant #CPScomic #FromAdam #SnackComic #kingbonepress #comicbooks  #art #comicbooks #comics pic.twitter.com/XrspZZsret

— Bobgar Ornelas 🇺🇸 (@slurmo) March 22, 2018
METAL HAND BOOTH: G14


AGENDA #2 Sketchcover $25
We –me, @NickPitarra & @MichaelGarland— will have a limited amount of LEVIATHAN ashcans on sale at C2E2. The full issue, more than half colored, along some process pages, but you'll be able to read entire issue 3 months early. pic.twitter.com/83VIVEWvNX

— LAYMAN (@themightylayman) April 2, 2018
I'll be hanging out @C2E2 with @legendsuniverse at Booth #132.
Along with my usual stuff, I'll also have exclusive English copies of ConTroll. pic.twitter.com/QoWseFCHh0

— Jon Parrish (@jonhparrish) March 28, 2018
DIMENSION X BOOTH #1427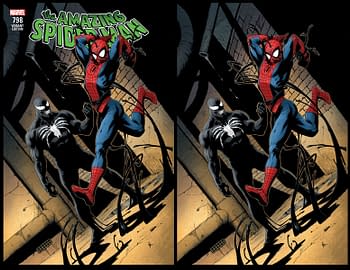 AMAZING SPIDER-MAN #798 EXCLUSIVE GARY… $50
Convention exclusive comic time! Ashley Witter has made this amazing Captain America #111 homage Squarriors #3 variant for us and is limited to just 500 copies for just $20. We also have a Mega Signed version certified by CBCS for $149.99. https://t.co/TOinnyUqRN pic.twitter.com/zrmpQogZVw

— Ashley Maczko-Witter (@AshleyMWitter) March 31, 2018
UNKNOWN COMICS BOOTH #527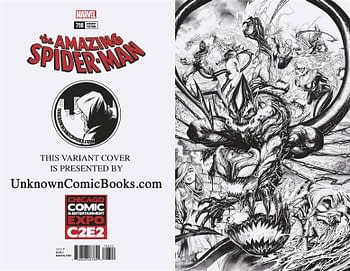 Amazing Spider-Man #798 Tyler Kirkham Limited to 1000 print run $40
Vamperonica #1 Elias Exclusive. $35
Venomized #1 Hans Exclusive 1000 print run $40
Graphitti Designs Booth #921
BATMAN #44 Convention Exclusive, Variant-Covered Comic with silver foil cover treatment, bagged and boarded.  $15
DARK NIGHTS METAL #6 Silver Foil Comic $15
DEATHSTROKE #30 Silver Foil Comic $15
THE CURSE OF BRIMSTONE #1 $15
A little push in the right direction 💨 Comic from Tracks '18 to debut at @c2e2 in April. Tracks is a collection of zines featuring playlists from mix cds past and autobiographical comics. You can grab Tracks '16 + '17 at https://t.co/Rt1odjhF72 💙 pic.twitter.com/PoZOviged8

— Andrea Bell 👼 (@andyharvestyeah) March 15, 2018
AFTERSHOCK BOOTH #712


Brothers Dracul #1 C2E2 exclusive cover…
Announcing my #c2e2 exclusive print… it's going to be a gold foil print of "We All Become," with only 50 made and available first to those visiting my table in artist alley (I-11)! My first con exclusive of the year sold out completely at ECCC, and these are gorgeous in pe… pic.twitter.com/jCpLU6Ih8p

— iNSPIRE (@theifckr) March 17, 2018
LEGENDS COMICS AND GAMES BOOTH #1632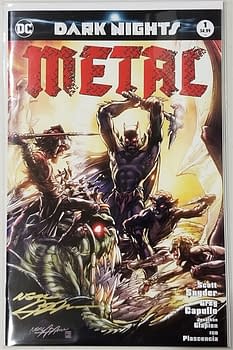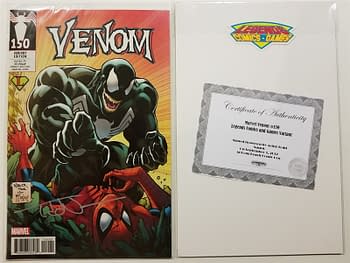 Dark Nights: Metal #1 Legends Comics Variant, signed $50
Venom #150 Legends Comics and Games exclusive variant. It is signed by cover artist Todd. $40
Squarriors Summer #3 Legends Comics and Games variant.
Our new title 'Ivory Ghosts' 🐘 will debut at #C2E2 in April, booth 148. Can't make it to the show? Pre-order now for May 1st general release : https://t.co/Ns7DkB7B4I#indiecomics #preorder #Ivoryghosts pic.twitter.com/YiwvJPkaZf

— Kymera Press (@KymeraPress) March 22, 2018
KYMERA PRESS BOOTH #148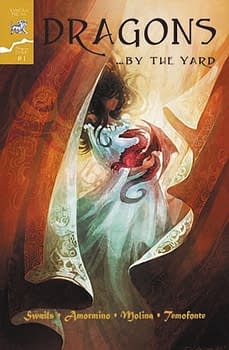 Dragons by the Yard Limited Edition. Buy all for Pet Noir issues and get the Limited Edition of the first issue of Dragons by the Yard free. $15.99
Buy the Gates of Midnight Graphic Novel and Issues 5-8, and get the Limited Edition of Mary Shelley Presents, Free. $30.95.
ABRUPT DESIGN BOOTH #783
Artist & Writer Adam Fields has created a special variant cover issue of Prowl #1, with a limited print run of ONLY 100. Free.
Don't forget to pick up my #HardleeThinn exclusive at @c2e2 next weekend. #C2E2 #comicbooks pic.twitter.com/xknrxgSfWF

— Sean Forney @ Home (@SeanForneyArt) March 30, 2018
SEAN FORNEY BOOTH # L11
C2E2 special variant CHROME cover of Hardlee Thinn from Counterpoint Comics by Sean Forney paying homage to Chicago and Arthur Adams. $50.
L11 C2E2 special variant cover of Hardlee Thinn from Counterpoint Comics by Sean Forney paying homage to Chicago and Arthur Adams. $25.
COMIC*POP BOOTH #1226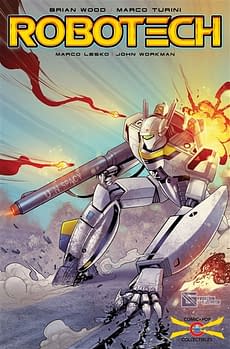 HARLEY QUINN #1 COMIC*POP EXCLUSIVE, limited to 3000, exclusive homage cover to FLASH #123. $10.
ROBOTECH #1 COMIC*POP EXCLUSIVE DOUGLAS FRANCHIN. Limited to 500 copies. $10.
VENOMIZED #1 COMIC*POP FRANCESCO MATTINA exclusive cover. $15
ONI PRESS #209
A C2E2 2018 exclusive variant of RICK AND MORTY PRESENTS: THE VINDICATORS #1 by J. Torres and CJ Cannon with Nick Filardi. $10
This makes its debut @c2e2 this weekend #harleyquinn #batman #comicartist #art #joker pic.twitter.com/aHuuDIf4i3

— Blake Henriksen (@PinkHavok) April 19, 2017
KYLE HIGGINS BOOTH #A15
The Dead Hand #1 C2E2 EXCLUSIVE
JEREMY HAUN BOOTH #J10


THE REALM HARDCOVER VOLUME ONE. Includes five-song EP download from Me Like Bees with the first five issues of the story. Limited print run of 1000. $40.
CREATURE ENTERTAINMENT Booth #101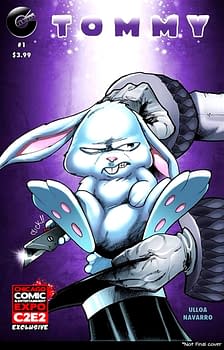 TOMMY vol.2 Issue 1 EXCLUSIVE
Vol.1 saw the rise of Jack in Tommy's world and after its whirlwind ending, we were left hanging with what came next. $20
MARKISAN NASO BOOTH #P9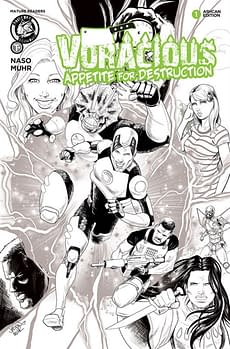 VORACIOUS: APPETITE FOR DESTRUCTION. A 28-page, Exclusive Edition Ashcan that previews the upcoming third volume of Voracious – Voracious: Appetite for Destruction… $5
thank you! We're putting up preorders in a few months for a C2E2 debut. Please follow @red_stylo for info when it goes up pic.twitter.com/4sQIR1IdRZ

— Mario Candelaria (@TheOtherMarioC) October 13, 2016
BILL MCKAY #S5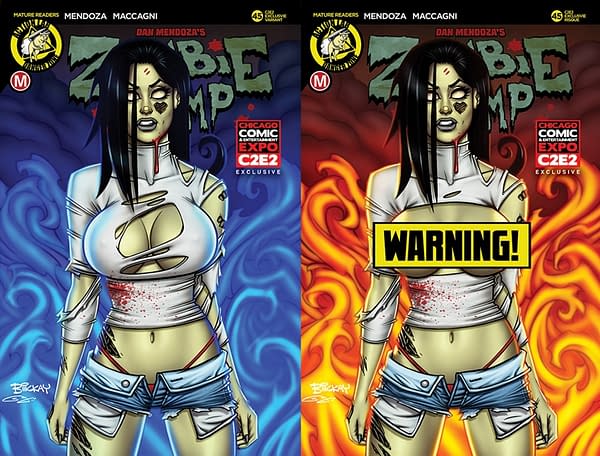 Zombie Tramp 45 C2E2 Exclusives available in regular and risqué.
We are excited to debut #DreamKidz at @c2e2 with @iidonije this year! #C2E2 #Chicago pic.twitter.com/Nz0LJncngw

— ATHLiTACOMiCS (@ATHLiTACOMiCS) April 12, 2017
Enjoyed this article? Share it!