A Scene From Strange Academy #2, Two Months Ahead of Publication
Arthur Adams very generously shared his variant cover to the upcoming Strange Academy #2, now that it has a scheduled on-sale date of Wednesday, July 8th. Issue 1 by Skottie Young and Humberto Ramos came out on March 4th. That'll be a four-month gap which should, at least, give folk a chance to get ahead and catch up. Anyway, this cover features one of the great breakout characters of the first issue, Doyle Dormammu, one of the many offspring of the ancient devil creature and threat to Doctor Strange, and all of reality, Dormammu.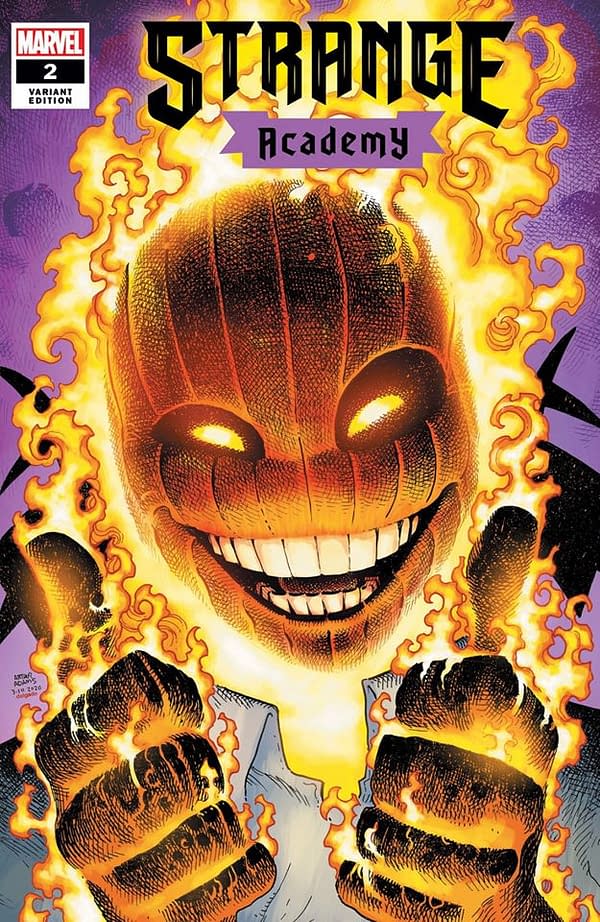 A public Zoom call between Marvel creators at the Everywhere Book Fest online yesterday, included editor Lauren Bisom and writers Nic Stone, Preeti Chhibber, Skottie Young and Saladin Ahmed with Brian Truitt interpreting into American Sign Language English.
Skottie Young talks about one upcoming scene from Strange Academy #2 that has changed how he will be writing the comic book going forward. He talked up Doyle Dormammu saying "one of my favourite characters is Doyle Dormammu, it was one of the probably many sons of the biggest, you know, the lord of the dark dimension is at the school so clearly everybody's afraid that this kid is just going to lay waste to the whole place but you know what to find out if that's going to be the case or not so again it's really a chance for me to throw these kids into all the kind of that we all went through as teenagers but we're just gonna we're gonna ramp it up like by a hundred and throw in a lot of magic and demons and swamp cults and the whole types of weird weirdness".
He also wanted to pay tribute to one scene. "There's a scene I mentioned with the magic coat, we have a character named Calvin and this is a perfect example about what it's like to be on the writer's side now as an artist, hey I'm working with Humberto Ramos who was one of my favorite artists when I was in high school, right, so I'm writing a book for him and we created a character called named Calvin and he found a magical coat at one of his foster homes and the coat has a little bit of a life of its own and so I just wrote a scene where Calvin, like ,all the other kids are studying in the kind of mess in the rec room in the dorms and Calvin's playing video games and that's all I was like all the other kids are really into their homework and they're really focused… and then the page that I got back was everybody else studying and Calvin playing PlayStation against his coat also playing PlayStation I was like oh like he took what I did and plussed it up five times."
He talked about the joy of" getting to see a small idea become a really big fun idea and snowball that into future story plot points that I would not have thought about had he not done that with the coat."
It's not seen in these pages we have previewed. After all, we still have a couple of months to wait…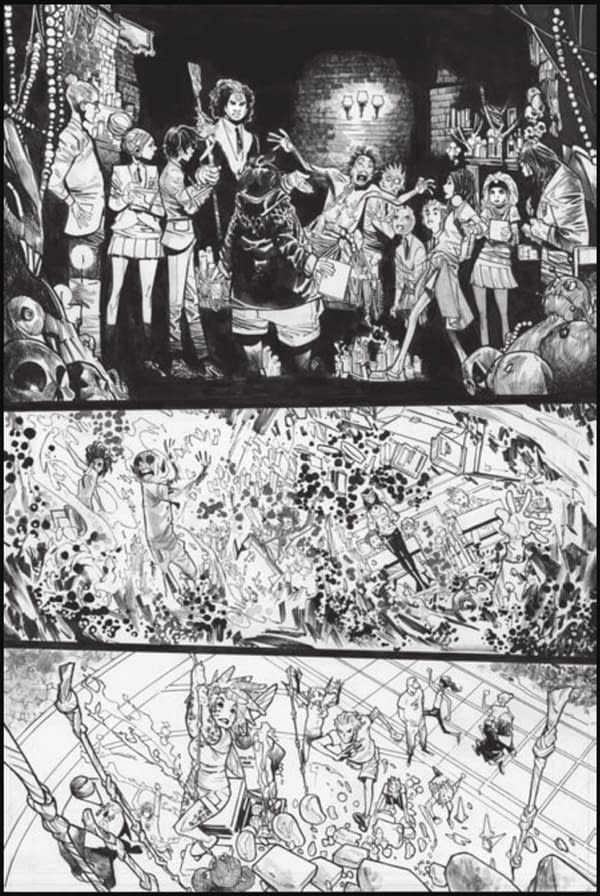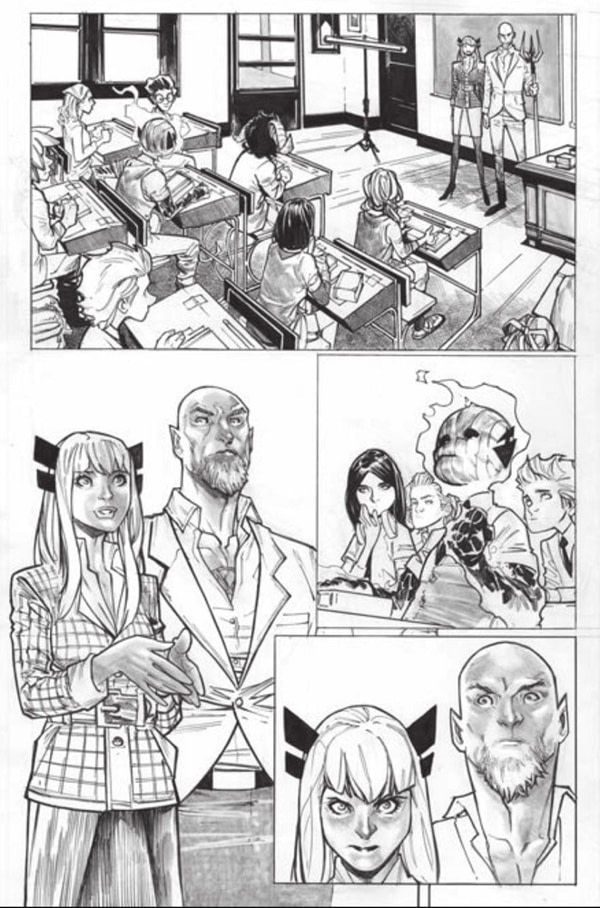 STRANGE ACADEMY #2
(W) Skottie Young (A/CA) Humberto Ramos
Go to class with the students at STRANGE ACADEMY! Your class schedule:
• 8:15-9:15 HISTORY OF MAGICAL OBJECTS with THE ANCIENT ONE
• 9:25-10:25 ELEMENTS OF CHAOS MAGIC with SCARLET WITCH
• 10:35-11:35 GYM with COACH TAYLOR
• 11:40-12:10 LUNCH (cooked by MINDFULL ONE)
• 12:20-1:20 INTRODUCTION TO THE UNDEAD with BROTHER VOODOO
• 1:30-2:30 INFERNO 101 with MAGIK
• 2:40-3:20 (Pending survival) STUDY HALL
• 3:30-4:30 MAGICAL PLANTS AND THE CARE THEREOF with PROFESSOR MAN-THING
Rated T SRP: $3.99