Advance Review Of Wytches #3: Finding New Ways To Depict Trauma In Comics
Sitting in a room bathed in the cozy glow of the lights of a Christmas tree on a grey afternoon in December, I'm reading Wytches #3 from Image Comics. And predictably, afterwards I'm casting sidelong glances at my not-fake Christmas tree because it's a tree and it looks shadowy inside beyond the lights, and it's getting darker outside. Because that's what Wytches does to you. By presenting a story that literally gets under the skin of its characters at times, it works its way into your mind, particularly with visual cues. I don't think I'll ever look at trees the same way again. And that fact leaves me in awe of what comics can do, and the ways in which they can connect with readers in such a psychological way. I read recently that research entities are trying to get the ear of the legal system when it comes to how victims of trauma are interviewed and how their testimony is presented in court cases. They are often castigated for their memory of certain aspects of an event and not others, and the "fogginess" of some of their recall calls their testimony into question, often to the detriment of prosecuting potentially guilty parties. When, in fact, this is simply how the human mind works under extreme stress and understanding the neurology of it could lead to a more accurate interpretation of the information victims are providing.
Here, particularly in Wytches #3, we see what may be a much closer rendering of trauma-memory than I've yet seen elsewhere in comics, picking out sharp detail, casting a splattery pall over other scenes that takes us closer into the minds of the characters involved thanks to the innovative vision of colorist Matt Hollingsworth, whose process on the colors is also laid out as backmatter in Issue #3. The reader increasingly experiences things from a new perspective when they read Wytches. It's claustrophobic, heightened, distracted, slipping away and yet heavy, impacting, and definite in its blow to the psychology of witnesses to these events.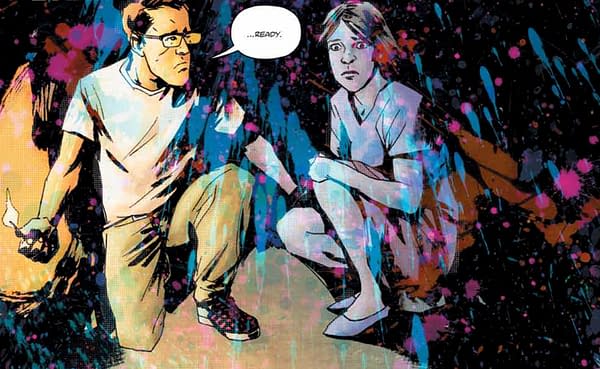 This issue seems to follow the perspective of Sailor's father, Charles Rooks, who is trying to make sense of past events that he feels are linked, at least on an experiential level, which is an excellent form of exposition for the reader. He's recalling the fear and anxiety of not being able to find a child in a public place, and for those who have children they know this is the worst, most raw and helpless kind of fear, while for those who don't, remembering what it was like to be a lost kid in a public place comes close to the same. Then there's the "current" storyline where Charles is seeking Sailor after her departure into the woods in Issue #2. We even learn that Charles was once prone to anxiety, which further reinforces the heightened strain we're seeing in how his experience of things is being presented to the reader.
I'll mention, while avoiding spoilers, that in this issue other people also seriously doubt Charles' account of events, since it seem strange, fractured, and lacks cohesion. It simply doesn't make sense to someone who wasn't there, but more specifically, to someone who hasn't been affected by the events described in the same way. It's probably true that he's starting to lose his grip on reality, but that's because his mind is struggling with information he's finding hard to process. Nothing makes sense to him anymore because he's being presented with information outside of "normal" human experience. We actually get a strong parallel to this process when we hear about some of Sailor's perceptions in her own words in this issue as well. And her view is equally strange, disjointed, and confusing.

The question is, perhaps, whether Charles can manage to be his own detective and piece together the information in time, despite the chaotic way it's reaching him, through associated memories, predation, and through the lens of hope. What he most wants is to find Sailor and for her to be ok. Maybe that primal instinct will be enough to help him use his experiences, cast off the doubts of others, and find his way through panic and confusion to his goal.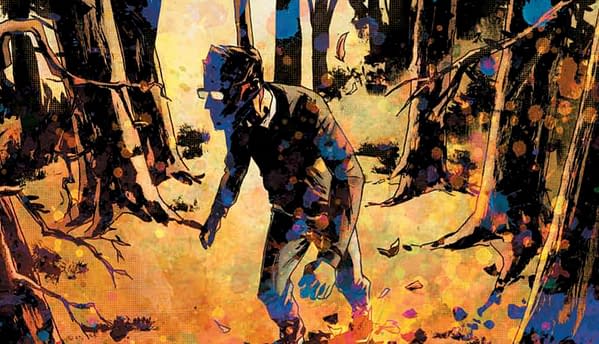 Scott Snyder, Jock, and Matt Hollingsworth do an astonishing job in Wytches #3 of bringing us inside the experiences of Charles while keeping us "outside" his perspective enough to realize how his actions and words seem to others. We can take their comments as context and understand the contrast between "normality" and what Charles is encountering. And that helps us translate what he's trying to say and do. But as if to remind us of the importance of Charles' perspective, we see the comic through the bright spatter of Hollingsworth's colors, always in motion and reminding us of the uncertainties behind memory and perception. There's no better way, really, to evoke sympathy for Charles and promote a sense of inclusion for the reader than to bring everything to us through a psychological lens created by art.
Also make sure to check out Scott Snyder's essay about fear from Wytches #3 in an advance look here on Bleeding Cool.
Hannah Means-Shannon is EIC at Bleeding Cool and @hannahmenzies on Twitter