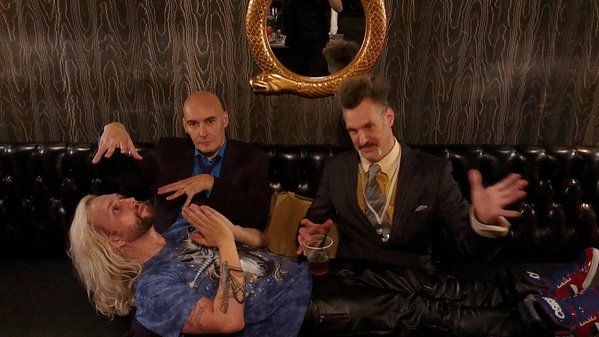 Akira The Don performed at MorrisonCon. This is what happened to him on his first day…
Friday couldn't have been anymore herculean and glorious had it been on a hoverboard.
In the morning I did some work in bed, posing the journey to Vegas' photos and readying some of my DJ set. Then I took a lone wander up the Strip in the glorious sunshine, where I encountered the Worst Coke Dealer In The World, who staggered towards me looking like Issac Hayes, mimed snorting a line at me then fell inro the road. Shortly after I wandered through a bizarre shopping centre with a roof painted to look like The Sky, not unlike that Jim Carrey film the name of which escapes me right now, before emerging blinking into the dazzling sunlight to witness what appeared to be half of an aged Cameo playing an incredible funk set next to a smoothie stand at the side of the road.
I sipped on a red berry smoothie, and wandered back to the Hard Rock Hotel to have breakfast with Grant and Kristan and My Chemical Romance and Frank Quietly and his wife. Frank Quietly and his wife look just like Frank Quietly drawings, it is uncanny.
We headed back to Suite Le Morrison to drink fine boozes, pore over immensely incredible art pages from Grant and Frank's upcoming Multiversity comic and chatter excitedly about Jilted John and bath salt zombies and the new age of Horus whilst being filmed for a documentary, then hopped in a small fleet of soft tops with a gigantic movie camera and cruised vegas looking for Strange Esoteric Buildings, which we found quickly. In the vast, imposing, head compressing confines of the Luxor Hotel, a vast pyramid, Grant and Frank and rode a Magic Carpet, and heard the life story of a 56 year old man in braces who longed for the days when he hung out with Jeff Beck in Los Angeles. Some people's lives seem to stop dead at a point in time, frozen in peak experience nostalgia hangover forever, but we won't, we ride Peak till death and beyond, and we urge you to do likewise.
Later that afternoon I watched a vast line form to register for MorrsonCon, were I bumped into Jason Aaron, and took him for a drink. We talked about Alabama rap and bluegrass, amongst other things, and sipped bourbon, in the manner of gentlemen Then I headed to soundcheck with Grant and James Gerard from My Chemical Romance, who were to perform "The Con – a thirty minute spoken-word piece with music. Part short story, part history, part occult ritual, as Howard Hughes faces Liberace in a duel to the death for the soul of Las Vegas"… in soundcheck it made my skull flex, I wondered what the hell would happen at the performance proper… We retired to Le Suite Morrison for a few hours, where Grant revealed he had almost as many ATD songs on his computer as The Beatles', and I was of a rare breed of artist whose every song fascinated him, like The Smiths, which is about as ultimate a compliment as one could receive. Gerard meanwhile "lost his shit" over my Death's Head tattoo. Death's Head, he said, was "his favourite" when he was young. I had no idea DH had penetrated America. I'm proud of him.
I prepared my set, and asked MCR synthist James Dewees if he'd like to be my onstage DJ, an offer he accepted happily, and before we knew it it was time to go on, and we were backstage downstairs with hundreds of screaming beautiful girls and boys mobbed around the stage, baying for transcendence Grant looked like he was going to be sick. But he wasn't. He and Gerard and James strode out into the ring like boxers and simply emmanetised the eschaton, in a half hour performance that sunned all into silence then rapture then silence then shit losing and back again, with a sound something not unlike Vangelis fighting to the death with Rammstein compered by a reborn cosmic Sensational Alex Harvey.
[youtube]http://www.youtube.com/watch?v=Sx7yUR53v8A[/youtube]
Grant even seemed to be rapping in parts. We're gonna develop that side of his oeuvre further in the future…
The people went apeshit. Then it was my turn.
How the fuck you you follow that?
Well.
I am a Motherfucking Pro Fessional, after all. I know about these things.
You bring THE PARTY.
And so I did, with the help of James, world's greatest rap DJ. Combining the shamanic techniques I employed at V Festival recently with some of my finest pop songs, we whipped the place into a frenzied mass of PARTY, replete with dance off, audio sigil, and joyous singalonging… destroying AIDS, making ourelves rich and saving humanity in the process.
It was fucking ACE, brothers and sisters.
Joyous humans streamed out into the casino night, pumped, amped, crackling with god energy, ready to take on the New Epoch.
And so began MorrsionCon.
If we ask nicely we may get more…
Enjoyed this article? Share it!