This Saturday, while everyone's eyes are on New York Comic Con, mine may be elsewhere. I'll be with the kids, going to Orbital Comics in London for an all-day all-ages comics workshop with industry professionals from Bog Eyed Books, publishers of  This Book Is Funny and The Big Draw, 
Through the day we expect to be joined by cartoonists Gary Northfield, Alexander Matthews, Wilbur Dawbarn and Matt Baxter, who'll guide attendees through the process of creating their own comic books.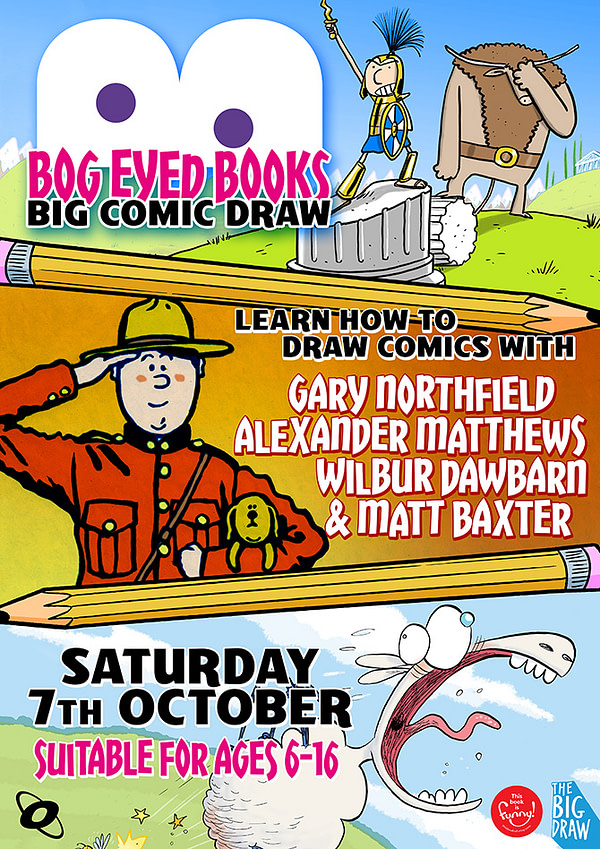 The workshop is suitable for creative minds aged 6-16. While I'll be working the wifi hard.
Bog Eyed Books is a new kids comics publisher created by Gary Northfield, creator of international best seller Julius Zebra. The studio creates the likes of Gary's very own Beano creation Derek the Sheep, to popular weekly comic The Phoenix, including Jim Medway"s Sgt Chip Charlton and Mister Woofles plus Alexander Matthews and Wilbur Dawbarn's Useleus. Northfield has been writing and drawing comics since 2002. He has also worked for  Phoenix, National Geographic Kids and The Dandy as well as books, The Terrible Tales of The Teenytinysaurs (Walker 2013), Gary's Garden (David Fickling 2014), Julius Zebra: Rumble With The Romans (Walker 2015) and Julius Zebra: Bundle With The Britons (Walker 2016).
The event also coincides with the launch of Orbital Comics' loyalty card. So maybe I'll have to give that a test run too. I wonder if they'll accept Costa Coffee card stamps as well?