The Immortal Hulk #25 was a rather special issue from Al Ewing and Joe Bennett, German Garcia, Ruy Jose, set further in the future than any Marvel Comics title before it, establishing the colour green as the most fearsome of all the realities, and a taboo hue, even in a reality that communicates with colour.
So, a variant cover that is nothing but green might seem rather suitable. Limited to one copy for every two hundred copies that retailers ordered, there are not that many to go around. And while most copies sell for around $150 on eBay, there are always examples of extremes. And on November 8th, the two most recent copies sold, one for over $200.
….and one for $6. Actually they sold four copies at that price before pulling it.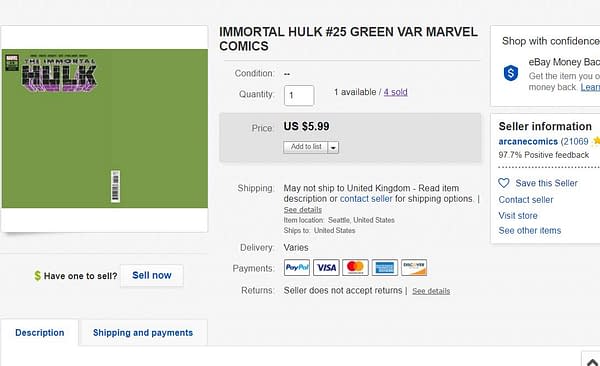 Damn, that was quite the Buy It Now option. And Marel didn't have to pay any artists for the cover either… just whoever did clicked the 'Fill' icon.
IMMORTAL HULK #25
(W) Al Ewing (A) Joe Bennett, German Garcia, Ruy Jose (CA) Alex Ross
GROUNDBREAKING DOUBLE-SIZED ISSUE!
• You've never read a Hulk comic like this before. You've never read a Marvel comic like this before.
• The heat death of our universe has come and gone. The Hulk is finally dead. Now, billions of years later, the Ninth Cosmos cowers…
• …before the BREAKER OF WORLDS.
Rated T+In Shops: Oct 23, 2019 SRP: $5.99
Enjoyed this article? Share it!