In November, in the DC Universe, the bad guys win… DC's Year of the Villain reaches its next deadly phase with "Hostile Takeover" — as the heroes of the DC Universe are defeated by their greatest foes.
The triumph of evil over good will be represented with a series of two-layer acetate covers in November, which will see DC's heroes literally replaced by their villains – Action Comics is taken over by Lex Luthor and Justice League by the Legion of Doom, for example. The top layer of the cover features the villains' Hostile Takeover of the book's title, showing off their newly empowered status quo. The second layer, retaining each series' familiar logo, will reflect the storyline events that led to the hero's defeat.
Unlike the card stock covers, the acetate covers will not add anything to the price, $3.99 for each. And each issue gets an additional variant cover tied in with DCeased.
Here's an animated gif of all the Year of the Villain acetate covers one after another…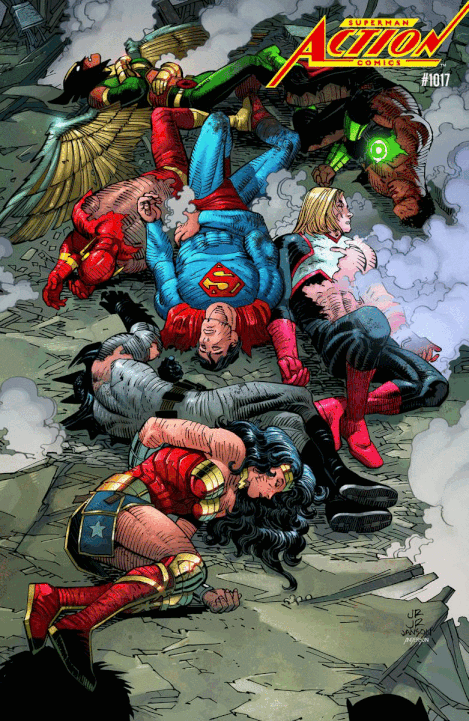 Or in video form…
ACTION COMICS #1017
written by BRIAN MICHAEL BENDIS
art by JOHN ROMITA JR. and KLAUS JANSON
acetate cover by JOHN ROMITA JR. and KLAUS JANSON
card stock variant cover by LUCIO PARRILLO
"Invisible War" part one! It's one of the biggest creator reunions in years as writer Brian Michael Bendis and artist John Romita Jr. join forces for the first time since their blockbuster turns on Avengers and Avengers Vs. X-Men. In this issue, it's all-out war on the streets of Metropolis—and at the end of this epic there will be a huge change to the status quo of the world of Superman—you do not want to miss this!
ON SALE 11.27.19
$3.99 | 32 PAGES
card stock variant cover $4.99
FC | RATED T
AQUAMAN #54
written by KELLY SUE DeCONNICK
art by ROBSON ROCHA and DANIEL HENRIQUES
acetate cover by DAN PANOSIAN
card stock variant cover by SHANE DAVIS and MICHELLE DELECKI
Black Manta and Mech Manta invade Amnesty Bay with one target in mind—Aqualad! Can Aquaman save his protégé from his deadly lineage? Or will the combined might of the Mantas finally be Arthur Curry's undoing?
ON SALE 11.20.19
$3.99 | 32 PAGES
card stock variant cover $4.99
FC | RATED T
BATGIRL #41
written by CECIL CASTELLUCCI
art by CARMINE DI GIANDOMENICO
acetate cover by DUSTIN NGUYEN
card stock variant cover by TERRY DODSON and RACHEL DODSON
After a disastrous defeat at the hands of Oracle, Batgirl must find a way to pick up the pieces of her shattered life. But all the while Babs must ask herself how she can defeat a nemesis who knows her every move before she makes it!
ON SALE 11.27.19
$3.99 | 32 PAGES
card stock variant cover $4.99
FC | RATED T
BATMAN #82
written by TOM KING
art by MIKEL JANIN
acetate cover by DAVID FINCH
card stock variant cover by TRAVIS CHAREST
"City of Bane" part eight! Batman and his allies wage war on the City of Bane, but an unexpected turn of events will send everyone reeling. Will there be another death in the family, or can the Dark Knight break Bane's iron grip over Gotham City?
ON SALE 11.6.19
$3.99 | 32 PAGES
card stock variant cover $4.99
FC | RATED T
BATMAN AND THE OUTSIDERS #7
written by BRYAN HILL
art by DEXTER SOY
acetate cover by JONBOY MEYERS
variant cover by CHRIS BURNHAM
Unable to cope with Black Lightning and Batman's methods, Duke Thomas finds refuge in the philosophy of Ra's al Ghul, becoming the latest acolyte of the Demon, as Ra's at last begins to rebuild his empire!
ON SALE 11.13.19
$3.99 | 32 PAGES
FC | RATED T+
BATMAN/SUPERMAN #4
written by JOSHUA WILLIAMSON
art by DAVID MARQUEZ
acetate cover by EMANUELA LUPACCHINO
card stock variant cover by OLIVIER COIPEL
Even from prison, the Batman Who Laughs is staying two steps ahead of the Caped Crusader and the Man of Steel. His plan to infect heroes and turn them into the Dark Multiverse versions of themselves is starting to build steam, with Shazam and others already succumbing to his evil toxin. Batman and Superman are racing the clock to prevent the other three members of the Secret Six from being poisoned, but they realize they are too late when those three come looking for them instead—one of whom is a lot closer to Superman than expected and itching for a fight!
ON SALE 11.27.19
$3.99 | 32 PAGES
card stock variant cover $4.99
FC | RATED T
CATWOMAN #17
written by JOELLE JONES
art by JOELLE JONES
acetate cover by DAVID FINCH
variant cover by ALBERTO VERANDA
Selina Kyle reconnects with her criminal roots, but to be Gotham City's top thief again, she has to take out the boss. Using the gift given to her by Lex Luthor, she finally has the key to everything Raina Creel wants—and Catwoman is going to get it first. Which all sounds dandy in theory, but Creel has come too far and put up with too much humiliation from Catwoman to let her win again. It's a Year of the Villain showdown, but who here is the baddest baddie?
ON SALE 11.13.19
$3.99 | 32 PAGES
FC | RATED T+
DEATHSTROKE #49
written by CHRISTOPHER PRIEST
art by FERNANDO PASARIN and CAM SMITH
acetate cover by STEPHEN SEGOVIA
variant cover by SKAN
Having ascended to near godhood, Jericho must confront his father, with the lives of his mother and sister hanging in the balance. Does Deathstroke stand a chance against such power? And is there any humanity left inside Jericho?
ON SALE 11.06.19
$3.99 | 32 PAGES
FC | RATED T+
DETECTIVE COMICS #1015
written by PETER J. TOMASI
art by DOUG MAHNKE and JAIME MENDOZA
acetate cover by PAOLO PANTALENA
card stock variant cover by KENNETH ROCAFORT
For centuries children have been told to be careful about what they wish for, and after years of yearning for his beloved to return, Mr. Freeze finally gets it. But frozen hearts don't melt easily, and after years in cryostasis, Nora Fries is the ultimate ice queen. Gotham and Victor Fries will never be the same again.
ON SALE 11.13.19
$3.99 | 32 PAGES
card stock variant cover $4.99
FC | RATED T
THE FLASH #82
written by JOSHUA WILLIAMSON
art by RAFA SANDOVAL
acetate cover by GUILLEM MARCH
variant cover by KAMOME SHIRAHAMA
"Rogues Reign" part one! The speed force is dead, doom has gripped the earth, and the FLASH lives in a nightmare! Powered-up by Lex Luthor's offer, Captain Cold led his team of Rogues to ultimate victory over Central City. Through the might of Mirror Master's amplified abilities, the rogues have re-shaped reality itself into their own kingdoms of cruelty – Heat Wave's volcanic territory, Weather Wizard's floating armory of the elements, and at the center of it all, the icy castle of Captain Cold. But with the villains stealing the show, why is the greatest threat to their reign one of their own?
ON SALE 11.13.18
$3.99 | 32 PAGES
FC | RATED T
HARLEY QUINN #67
written by SAM HUMPHRIES
art by SAMI BASRI
acetate cover by KENNETH ROCAFORT
variant cover by FRANK CHO
She's bigger. She's badder. She's meaner. She's Harley-er Quinn! And after accepting Lex Luthor's offer, she's waging a one-woman war on the Year of the Villain itself! This is the event issue to end all event issues—no, really!
ON SALE 11.06.19
$3.99 | 32 PAGES
FC | RATED T+
HAWKMAN #18
written by ROBERT VENDITTI
art by PAT OLLIFFE and TOM PALMER
acetate cover by TYLER KIRKHAM
variant cover by RICHARD PACE
Corrupted with an infection concocted by the Batman Who Laughs, Carter Hall's psyche is overpowered by the darkest of all his past lives: the Sky Tyrant, the villainous Hawkman of Earth-3! A merciless winged warrior with no remorse and no rival, Sky Tyrant is unleashed on our Earth. The only chance of stopping him lies with the fading consciousness of Carter Hall. The series that reinvented Hawkman's mythology to encompass all of time and space takes its next adventurous leap into the Multiverse!
ON SALE 11.13.19
$3.99 | 32 PAGES
FC | RATED T+
JUSTICE LEAGUE #35
written by SCOTT SNYDER and JAMES TYNION IV
art by FRANCIS MANAPUL
acetate cover by RAFAEL ALBUQUERQUE
variant cover by TYLER KIRKHAM
This issue: Lex Luthor wins! Everything Lex has been working for over the past year and a half comes to fruition as he finally possesses the fully powered Totality and plans to bend Hypertime to his will. The Legion of Doom's leader will defeat the Justice League once and for all and make his final pitch to serve at Perpetua's side—and the Multiverse will never be the same!
ON SALE 11.06.19
$3.99 | 32 PAGES
FC | RATED T+
JUSTICE LEAGUE DARK #17
written by JAMES TYNION IV
art by JAVI FERNANDEZ
acetate cover by STEPHEN SEGOVIA
variant cover by CLAYTON CRAIN
For thousands of years, Circe has plotted in the shadows, waiting for the moment she would ascend to become the true goddess of magic. Now, with the Justice League Dark crushed at her feet, and her Injustice League Dark reigning victorious, she is ready to take her throne. Is there anyone who can possibly stop her?
ON SALE 11.27.19
$3.99 | 32 PAGES
FC | RATED T+
JUSTICE LEAGUE ODYSSEY #15
written by DAN ABNETT
art by WILL CONRAD
acetate cover by NEIL GOOGE
variant cover by LUCIO PARRILLO
The Black Cube wakes! The new JLO team battles a massively powerful threat aboard their ship…and the ship is the first casualty. Stranded in space, Jessica Cruz's leadership skills are tested to the limit as she tries to bring her dysfunctional crew together as a team before they all perish!
ON SALE 11.13.19
$3.99 | 32 PAGES
FC | RATED T+
NIGHTWING #66
written by DAN JURGENS
art by RONAN CLIQUET
acetate cover by JONBOY MEYERS
card stock variant cover by WARREN LOUW
William Cobb has taken the Nightwings down one by one, leaving Ric on his own in a Blüdhaven that is literally aflame. Cobb offers Ric a chance to save his city by at last fulfilling his legacy as the Gray Son and becoming the new Talon and leading the Court of Owls into a new age.
ON SALE 11.20.19
$3.99 | 32 PAGES
card stock variant cover $4.99
FC | RATED T
RED HOOD: OUTLAW #40
written by SCOTT LOBDELL
art by DAVID MESSINA
acetate cover by GUILLEM MARCH
variant cover by PHILIP TAN and MARC DEERING
After their first mission in the field, all the Outlaws want is to head back to the Block for some R&R. Unfortunately, no sooner do they get home than they find themselves under assault from Shay Veritas' clones! It's like Night of the Living Duplicates in there, and Red Hood is nowhere to be found. Is he teaching them a dangerous (but hopefully valuable) lesson with his absence, or is he dealing with something even bigger and more terrifying?
ON SALE 11.13.19
$3.99 | 32 PAGES
FC | RATED T+
SUPERGIRL #36
written by MARC ANDREYKO
art by EDUARDO PANSICA and JULIO FERREIRA
acetate cover by DAN MORA
card stock variant cover by DERRICK CHEW
Supergirl—the infected! Brainiac-1 attempts to contact Supergirl at the Fortress of Solitude, but for what nefarious purpose? No matter what he has planned, things are about to go from bad to worse as Supergirl heads on a collision course with the Batman Who Laughs! He's targeted Superman as part of his plan to infect heroes and transform them into their twisted Dark Multiverse counterparts—but Supergirl gets caught in the crossfire, and the Year of the Villain stakes get even higher!
ON SALE 11.13.19
$3.99 | 32 PAGES
card stock variant cover $4.99
FC | RATED T
SUPERMAN #17
written by BRIAN MICHAEL BENDIS
art by KEVIN MAGUIRE and SEAN PARSONS
acetate cover by IVAN REIS and JOE PRADO
variant cover by ADAM HUGHES
Superman's new Fortress of Solitude sits in the most remote corner of the Bermuda Triangle. Constructed using Kryptonian technology far beyond anything our world knows, filled with intergalactic, pan-dimensional secrets from all over the Multiverse…how could it possibly be missing?
ON SALE 11.13.19
$3.99 | 32 PAGES
FC | RATED T
TEEN TITANS #36
written by ADAM GLASS
art by BERNARD CHANG
acetate cover by DAN MORA
variant cover by ALEX GARNER
Like father, like daughter! Apex Lex has given Lobo the power to control Crush, and together they're going to take down the Teen Titans! Try as she might, Crush struggles to resist Lobo's influence…but to her horror, she starts to enjoy the madness! And finally, after all this time, it's time to meet…the Other!
ON SALE 11.20.19
$3.99 | 32 PAGES
FC | RATED T
THE TERRIFICS #22
written by GENE LUEN YANG
art by STEPHEN SEGOVIA
acetate cover by STEPHEN BYRNE
variant cover by RILEY ROSSMO
The Terrifics have failed, and Bizarro has turned back the clock on Gateway City! With the twisted Man of Yesterday in control of time itself, the Terrifics must battle their way back from the dawn of human history to survive! That is, if the Terribles don't find them and kill them first. Things am not looking bad, me don't declare!
ON SALE 11.27.19
$3.99 | 32 PAGES
FC | RATED T
WONDER WOMAN #82
written by STEVE ORLANDO
art by JESUS MERINO
acetate cover by RAFAEL ALBUQUERQUE
variant cover by JENNY FRISON
Now that Cheetah has gained control of Themyscira, Wonder Woman must return home for a final showdown. Does she stand a chance against this scholar-turned-monster whose sole purpose was to enter this mythical realm? Meanwhile, Earth is left unprotected and some of Themyscira's most vile creations have found their way there. What chaos awaits Wonder Woman if she ever returns? Join returning writer Steve Orlando for the first chapter of this six-issue tale!
ON SALE 11.13.19
$3.99 | 32 PAGES
FC | RATED T