Three big comics from Marvel, published yesterday, have sold out of their print runs at the publisher and distributor, and so have gone to second printings.
Amazing Spider-Man #1 2nd Printing Ottley Variant
Immortal Hulk #3 Brown 2nd Printing Variant
Tony Stark: Iron Man #2 Lozano 2nd Printing Variant
It also suggests that Tony Stark: Iron Man and Immortal Hulk are really finding their feet. And with numbers up on Amazing Spider-Man Advance Reorders, that title seems to be working out for Marvel Comics as well.
AMAZING SPIDER-MAN #1
(W) Nick Spencer (A) Cliff Rathburn (A/CA) Ryan Ottley
An alien invasion hits New York City and the only one who can stop it is…Spider-Man?! But that's far from all you'll find here – a revelation from the past puts Peter Parker's job, relationships, and whole life in jeopardy! And if even that's not enough, you'll see a new roommate, new love interests – and a new villain! Spider-Man goes back to basics courtesy of Nick Spencer (SECRET EMPIRE, SUPERIOR FOES OF SPIDER-MAN) and the Marvel debut of RYAN OTTLEY (Invincible)!
Rated T
SRP: $5.99
IMMORTAL HULK #3
(W) Al Ewing (A) Joe Bennett (CA) Alex Ross
What happened in the church on Mercer Avenue? What made the Lembert boy do what he did? Who is the One Below All? Reporter Jackie McGee has four eyewitnesses, with four different viewpoints, telling four different stories. But they all saw Bruce Banner…and the Immortal Hulk.
Rated T+
SRP: $3.99
TONY STARK IRON MAN #2
(W) Dan Slott (A) Valerio Schiti (CA) Alexander Lozano
STARK REALITIES!
• Tony has been holding back an enormous secret since his return, and there's only one person on Earth he'd trust it with: James Rhodes. This will change everything.
• A strange new development for Jocasta, the return of the Gauntlet and the arrival of Tony Stark's new rival, Sunset Bain. All this and the power of the Manticore, the most powerful assault vehicle in the Marvel Universe!
Rated T+
SRP: $3.99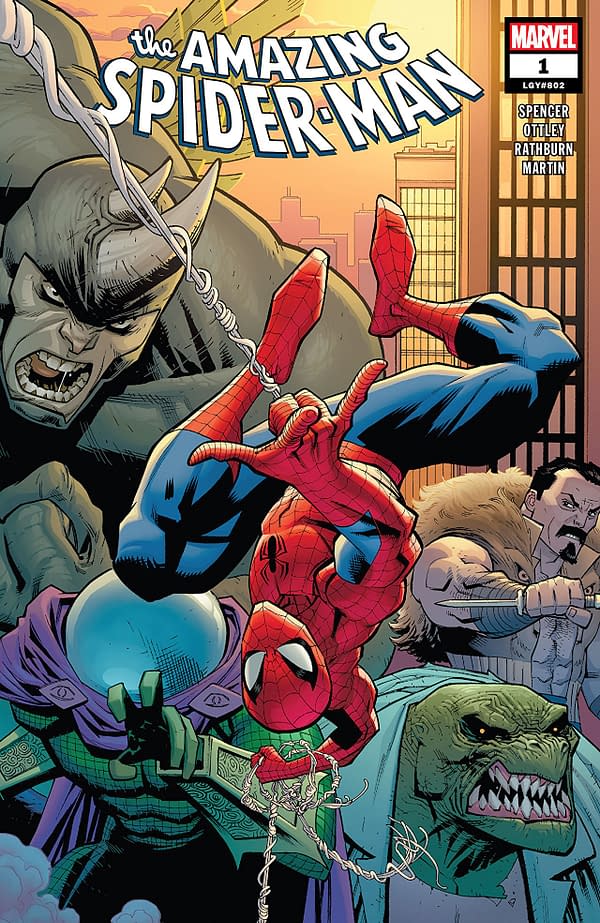 Enjoyed this article? Share it!