Posted in: Comics | Tagged: Amy Chu, Comics, dejah thoris, dynamite, entertainment, frank cho, HRL, j scott campbell
---
Writer's Commentary: Amy Chu Talks Dejah Thoris #1
Dynamite has sent us a new writer's commentary with Amy Chu talking about the new Dejah Thoris #1 that hits stands this week. We also have covers by Scott Campbell and Frank Cho with interiors by Pasquale Qualano.
* * * * *
Gung hei fat choy, xin nian kuai le! Happy early Chinese New Year! My gift to you is … a Dejah Thoris Princess of Mars #1 writer's commentary!
I've mentioned this before but it bears repeating, Edgar Rice Burroughs wrote his first story ever at the age of 36. This became the Princess of Mars and enabled him to give up his dreaded day job as a pencil sharpener salesperson. ERB (I call him ERB in my head) went on to write the popular Tarzan series and many more Mars books.
Before we start, hopefully you had a chance to read the introductory issue #0, but if not, no worries. Go pick it up later for 25 cents from a nearby comic store (and buy something more, for Issus's sake — if you spend $4 on your daily coffee, you can plunk down $3 or $4 for a comic and help these stores out. I hear it's been a rough year for retail). Seriously, I make coffee at home and use my coffee budget for comics now. But I know you are not here to hear me preach, so let's get to the story!
PAGE 1:
What better way to start off issue 1 but with a SPLASH! This is a bit of a holographic dream montage with Dejah Thoris and her grandfather walking through what ancient Barsoom looked like in more verdant times. Imagine a trip through a Martian Natural History Museum, if you will… oh, hey, here's a thought for the ERB folks — wouldn't a Barsoom World theme park be amazing? Chew on that, and moving right along…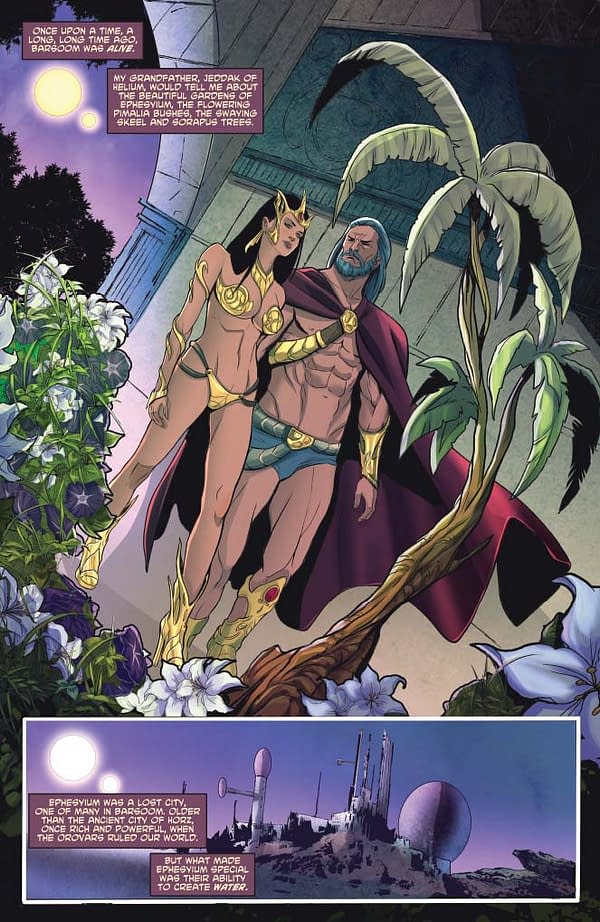 PAGE 2:
A little planetary history for new and old readers: Edgar Rice Burroughs does this multiple times throughout his books, so it bears repeating. Please take a moment to enjoy Valentina Pinto's color palette here. I mentioned in my previous commentary that color can be a crap shoot when it hits the printer, often times coming out too dark. I'm so pleased to see how beautifully this issue came out.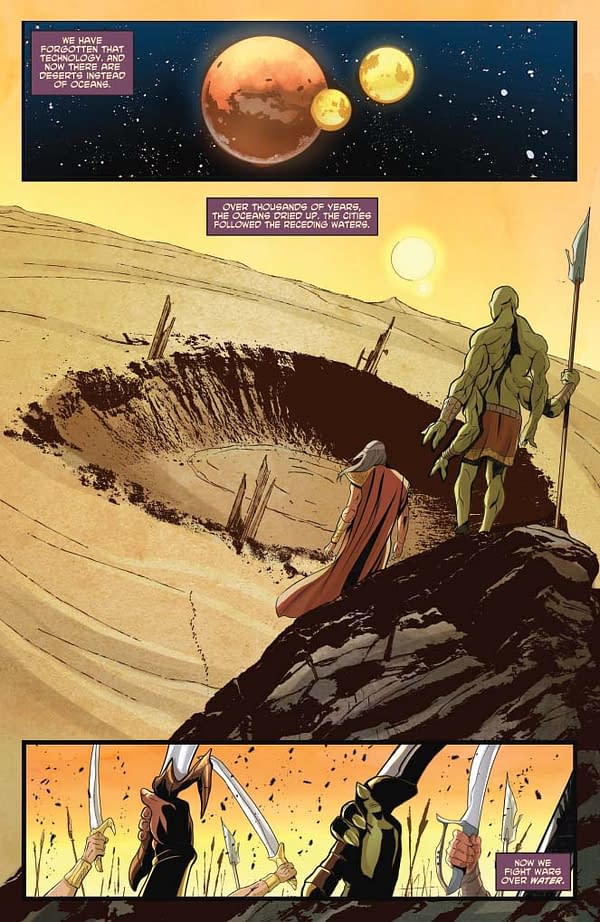 PAGE 3:
Master Dalis is back from Issue #0 to squash your ideas. Put your faith in Issus…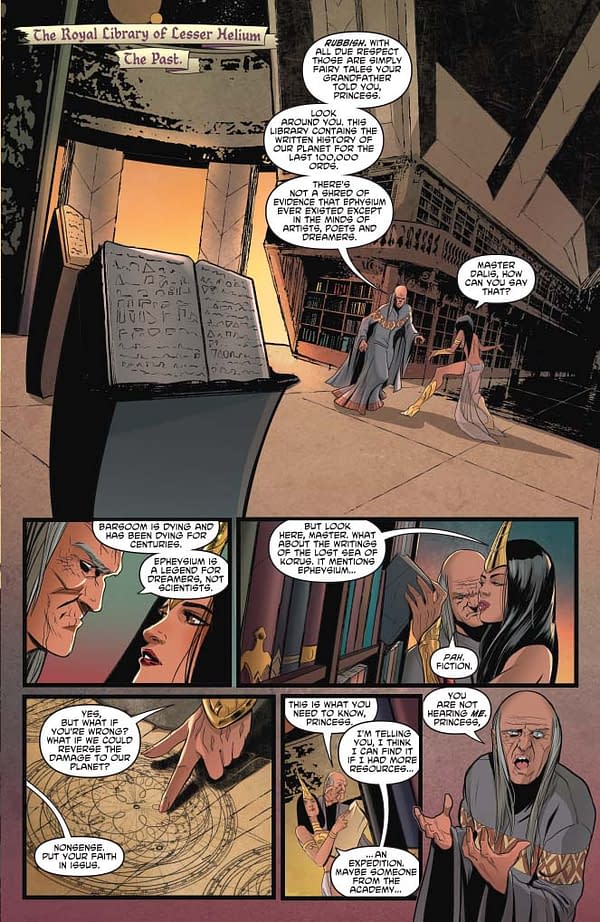 PAGE 4:
Barsoom is a dangerous place, for real. Just a visual teaser of things to come. A note on writing for a venerable franchise like this: I wanted to cover a lot of ground here quickly in order that veteran fans don't get bored, so I packed quite a bit in just this page. There's just so much detail in the books that I don't have time or space to get into. For example, if you didn't know, Martians are oviporous, meaning they hatch from eggs, so NO BELLY BUTTONS. Go back to all those favorite Dejah Thoris pics — you see a belly button there, well, blame the artist! If you already knew this, pat yourself on the back, advance to GO. Collect $200. Now onwards!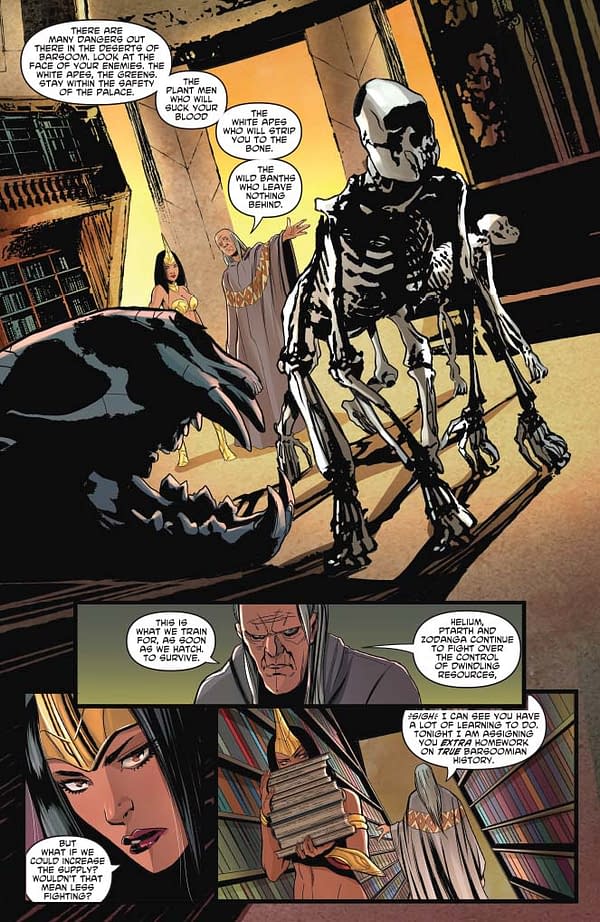 PAGE 5:
Can you tell I enjoy writing Dejah's curmudgeonly bodyguard, Sajad? I channeled just a little Larry Hama here, lol. For the character design, I asked Pasquale to think Rooster Cogburn and True Grit.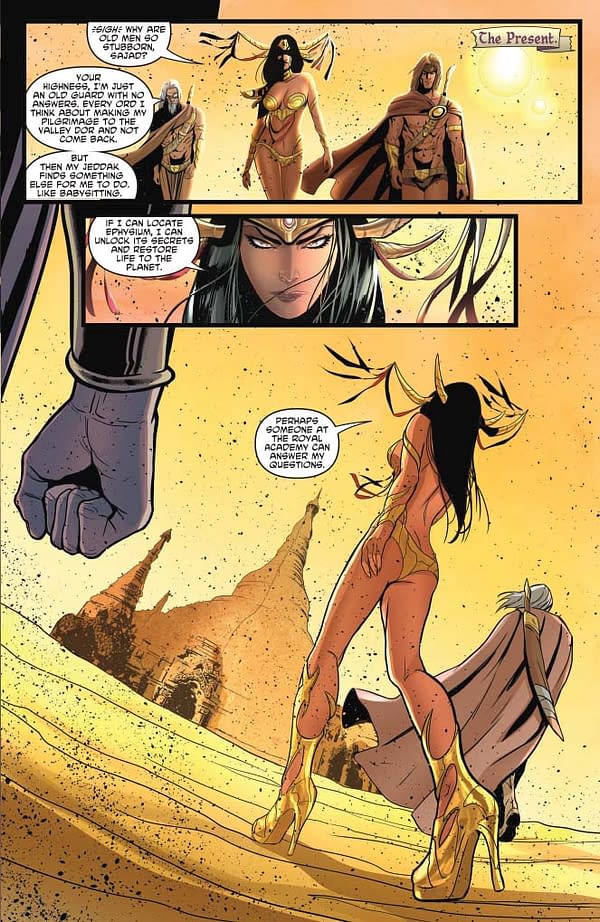 PAGE 6:
Sajad makes his best Lying Cat impression here. Do you get the sense not everyone's the biggest fan of the young princess?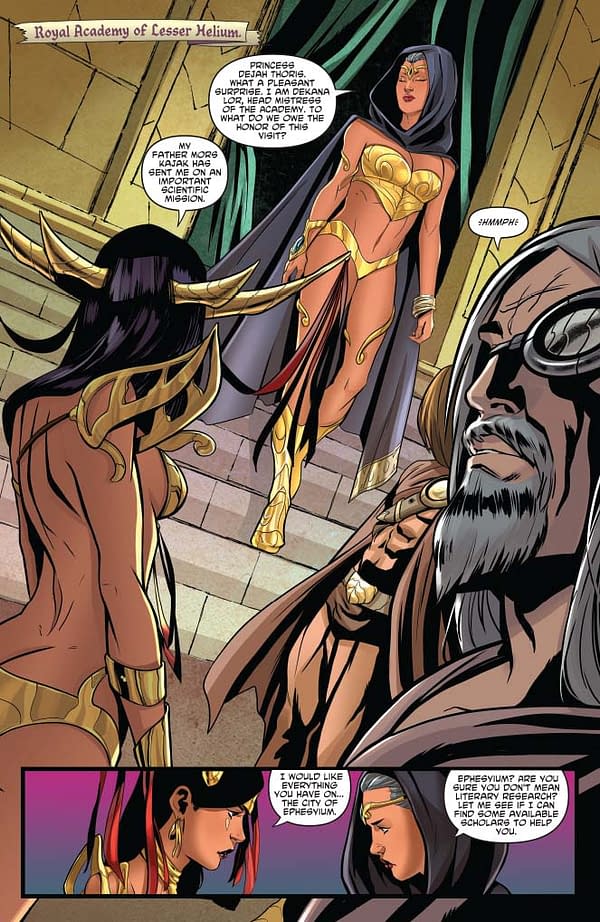 PAGE 7:
Dejah's crack scientific expedition is not shaping up exactly as she hoped.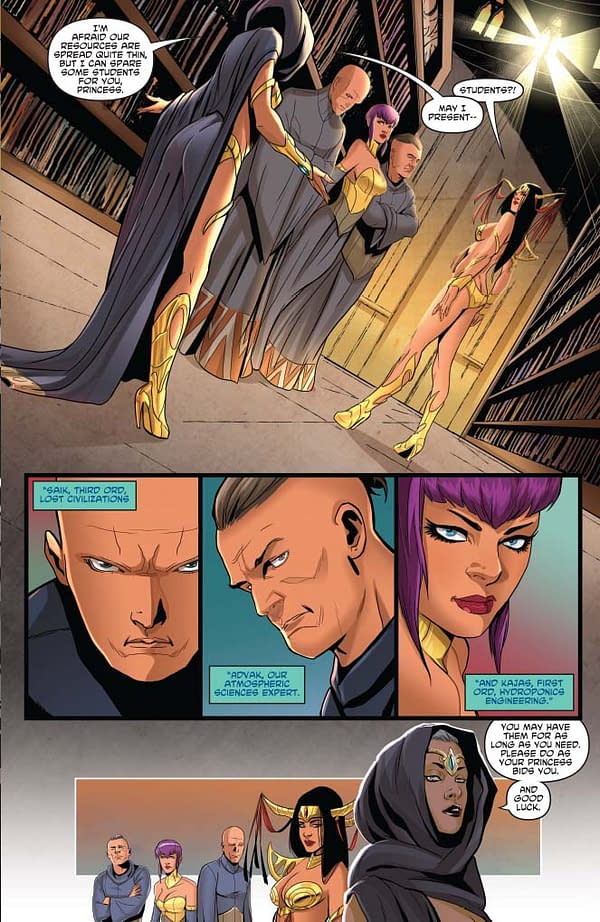 PAGE 8:
Damn, right in the disputed territories. Nothing is ever easy, is it?
PAGE 9:
Dad has so many flyers, surely he won't mind…
PAGE 10:
Whoops, I guess he does mind!
PAGE 11:
Again, I was very tempted to add some side commentary and snark here by Sajad, but hey, it's not his story.
PAGE 12:
Martian "asshole" didn't seem right, so an ulsio it is. Ulsios are a type of Martian rat.
PAGE 13:
ERB never fully explained the rules of Jetan, Martian chess, but you get the idea. Apparently draws are frequent in Jetan.
PAGE 14:
We've seen some of these vials in issue #0. Powerful stuff.
PAGE 15:
My favorite page! Love how Pasquale and Valentina rendered the thoats here. Someone with a 3D printer could have a lot of fun modeling these.
And here come the banths!
PAGE 16:
Banths have no respect for royalty, apparently.
PAGE 17:
This is not turning out the way Dejah expected …
PAGE 18:
In the original 1916 book, John Carter observes, "The training of myself and the young Martians was conducted solely by the women, who not only attend to the education of the young in the arts of individual defense and offense, but are also the artisans who produce every manufactured article wrought by the green Martians. They make the powder, the cartridges, the firearms; in fact everything of value is produced by the females. In time of actual warfare they form a part of the reserves, and when the necessity arises fight with even greater intelligence and ferocity than the men."
Dejah may be book smart, but she just doesn't have the in-the-field fighting experience her father and grandfather have. Fortunately, someone else does …
PAGE 19:
If there's anything harder to make up than Martian names, it's Martian expletives. I looked through all the texts, but I just couldn't find any, and I could have used several here. So imagine your own, if you will.
And now for the reveal of our guest star ….
PAGE 20:
We began with a splash, we end with a splash. Because this awesome fearsome creature deserves no less!
A note about Dejah's wardrobe. Some people are asking, why does she change her clothes so much? Because she's a f*cking princess, and she can, that's why! You should be asking why more characters in comics DON'T change outfits more often (or their hair, for that matter) but anyway, you're not here to hear me preach.
Process junkies may be wondering, how do I manage juggling multiple writing projects? As you may know, I also co-write Red Sonja, and I am also writing a new Green Hornet starting next month. The simple answer is, if you love the project, you make it work. It helps to be organized, and to cut out virtually everything else in life. Sure, I would love to be playing Breath of the Wild or Cuphead right now, but I have to save that for 2019. Today I was working on the script for Green Hornet #4, lettering revisions for Dejah Thoris #2, and an outline for Red Sonja #17. That's the reality of writing comics full time. Now fortunately, they are all really different books, but still mixups happen, so if Green Martians show up in Red Sonja, don't say I didn't warn you.
Anyway, I hope this issue convinces you to put Dejah on your pull list, or at least pre-order #2. If you are waiting for the trade, you'll be missing on on some glorious covers coming up! Pasquale posts quite a bit on Instagram so please be sure to follow him at @qualano and Valentina at @vpdessin for art sneak peeks. You can follow me at @amy_chu certainly, but you're going to get a lot more food pics… My heartfelt thanks to the stores who have ordered up on this series, and all of you who have been following along. Cheers!
---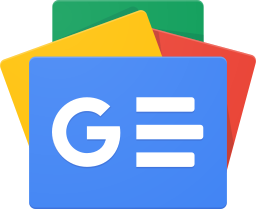 Stay up-to-date and support the site by following Bleeding Cool on Google News today!