FOC Tease: Angel #1 From Boom to Feature 'Team Angelus'
Yesterday we showed you a first look at Boom Studios' Angel #1, the next issue of their Kirkman-dropped series. And while we know some things in this series will be very different – Such as Angel's mission to kill Buffy – I've heard this issue also has a major first appearance of all-new characters:
Team Angelus.
"Team Angel" was the name for Angel's friends in LA – Fred, Gunn, Wesley, Lorne and more – who quickly became some of the most popular WhedonVerse characters.
But whenever we've seen Angelus – the evil version of Angel – he's been a bit of a lone wolf or working with Spike, Drusilla and Darla as on again, off again allies.
It sounds like Bryan Edward Hill is giving us a darker Angelus than we've seen before, complete with a violent group of Four Horsemen-esque characters in the past who'll remind you more of legendary Sith Warriors (think Darth Maul-level viciousness) than heartbroken emo-poets (sorry, Spike). Team Angelus doesn't just torture their opponents in a PG manner – expect this to be much more violent and vicious than we've ever seen from Angelus…or than you might expect in an ANGEL comic book.
Remember what's already happened in Boom!'s Buffy series – the first issues were fully returnable with no limits for retailers, but sold out of the first printings (after a healthy order) into second and third printings. At this year's ComicsPRO event for retailers, Phillip Boyle, owner of the Florida mega-chain Coliseum of Comics, chastized retailers for not ordering enough even though Boom! gave retailers no risk, as the series blazed through reprint after reprint.
This is because retailers and readers had no way to predict that Buffy and Robin Wood would be a thing, Spike and Cordelia might be a thing, Xander is a vampire and Anya has a newfound tolerance of bunnies.
Angel #1 will be the first appearance of this "Team Angelus" but it won't be their last – expect them to have a major role in the series as we learn about Angel's past…and maybe even his future. So when you see the Speculation Corner article in the next year on this issue, along with sell outs and reprints, remember that we told you so…
Oh yes and Angel #1 goes to FOC this weekend, just after the release of the Angel/Buffy/Firefly Free Comic Book Day tease…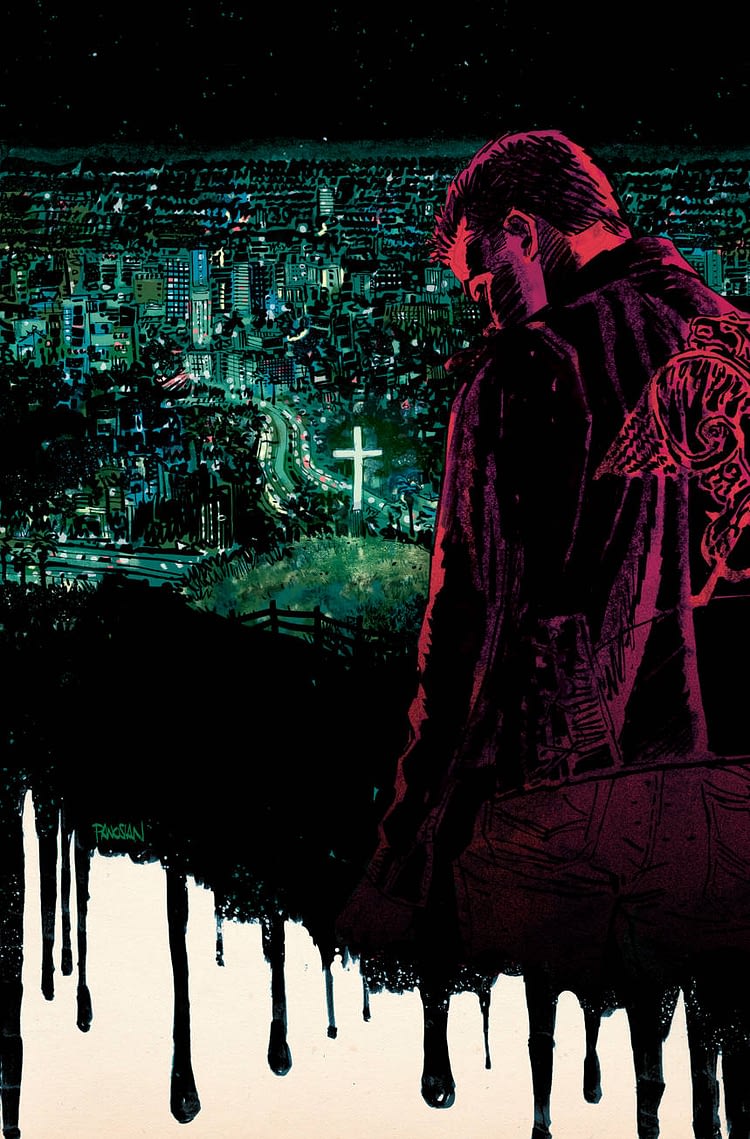 ANGEL #1
(W) Bryan Edward Hill (A) Gleb Melnikov (CA) Dan Panosian
BOOM! Studios, along with visionary writer and director Joss Whedon (Buffy the Vampire Slayer, Marvel's The Avengers), presents the shocking reimagining of the pop culture phenomenon ANGEL!

Angel walks the line between two worlds; a vampire cursed with a soul, he's spent centuries battling back the forces that would destroy humanity, in an attempt to redeem himself for the crimes committed by the monster he was when he was first turned. But now, when the trail of the most recent demonic uprising takes him to Sunnydale, he realizes that the redemption he seeks can only come at a startling price.

As Angel gets closer to redemption, the full truth of his horrific past as Angelus will be revealed-and there may be no way to escape his darkest secret of all.

Written by Bryan Edward Hill (Detective Comics, Killmonger) with art from Gleb Melnikov (Mighty Morphin Power Rangers), discover a brand new, modern take on one of the most iconic vampires in pop culture, perfect for fans and new readers alike!
In Shops: May 29, 2019 Final Orders Due: May 06, 2019 SRP: $3.99