Archie Goodwin's Nightmask Joins Marvel Unlimited
You enjoyed his rehash during Jonathan Hickman and Jerome Opena's Marvel NOW Avengers run. Now, read the original Nightmask as the 1986 New Universe series by Archie Goodwin and a number of other writers and artists is available for the first time on Marvel Unlimited. A press release details the other classic comics that hit the service in July:
With July's update, Marvel Unlimited will also be expanding its back catalog with the following issues: Nightmask (1986) #1-12, Man-Thing (1974) #19-22, Master of Kung Fu (1974) #50-89, Sub-Mariner (1968) #39-49 and MUCH more!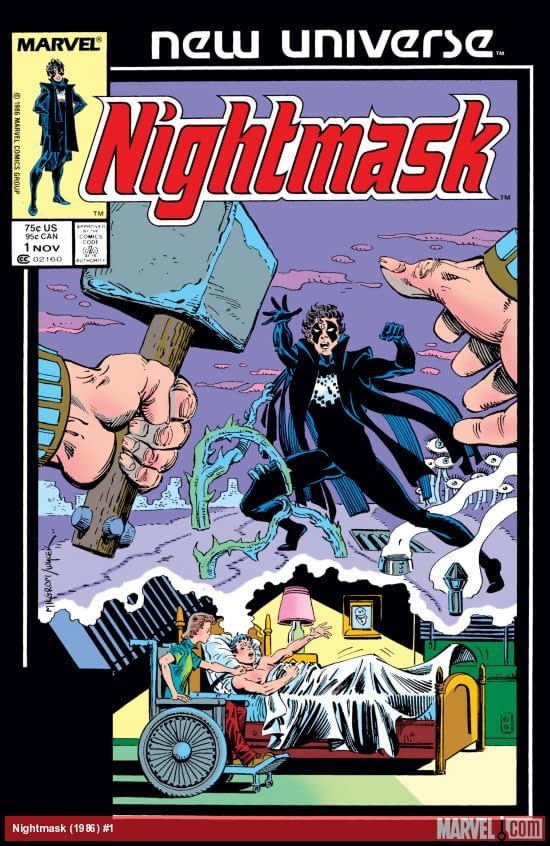 Additionally, though less exciting, Marvel the press release also details what's new in time-delayed recent comics on Marvel Unlimited:
Week of 7/2

AMAZING SPIDER-MAN: RENEW YOUR VOWS #14

BEN REILLY: SCARLET SPIDER #12

BLACK PANTHER: LONG LIVE THE KING #2

MOON GIRL AND DEVIL DINOSAUR #26

PHOENIX RESURRECTION: THE RETURN OF JEAN GREY #1

She will return, like a Phoenix from the ashes. Years ago, Jean Grey died and the X-Men mourned her. Since then, the world has changed, her teammates have lived without her and died without her. And now, when strange events start happening all over the world, those teammates can only come to one conclusion – the one true Jean Grey is back!

SPIDER-MEN II #5 FINAL ISSUE!

STAR WARS: JEDI OF THE REPUBLIC – MACE WINDU #5 FINAL ISSUE!

STAR WARS: THE LAST JEDI – THE STORMS OF CRAIT #1

This December, the soon-to-be thrilling Star Wars: The Last Jedi rocks movie screens across the world…and the reverberations are felt all around a galaxy far, far away! First up, learn the secret of the mineral planet Crait! Long before it became a battleground between the Resistance and the First Order, Luke Skywalker and Leia Organa led the Rebellion there in search of a new home!

Week of 7/9

ASTONISHING X-MEN #7 NEW LEGACY ARC!

GUARDIANS OF THE GALAXY #150 FINAL ISSUE!

PHOENIX RESURRECTION: THE RETURN OF JEAN GREY #2

RISE OF THE BLACK PANTHER #1

Just in time for the highly anticipated film, witness the early years of the man who will come to rule one of the most scientifically advanced countries in the world! Wakanda has always kept itself isolated from Western society, but that's all about to change. Young T'Challa knows he is destined to become king, but when his father is brutally murdered by outsiders, he'll find himself taking up a mantle he may not be ready for. Experience never-before-seen drama from the reign of T'Chaka, the king whose death changes a nation's history forever. Learn about the mother T'Challa never knew. See how the world learns about this wondrous nation for the first time. Will the power of the Black Panther be enough to keep his country safe? Journalist Evan Narcisse makes his comics debut alongside acclaimed writer Ta-Nehisi Coates as they chronicle T'Challa's rise to the throne – and to the Panther legacy that made him an Avenger.

Everybody's favorite X-couple is reunited! And boy, are they not happy about that… Kitty Pryde must send Rogue and Gambit on an undercover mission to find a group of kidnapped mutants. What they discover on this mission will shock them. But will it also bring them closer together…? It's a high-stakes adventure caper that only the two hottest X-Men can deliver!

Week of 7/16

AVENGERS #675 "NO SURRENDER" STARTS!

BLACK PANTHER: LONG LIVE THE KING #3

GWENPOOL, THE UNBELIEVABLE #24

AN EYE FOR AN EYE Part 1. The super heroes have fallen. The country has been divided into territories controlled by super villains. Among the wastelands lives CLINT BARTON – one of the few Avengers to survive. But it's been 45 years, and he's no Avenger. Trying to eke out a living anyway he can, the former HAWKEYE is confronted with a startling discovery: the sharpshooter is going blind. With time running short, Clint realizes there's one last thing he wants to see: revenge for his fallen comrades-in-arms.

PHOENIX RESURRECTION: THE RETURN OF JEAN GREY #3

SECRET WARRIORS #12 FINAL ISSUE!

THE UNBEATABLE SQUIRREL GIRL #28

THIRTIETH ANNIVERSARY EXCALIBUR REUNION! A brand-new Braddock bundle of joy! The return of a D'Bari hero! Kitty's Shadowcat costume! 'Nuff said!

Week of 7/23

AMAZING SPIDER-MAN: VENOM INC. OMEGA #1 "VENOM INC." CONCLUDES!

VENOM INC. Part 6. The symbiotic super villain called Maniac has seized control of all of New York's major crime families, and he's now got his sights set on the entire city! To make matters worse, he's also got a cadre of super villains under his symbiotic spell, and Spider-Man, Venom and their allies are the only things standing in their way! The final chapter of VENOM INC!

PETER PARKER: THE SPECTACULAR SPIDER-MAN #299

Week of 7/30

THE INUMANS FACE THE WRATH OF THEIR CREATORS! The Royal Family has spent months tracking down Primagen, the element that birthed Terrigen and could save the Inhuman race from its slow extinction. But to get it, they confronted the Progenitors – beings older than the Earth itself. They stole fire from the gods. And the gods are angry. The fate of planet Earth once again sits in Black Bolt and Medusa's hands. The Progenitors are here to end their experiment once and for all – and our world with it. Who will be able to stand…on Judgment Day?

A mind-bending X-Men tale from the brains of Peter Milligan (X-Statix, Shade the Changing Man) and Wilfredo Torres (Moon Knight, Black Panther)! David Haller, the son of Professor Charles Xavier, has always had trouble containing the multiple personalities in his mind. And with each personality, comes a wild and dangerous mutant power. But now, a terrifying new personality is threatening to absorb these powers and take over David's mind and body. In a desperate attempt to save himself, David seeks out the help of renowned young psychotherapist Hannah Jones to delve into his fractured mind and fight back this dark personality. But unknown to Legion….Dr Jones brings her own demons with her…

MARVEL'S AVENGERS: INFINITY WAR PRELUDE #1

When a terrorist puts the Avengers at odds, CAPTAIN AMERICA and THE WINTER SOLDIER go rogue to find him – but IRON MAN isn't far behind. Will the Avengers survive the fallout? Then, find out where Captain America, the Falcon and the Black Widow are headed next – because the world needs heroes, whether it wants them or not. And get a sneak peek at Tony Stark's brand-new armor! Get ready for MARVEL'S THE AVENGERS: INFINITY WAR in part 1 of this special prelude!

PHOENIX RESURRECTION: THE RETURN OF JEAN GREY #4

THE CROSSOVER BETWEEN VENOM AND X-MEN BLUE STARTS HERE! Spinning out of the events of Venomverse, the Children of the Atom and the Lethal Protector team up to take down an extradimensional threat! This is it, folks, the team-up you've been asking for: X-MEN BLUE and VENOM must band together in the cold reaches of space to protect our universe from a threat more diabolical than you can imagine. But will EDDIE BROCK, his faithful SYMBIOTE, MARVEL GIRL, CYCLOPS, ICEMAN, BEAST and ANGEL be enough to save this universe? I really, really hope so.
If you read our weekly X-ual Healing X-Men recap columns, where we are always linking readers to back issues they can read that are related to the week's X-books, you know we're big fans of Marvel Unlimited here at Bleeding Cool. It's a great way for both new and old readers to discover or rediscover the rich history of the Marvel Universe. You can find out more here.