Arlen Schumer Apologises for San Diego Comic Fest Behaviour – as Well as What Came After
Last week, Bleeding Cool ran a couple of pieces looking at the behaviour of comic book historian and host Arlen Schumer, and his torrent of verbal abuse at a young volunteer at San Diego Comic Fest 2019 at the end of his panel. As recorded and posted by Dan Berry, and shared around by cartoonist and pop culture historian Scott Shaw. With subsequent commentary from comic industry writer Clifford Meth.
The blowback continued across social media, including Bleeding Cool messageboards, with Arlen saying the likes of
So you see, folks–including Richard Johnston, who felt he HAD to post all this nonsense–all this incident has done is bring out of the woodwork disgusting people like Snot Raw–who've had axes to grind against me, and are using THIS non-event, and past events of my shitty marriage/divorce and its discontents, to character assassinate me. (Not to mention all the "failed arguments" of ex-Facebook friends who are STILL whining 5 years later after I had to boot them from my groups for their insults and/or block them). So thanx, Richard, for facilitating all that!
and worse. Especially when messages Schumer had sent in response to Scott Shaw's son sharing the video, were passed around.
You can see how that might have gone down. But now Arlen Schumer has now written an open apology. It reads:
—-
AN OPEN LETTER TO THE COMIC BOOK & CONVENTION WORLD:
Folks, for the past 39 years I've been commercially illustrating, writing/designing books, and lecturing about comics and pop culture at universities, cultural institutions and comic conventions. Last week, at the San Diego Comic Fest in which I was invited to give 4 lectures, there was an incident at the last lecture on Sunday, March 10, that I would like to address.
To start off, I want to apologize to the volunteer that was involved in the incident; as someone who has given themselves over to the love of the medium, I recognize that this young man was there probably for the same reasons—he loves comics, like we all do, and was just trying to be a part of things and do his job. It was an unfortunate 2 minutes, and while I can't take them back, I can let this young man know that I am sorry I reacted the way I did, and I hope he will continue to be a part of the comics scene, and not let this singular episode spoil things for him moving ahead. I don't know your name, young man, but to you and your family, I humbly apologize for acting like an ass in the moment.
There has been a lot of blowback in the wake of this incident, playing out online and opening doors to personal insults and slanders, both ways, that I, having reflected on things, am sorry, for my part, to have been a cause of—to Scott Shaw and Clifford Meth, I'd like to say we are all better than this, we are all driven by the same love and passion, and I apologize here, and am truly sorry things sunk so low.
And to the SDCF organizers, Mike Towry and Matt Dunford, I apologize for casting a pall over the wonderful convention you folks created with my behavior and post-con actions and reactions.
No one is perfect, and clearly I am not. This recent event, after being angry and hurt at first, has spurred me on to looking inside, not just outside at the big world of comics and pop culture which I love so much and have dedicated my life to: I plan on working as hard on myself moving forward as I do on all of my art works. I've been in a personal wilderness for the past dozen or so years, and sometimes it is hard to see the forest for the trees.
I appreciate you reading all this, and hope to see you in the funny pages.
Arlen
—-
May be sooner than that. At the end of the month, Schumer will be appearing in New York City talking about The Twilight Zone at the Triad Theatre.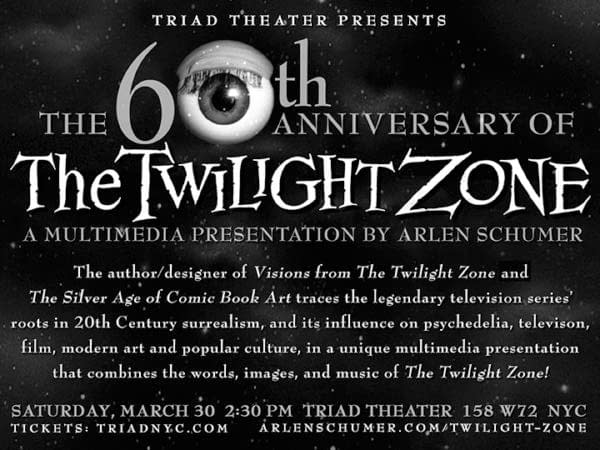 THE 60th ANNIVERSARY OF THE TWILIGHT ZONE VisuaLecture at the TRIAD THEATER in NYC on SATURDAY, MARCH 30th @ 2:30pm: In advance of CBS' new Twilight Zone TV series on April 1, pop culture historian

Arlen

Schumer (author/designer,

Visions from The Twilight Zone

and

The Silver Age of Comic Book Art)

traces the original series' roots in 20th Century surrealism, and its influence on psychedelia, televison, film, modern art and popular culture, in a unique multimedia presentation that combines the words, images, and music of the legendary television show.

Tickets here.
And will be following that up at the same location with his 'VisuaLectures' on Steve Ditko in April and Neal Adams' Batman in May, all videoed and live-streamed…
Just no one tell him when his time is up, okay?