Dieselfunk Dispatch Artistwatch: Jerome Walford of Forward Comix
Greetings, Dieselfunkateers! This is Tim Fielder introducing yet another series called Artistwatch! Sort of like Overwatch… kinda. Artistwatch will showcase artists with a unique take on the visual image. Invading our brains today is Jerome Walford of Forward Comix.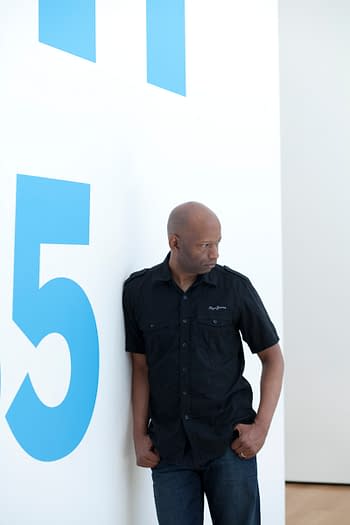 The rapidly morphing nature of the comics industry has produced creators who utilize unconventional means to produce their work. This artist fits right in this mode of creativity. Walford is an award-winning graphic designer and cartoonist that took time out of his busy schedule to talk with the Dispatch.
DD: Thanks so much for talking with us. What are the projects you are working on?
JW: I'm staying extremely busy. I'm currently working on my second novel, two new comic titles, but most of my time, lately, has been on the next trade in my graphic novel series, Nowhere Man.
DD: I'm familiar with your work within the Black Comics Community. However, one major standout is your sense of design. In fact, this is a characteristic that you are widely known for. How did your sense of this come about?
JW: Thanks. Having well-designed books is important to me. I spent most of my early career working as a graphic designer. Some of those early assignments were pretty boring, but they did teach me a lot about the fundamentals of strong graphic design.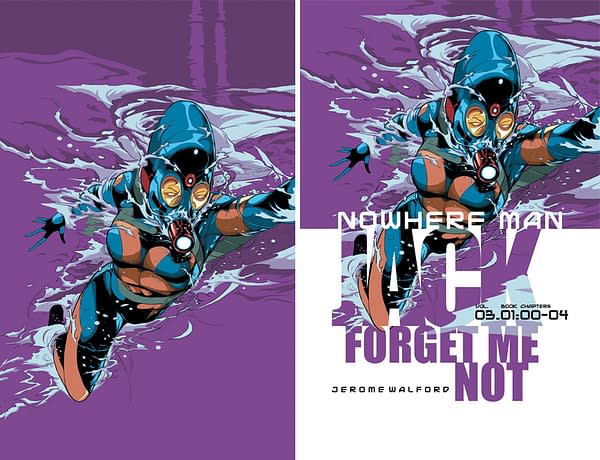 DD: Well, that begs me to ask: how did you start out? Not only as a comic book artist — but how did you know, or did you know, you would be an artist?
JW: Like many artists, I really gravitated towards art as a kid. I drew a lot while growing up. I was a fine art major in college. After graduating with a BFA, it was tough finding steady work as an illustrator. Graphic design seemed like a good way to make a living. Creating a nice drawing and designing a visually strong ad are very different. Both can be enjoyable to do. It often the goals are quite different. Allowing myself to embrace graphic design as a means of storytelling enabled me to stay in touch with my childhood love for comics. I guess it was only a matter of time before I would make the leap into doing comics.
DD: That suggests a level of complexity that developed over time. Much like your main character, Jack Maguire. Is Jack a stand-in for yourself? You seem pretty mild mannered, but…?
JW: (Laughs) Maybe too mild mannered. There is a lot I can learn from Jack Maguire, and I have been developing his character profile for a long time. It can be a challenge developing a character who is often the opposite of ourselves. I guess we do share a few things which help me to connect with Jack as a character and keeps me interested in his relationships with the rest of the characters in the story. I think we both try to do what's right, especially when it's hard. I really enjoy cop dramas and sci-fi which focus more on complex character motivations.
DD: Interesting. What are your aspirations for that particular IP? I ask because you've done several books, but this one appears to have the most time and narrative investment.
JW: I hope, one day, to see a live-action or animated movie based on Nowhere Man. I feel like we keep flirting with a major breakthrough. The story came really close to getting optioned on a couple occasions. I guess I just need to keep at it till something happens.
DD: These days I think we will see Nowhere Man optioned soon enough. Final Question. You have a Kickstarter coming up very soon. What is the book and goals for this initiative?
JW: Yep, we are actually running the Kickstarter now. I wanted to try and get it up and funded before Infinity War opens. That might be the only talk in town for a little while. The first goal is to fund the final edits and printing of the seventh book in the series. Even indie books are a team effort, and I would love to bring my editors in at least on the book itself, to create a book that is well written, drawn, designed, and edited — as polished as they would expect from a much larger publisher. The second goal is to create volume editions for the two early volumes. We get that request a lot, so we are going to give it a shot. The third goal, of course, is to let new potential fans see what Nowhere Man is about, and maybe they will want to check it out.
DD: With that, thank you, Jerome. Where can we find you online and on social?
JW: Thanks, Tim, for some great questions! You can find out more about Forward Comix at www.forwardcomix.com. I'm often on social media: Facebook, Twitter, and Instagram all by the same handle of forwardcomix.
* * *
Support Jerome's Kickstarter for Nowhere Man Volume Three here!