Atomic Robo VS. Academia in Dawn of a New Era #1 (Review)
[rwp_box_recap id="0"]
Atomic Robo is hands-down the best comic featuring a century old robot that fights dinosaurs and teaches science currently on the market. If that sounds like veiled praise, it's not; pulling off a title as endearing as Atomic Robo would be a herculean task, and Robo creators Brian Clevinger and Scott Wegener somehow pull it off.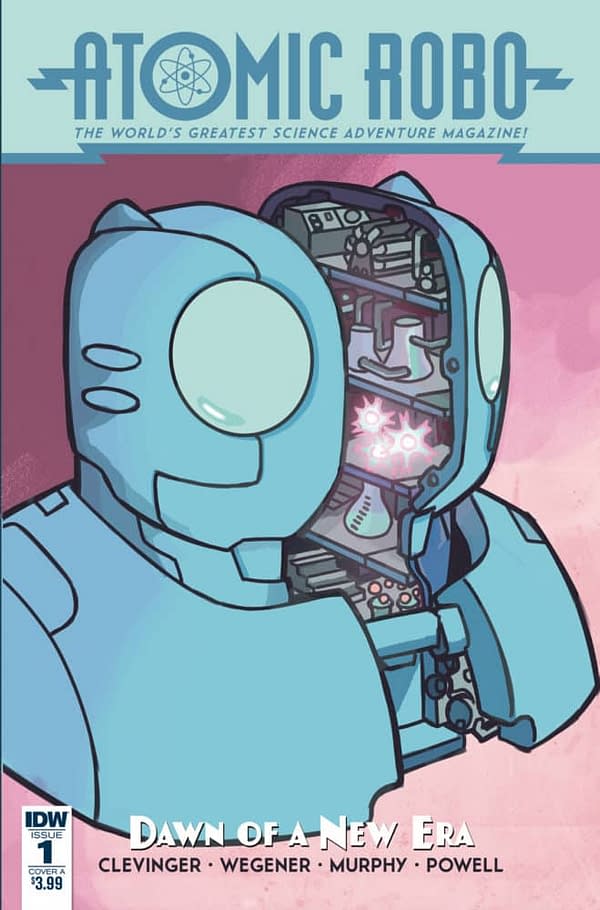 Atomic Robo: Dawn of a New Era finds our hero stepping down from adventuring and monster fighting to teach the next generation of Action Scientists the tools and tricks of the trade:
No more sci-fi catastrophes for Atomic Robo. This is now a quiet series about the charming antics and sitcom misunderstandings that happen at a boarding school for future Action Scientists. Also, Robo's hiding a secret AI son in the basement… Bye!
That, friends, is a colossal misdirect. There is plenty of adventure to be had with Dawn of a New Era, with missing scientists, burgeoning Turing-era artificial intelligence, and precocious Junior Scientists hell bent on exploring their "campus." Clevinger keeps the story rolling along at a steady clip, and, as usual, doesn't skimp on the plot. Robo isn't one of those 12-minutes-and-done comics, there tends to be a little more substance to the narrative than typical comics fare.
Dawn of a New Era is no exception, and it's amazing how well Clevinger works in nods to real-life scientists, both in this and previous editions. Atomic Robo is overflowing with enthusiasm for science, even if that science is a thinly veiled excuse for clobbering giant robots. Ada Lovelace, Alan Turing, and Isaac Newton are all mentioned and explored to some degree, and that could plant a seed for a reader (especially a young reader) to research some of those scientists later.
That's not to say Atomic Robo is a title strictly for kids; it's an adventure comic, kind of like if Indiana Jones had been a robot invention of Nikola Tesla and liked to punch dinosaurs as well as Nazis. Clevinger and Wegener have a fantastic credo at work with Robo: the series will not include angst, "cheesecake"-style depictions of female characters, retcons, or filler, and will include Atomic Robo punching monsters or other robots.
Dawn of a New Era finds Wegener employing a much looser art style than normal for the title, but the art still serves the story well. Shannon Murphy supplies very nice complementary colors, and the whole issue is fun to look at. The characters look like they would be at home in an episode of Steven Universe, as Wegener seems to have adapted a more animated style of illustration for this story arc.
Atomic Robo: Dawn of a New Era is recommended for readers who like adventure, science, and robots that like to fight monsters. The series has been around for a while now, too, with the entire back catalog available at the Atomic Robo website. Check it out, especially if you have some kids you want to introduce to comics. They'll thank you for it later.
Summary: Writing: Brian Clevinger; Art: Scott Wegener; Colors: Shannon Murphy; Letters: Jeff Powell; Editor: David Mariott; Publisher: IDW Publishing; Release Date: January 9, 2019; Price: $3.99; Pages: 32
[rwp-review-ratings id="0"]
[rwp-review-form id="0"]