Bananaman Trending On Twitter Thanks To The European Super League
Bananaman Time! Very unusually, Bleeding Cool covered the launch of the European Super League or The Super League. Why? So we could follow it up with this.
Comedian Kai Humphries tweeted earlier today, the words; "Tottenham joining a European super league is like Bananaman getting called up as an Avenger."
Bananaman was the British superhero comedy character about a kid, Eric, who becomes a muscular, super-strong, flying superhero with a banana aesthetic, that was adapted into a popular kids TV cartoon and voiced by The Goodies. Originally created by Steve Bright, Dave Donaldson and John Geering, appearing in Nutty #1, he became a regular character in The Dandy and The Beano. And before you knew it, he was going viral and trending on Twitter. Replies included the following:
Sizeable Sam: Actually really harsh on Bananaman, dude could fly. One of the avengers was just an angry man with a bow and arrow.
Dan McDaid: Bananaman is the strongest Man in the world, and as such would be a boon to the Avengers. It's all thanks to, you guessed it, potassium
Cheryl Martin added some photoshop skills.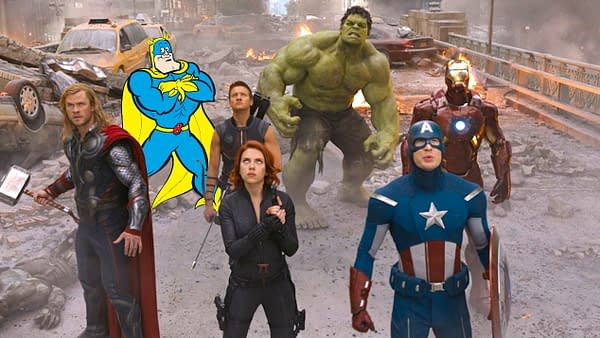 And The Beano comic book had to issue their own reaction, tweeting "Bananaman has asked us to confirm joining the Avengers in a Comic 'Super' League has no a-peel to him. Bananaman said earlier today: "Football's gone bananas but Bananaman is going NOWHERE! I'm staying faithful to my existing bunch" #footysgonebananas"
Also adding "At this time, we would also like to confirm that Jose Mourinho is welcome to apply for the vacant Head Coach role at Beanotown United, with an Assistant position available for Gary Neville."
I'd try and explain that but it would involve me Googling it. Because I did not understand that reference. But the current writer of the chsaracter,
Ned Hartley
,
added
"
I need to write a story about
Bananaman
joining Spurs, right?" Very, very likely Ned. He also stated "Bananaman wouldn't join the Avengers. He does appear in the 8 hour-long Extended Snyder Cut of Justice League though." Surely that's what The Super League is though, right?