Barrier #1 Review: A Fantastic Comic About the Walls We Build
[rwp-review-recap id="0"]
Liddy is a farmer in south Texas. She found one of her horses killed, skinned and beheaded on her property. She believes this to be a message from the cartel intended to scare her. She doesn't scare so easily, and she intends to stop this from happening again. She goes to the police, the border patrol, and, when that turns fruitless, "minutemen."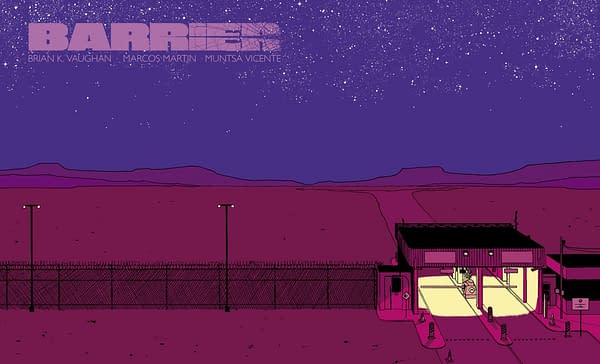 Oscar is a man from Honduras, and he is willing to steal, threaten, and abandon in order to make it to the United States for reasons entirely his own.
Border #1 is a 50-page opening issue that completely captivates once it gets a hold of you. With interesting and layered protagonists like Liddy and Oscar, the comic impresses with its characterization and dialogue.
What may be a prickly point for many is the fact that the dialogue in Oscar's half of the comic is entirely in Spanish. No translation is given, but the art and panel layout does convey the general idea being covered. That is the hallmark of a well-constructed comic, but it would still have been nice to know the specifics of what was being said.
The comic tackles themes of, well, barriers both national and linguistic. It also tackles the realities of the borderlands in south Texas and northern Mexico. It shows how brutal things can be and the attitudes the situation can breed.
Liddy really is a fantastic character, and she is enough to convince me to follow the series.
Marcos Martin's artwork impresses with its skilled but simple style and ability to convey tone and emotion so impressively. Martin is a veteran of the industry by this point, and he does some fantastic work in this installment. The color work of Muntsa Vicente is similarly subtle and atmospheric, and the overall comic looks great.
Barrier #1 is a wonderfully engaging comic with compelling leads, an interesting plot, and a twist ending so ridiculous that it may just work. Brian K. Vaughn, Marcos Martin, and Muntsa Vicente do phenomenal work here, and I look forward to seeing how this one shakes out. This book comes highly recommended. Give it a read.
[rwp-review-ratings id="0"]
[rwp-review-form id="0"]