Batman #43 Review: Compelling Dive into the Character of Poison Ivy
Catwoman is face-to-face with Poison Ivy and learns that her latest ploy is, in part, fueled by the feeling of guilt of killing five men during the War of Jokes and Riddles. Meanwhile, Batman tries to get Harley Quinn to wake up and talk to her sometime partner, Ivy.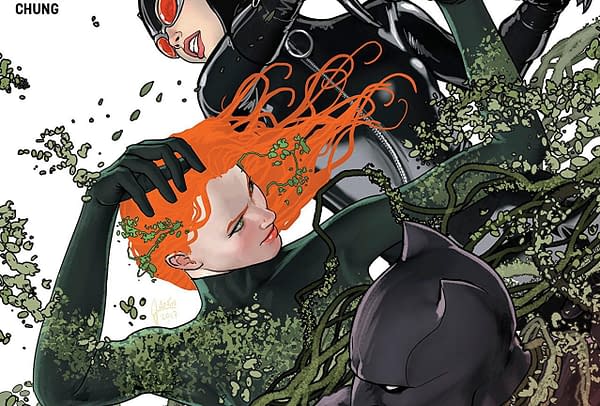 I'm an easy sell on a good villain-centric story, and Batman #43 focuses mostly on the emotional state of Poison Ivy, whom is easily among Batman's greatest rogues. The structure allows for a lot of Ivy in the comic too, and the tension remains high throughout.
It plays to Pamela's humanity and motivations. She doesn't want to kill; she only wants to make the world a better place.
Admittedly, this story uses a version of Ivy to which many are likely unaccustomed. In my experience, it's not uncommon for Poison Ivy to be completely unconcerned with the well-being of people and animals. Plus, she's a little more willing to listen to Batman here than usual. However, for my money, this version of Ivy is far more interesting than the one who is just concerned with plants and nothing more. There is probably a middle-ground between the two, but I found this version of Pamela compelling enough.
It also uses the history of the Gotham City Sirens in its storytelling, as both Catwoman and Harley are integral to getting Ivy to let go of control. Hell, it's even implied that Ivy and Harley have had a relationship before, which is cool.
There's a last-act twist which may turn some people off, but it worked for me because it introduces an element of manipulation.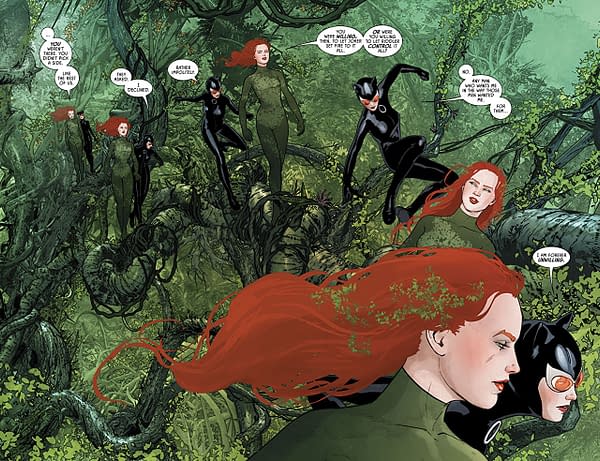 Mikel Janin's artwork continues its streak of excellence, bringing his trademark depth and detailing to this book. The blocky nature of the figures can look a little weird at times, but the style works far more than it doesn't. Hugo Petrus' pages look great too. June Chung brings a pale and cold color palette offset by the reds and greens of Poison Ivy, and it pulls the aesthetic of the comic together.
Batman #43 is a great dive into the character of Poison Ivy. This reexamination of the character may turn a lot of people off, but I liked it quite a bit. The story is touching and flows well, and the artistic team does a great job in this issue too. This one gets a recommendation. Check it out.