Batman has been busy enjoying a lovely camping trip with his daddy, but when he returns to Gotham City for Batman #75 next week, he may find that things have drastically changed in the City of Bane storyline. For example, some of his greatest villains have become… the law?
This purportedly leaked page from Batman #75 shows a pair of unlikely police partners, The Joker and The Riddler, receiving a call to investigate the scene of a homicide. When they arrive, they find Dr. Double X murdered… twice. And the modus operandi practically screams Two-Face.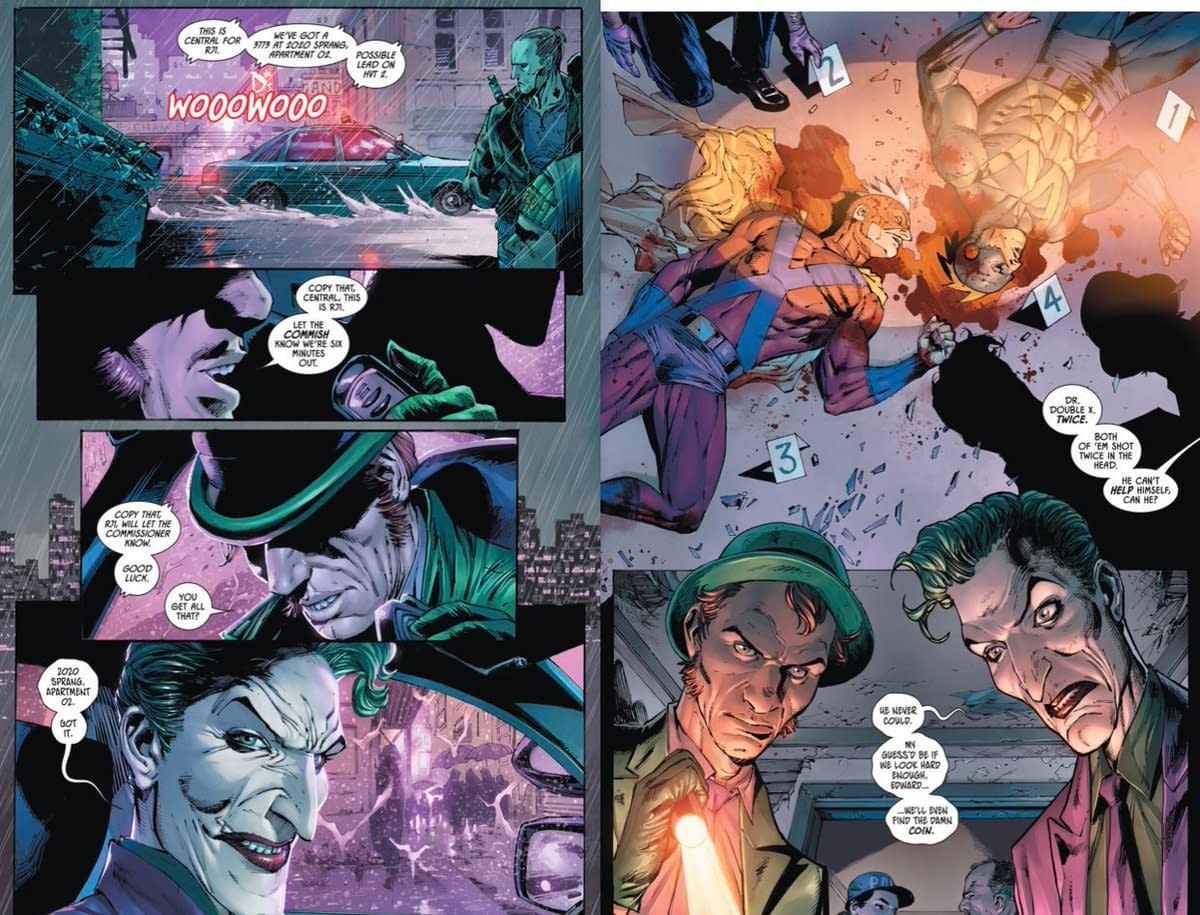 The image was posted on Twitter with no source listed, and we haven't been able to locate it anywhere else. Neither Tom King nor Tony S. Daniel responded to the tweet despite being tagged.
It looks like joker&riddler are the new cops of gotham.
What's going on in gotham??#batman75 by @tomkingtk and @tonydanielx2 pic.twitter.com/ZyfDkMIOlf

— Adam Black (@AdamBlack77) July 12, 2019
It does look enough like Daniel's art, and fits the solicitation for Batman #75 and the City of Bane premise, so could very well be one of the plotlines in the oversized issue. But with no official confirmation, consider taking the image with a grain of salt for now… though we won't have long to wait to find out.
UPDATE: Actually, that's definitely Daniel's art:
I've rarely drawn #Joker not smiling it was hard to do! #Batman #DCComics pic.twitter.com/hgxI8n8H5t

— Tony S Daniel (@TonyDanielx2) May 24, 2019
And definitely from Batman #75:
Batman 75

— Tony S Daniel (@TonyDanielx2) May 25, 2019
Batman #75 hits stores next Wednesday.
BATMAN #75 YOTV THE OFFER
MAY190385
(W) Tom King (A/CA) Tony S. Daniel
"City of Bane" begins! Bane's minions have moved into Gotham City, taken control and are ruling with an iron fist-including rounding up any villain who refuses to sign onto Bane's program-and Batman is nowhere to be found. At least not the Batman anyone knows. It's like someone has replaced the real Gotham City with a twisted funhouse-mirror version of it. Meanwhile, the real Bruce Wayne is on a spiritual quest to regain his fighting spirit after his showdown with his father in the desert. Can the people of Gotham hold on until their protector is strong enough to come to their rescue? Plus, what does Lex Luthor's scheming mean for Gotham City when Bane and the villains are already in control? This extra-sized anniversary issue kicks off a new multi-part storyline that ties together all the threads of the first 74 issues of Tom King's epic BATMAN run!
In Shops: Jul 17, 2019
SRP: $4.99
Enjoyed this article? Share it!