Batman Beats Mighty Morphin Power Rangers Into 2nd Place In March Charts And Marketshare
The top ten is in flux for March, as the #50 issue landmark lifts Superman into 4th, and cements Batman into first place, as Boom's Mighty Morphin Power Rangers #1 takes second place and Star Wars takes third. In fact, with Spider-Man, Darth Vader, Deadpool and International Iron Man, the launch of Marvel's Avengers crossover event, usually expected to be closer to the top, only ekes into tenth place.
But for all that, not too much has changed between the direct market Diamond comic book marketshare, between February to March. Marvel have dropped their dollar share by three points, but gained a little in the numbers they were selling. This is usually due to them giving big discounts. Meanwhile DC have maintained their dollar share, but the amount of comics they sold dropped three points, possibly because the price of their comics went up with all the $4.99 issue 50 titles.
Image Comics have dropped marketshare back below 10%, quite significantly, while IDW have also had a one percentage bump, which at that level makes a lot of difference, while Boom do the same, thanks to their Mighty Morphin Power Rangers performance, while everyone else seemed to fall back a bit.
Oh and the Harley Quinn Loot Crate exclusive did not go through Diamond, it seems.
TOP COMIC BOOK PUBLISHERS
RETAIL MARKET SHARE
PUBLISHER
SHARE
MARVEL COMICS
37.39%
DC ENTERTAINMENT
26.32%
IMAGE COMICS
8.73%
IDW PUBLISHING
5.82%
BOOM! STUDIOS
3.26%
DARK HORSE COMICS
2.82%
DYNAMITE ENTERTAINMENT
1.69%
VIZ MEDIA
1.45%
TITAN COMICS
1.42%
EAGLEMOSS PUBLICATIONS LTD
1.21%
OTHER NON-TOP 10
9.88%

UNIT MARKET SHARE
PUBLISHER
SHARE
MARVEL COMICS
42.71%
DC ENTERTAINMENT
25.94%
IMAGE COMICS
8.63%
IDW PUBLISHING
4.41%
BOOM! STUDIOS
4.07%
DARK HORSE COMICS
2.47%
DYNAMITE ENTERTAINMENT
1.56%
TITAN COMICS
1.48%
VALIANT ENTERTAINMENT LLC
1.13%
ONI PRESS INC.
0.84%
OTHER NON-TOP 10
6.78%
NEW TITLES SHIPPED
| | | | | |
| --- | --- | --- | --- | --- |
| PUBLISHER | COMICS SHIPPED | GRAPHIC NOVELS SHIPPED | MAGAZINES SHIPPED | TOTAL SHIPPED |
| MARVEL COMICS | 84 | 44 | 0 | 128 |
| DC ENTERTAINMENT | 77 | 40 | 0 | 117 |
| IDW PUBLISHING | 50 | 32 | 0 | 82 |
| IMAGE COMICS | 54 | 19 | 0 | 73 |
| EAGLEMOSS | 0 | 0 | 47 | 47 |
| VIZ MEDIA | 0 | 43 | 0 | 43 |
| DARK HORSE COMICS | 23 | 16 | 0 | 39 |
| TITAN COMICS | 19 | 11 | 5 | 35 |
| BOOM ENTERTAINMENT | 23 | 11 | 0 | 34 |
| DYNAMITE ENTERTAINMENT | 18 | 2 | 0 | 20 |
| OTHER NON-TOP 10 | 140 | 153 | 29 | 322 |
COMPARATIVE SALES STATISTICS
DOLLARS
UNITS
MARCH 2016 VS. FEBRUARY 2016
COMICS
3.62%
2.59%
GRAPHIC NOVELS
31.90%
26.24%
TOTAL COMICS/GN
12.29%
4.61%
MARCH 2016 VS. MARCH 2015
COMICS
0.53%
-8.45%
GRAPHIC NOVELS
36.36%
34.78%
TOTAL COMICS/GN
11.04%
-5.31%
YEAR-TO-DATE 2016 VS. YEAR-TO-DATE 2015
COMICS
-3.40%
-9.16%
GRAPHIC NOVELS
12.67%
13.56%
TOTAL COMICS/GN
1.32%
-7.53%
TOP 10 COMIC BOOKS
| | | | | |
| --- | --- | --- | --- | --- |
| RANK | DESCRIPTION | PRICE | | VENDOR |
| 1 | BATMAN #50 | $5.99 | | DC |
| 2 | MIGHTY MORPHIN POWER RANGERS #1 | $3.99 | | BOO |
| 3 | STAR WARS #17 | $3.99 | | MAR |
| 4 | SUPERMAN #50 | $4.99 | | DC |
| 5 | AMAZING SPIDER-MAN #9 | $3.99 | | MAR |
| 6 | DARTH VADER #17 | $3.99 | | MAR |
| 7 | DARTH VADER #18 | $3.99 | | MAR |
| 8 | DEADPOOL #8 | $3.99 | | MAR |
| 9 | INTERNATIONAL IRON MAN #1 | $3.99 | | MAR |
| 10 | AVENGERS STANDOFF: ASSAULT ON PLEASANT HILL ALPHA #1 | $4.99 | | MAR |
TOP 10 GRAPHIC NOVELS & TRADE PAPERBACKS
| | | | | |
| --- | --- | --- | --- | --- |
| RANK | DESCRIPTION | PRICE | | VENDOR |
| 1 | THE WALKING DEAD VOLUME 25: NO TURNING BACK TP (MR) | $14.99 | | IMA |
| 2 | PAPER GIRLS VOLUME 1 TP | $9.99 | | IMA |
| 3 | CIVIL WAR TP | $24.99 | | MAR |
| 4 | TOKYO GHOST VOLUME 1: ATOMIC GARDEN TP (MR) | $9.99 | | IMA |
| 5 | BATMAN VOLUME 7: ENDGAME TP | $16.99 | | DC |
| 6 | BEAUTY VOLUME 1 TP (MR) | $9.99 | | IMA |
| 7 | EAST OF WEST VOLUME 5: ALL THESE SECRETS TP | $14.99 | | IMA |
| 8 | SECRET WARS HC | $50.00 | | MAR |
| 9 | BATMAN VOLUME 8: SUPERHEAVY HC | $24.99 | | DC |
| 10 | AVATAR THE LAST AIRBENDER VOLUME 12: SMOKE & SHADOW PART 3 TP | $10.99 | | DAR |
TOP 10 BOOKS
| | | | | |
| --- | --- | --- | --- | --- |
| RANK | DESCRIPTION | PRICE | | VENDOR |
| 1 | DC SUPER HERO GIRLS: WONDER WOMAN AT SUPER HERO HIGH HC | $13.99 | | RAN |
| 2 | WORLD OF WARCRAFT CHRONICLE VOLUME 1 HC | $39.99 | | DAR |
| 3 | THE SHADOW DOUBLE NOVEL VOLUME 104 SC | $14.95 | | SAN |
| 4 | DOC SAVAGE DOUBLE NOVEL VOLUME 87 SC | $14.95 | | SAN |
| 5 | BATMAN V SUPERMAN: ART OF DAWN OF JUSTICE HC | $39.99 | | RAN |
| 6 | VISUAL FUNK STREET ART ADULT COLORING BOOK TP | $9.99 | | IDW |
| 7 | MIGHTY MORPHIN POWER RANGERS: LIGHT UP RING & ILLUSTRATED BOOK KIT | $9.95 | | RUN |
| 8 | STAR WARS LITTLE GOLDEN BOOK: A NEW HOPE | $4.99 | | RAN |
| 9 | BOB'S BURGERS BURGER BOOK HC | $19.95 | | RAN |
| 10 | BATMAN V SUPERMAN: DAWN OF JUSTICE TECH MANUAL HC | $39.95 | | RAN |
TOP 10 TOYS
| | | | |
| --- | --- | --- | --- |
| RANK | DESCRIPTION | | VENDOR |
| 1 | DRAGONBALL Z: SON GOKU 10-INCH PVC FIGURE | | BAN |
| 2 | POP! STAR WARS: RANCOR (6-INCH) WITH LUKE & SLAVE OOLA VINYL FIGURE 3-PACK | | FUN |
| 3 | MARVEL SELECT: DEADPOOL ACTION FIGURE | | DST |
| 4 | MARVEL UNIVERSE VARIANT PLAY ARTS KAI: CAPTAIN AMERICA FIGURE | | SQU |
| 5 | MARVEL: LADY DEADPOOL BISHOUJO STATUE | | KOT |
| 6 | DC COMICS BOMBSHELLS: THE JOKER & HARLEY QUINN STATUE 2ND ED | | DC |
| 7 | GREEN ARROW AND BLACK CANARY STATUE | | DC |
| 8 | BATMAN V SUPERMAN: DAWN OF JUSTICE: BATMAN STATUE | | DC |
| 9 | BATMAN PREMIUM COLLECTION: MAD LOVE HARLEY QUINN STATUE | | DST |
| 10 | BATMAN PREMIUM COLLECTION: MAD LOVE HARLEY QUINN VARIANT STATUE | | DST |
TOP 10 GAMES
| | | | |
| --- | --- | --- | --- |
| RANK | DESCRIPTION | | VENDOR |
| 1 | STAR WARS: THE FORCE AWAKENS MONOPOLY | | HAS |
| 2 | STAR WARS X-WING: GHOST EXPANSION PACK | | FAN |
| 3 | SUPERNATURAL MONOPOLY | | USA |
| 4 | RISK: STAR WARS EDITION | | HAS |
| 5 | STAR WARS X-WING: PUNISHING ONE EXPANSION PACK | | FAN |
| 6 | DC HEROCLIX: WORLDS FINEST BOOSTER BRICK | | NEC |
| 7 | V-WARS: BLOOD & FIRE BOARD GAME | | IDW |
| 8 | TICKET TO RIDE MAP COLLECTION 5: UNITED KINGDOM | | DOW |
| 9 | YU-GI-OH! TCG PREMIUM GOLD BOX | | KON |
| 10 | YU-GI-OH! TCG: BREAKERS OF SHADOW SPECIAL EDITION BOOSTERS | | KON |
Dollar Market Share – March 2016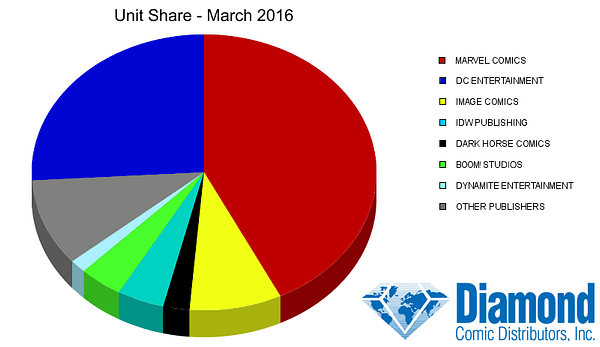 Unit Market Share – March 2016
xxxx