Batman Detective Comics #980 Review: Batwoman vs. Red Robin
[rwp-review-recap id="0"]
Batwoman distracts the Tim Drake Omac while Batman, Spoiler, and Orphan infiltrate the transformed Belfry. The Bat-Family hopes that they can shut down Tim and Ulysses' control tower and override the Omac drones destroying Gotham City.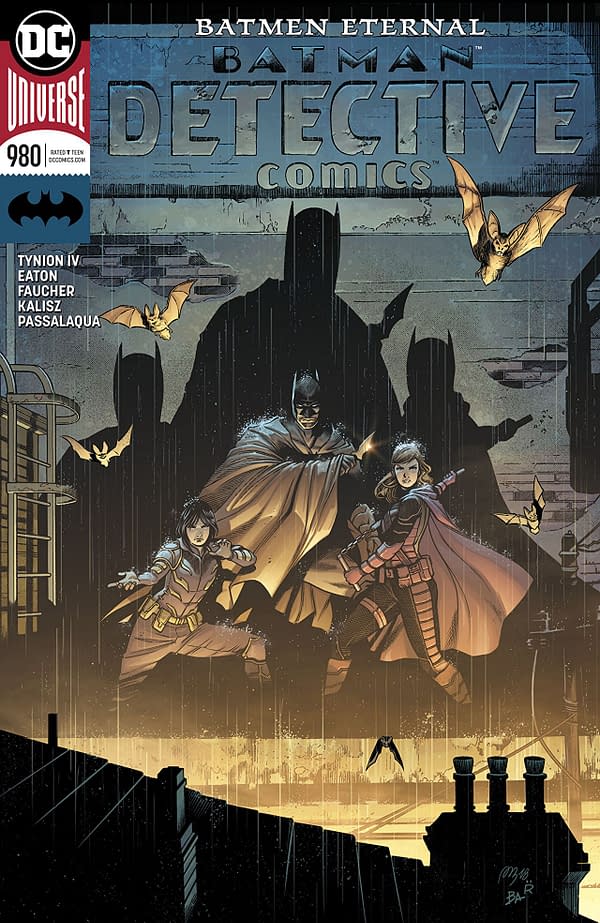 The story advances more in this issue of Detective Comics compared to the recent two. The team moves definitively towards resolving the crisis, and we even learn about the timeline this Brother Eye came from and it's notably familiar.
Spoiler and Orphan are granted more of the focus here, and that's greatly appreciated. Detective Comics seems aware that these two characters have been pushed to the fringes by its stories and aims to rectify that. Spoiler especially gets a couple of good lines in on Batman.
Ulysses could use some work as a villain. I was hoping to see him develop more, but he still just comes off as a snotty little punk throughout this comic. Red Robin/Batman/Omac is a far more compelling facet, as his rivalry with Batwoman has been well-established in James Tynion IV's run of Detective Comics. The duel they share in this comic would steal the spotlight if it weren't for Spoiler.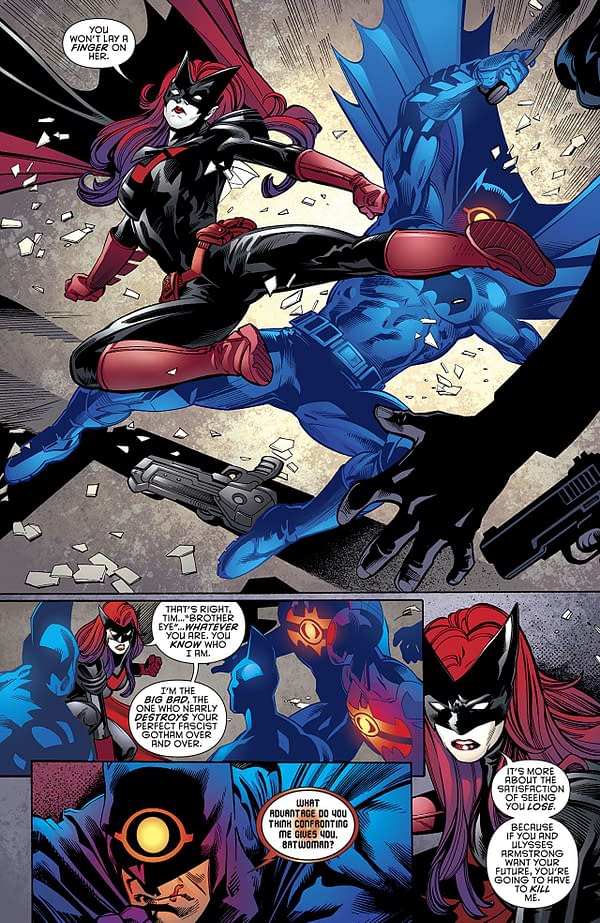 Scot Eaton's artwork is solid and does justice to Batman and his associates. The Omac's look great especially. Batwoman is drawn a little lanky with her T&A noticeably emphasized, and that's bothersome. Beyond that, the detailing is impressive, and characters are given a lot of visual emotion. John Kalisz and Allen Passalaqua provide good coloring work that plays with the traditional palette of a Batman comic.
Batman: Detective Comics #980 is a solid continuation to "Batmen Eternal," and it spotlights Spoiler and Orphan more than recent issues. The story is interesting and connects to some other DC lore in a surprising way. This one gets a recommendation. Give it a read.
[rwp-review-ratings id="0"]
[rwp-review-form id="0"]