Regardless of where you stand in the Star Wars culture wars, there's one thing we can all agree on: the world needs more Ewoks. We all agree with that, right? Well, good, because Marvel is collecting the 1985 Ewoks series by David Manak and Warren Kremer, or at least the first five issues, in a new TPB titled Star Wars: Ewoks – Flight to Danger.
It's the perfect companion to that Jar Jar Binks story they're releasing in January! Er, if they do release it, that is.
Check out the solicit below.
STAR WARS: EWOKS — FLIGHT TO DANGER TPB
Written by DAVID MANAK
Penciled by WARREN KREMER
Cover by WARREN KREMER
Journey to the forest world of Endor for adorable adventures with the Ewoks! Join Wicket Warrick, his friend Teebo and Chief Chirpa's daughter Princess Kneesaa in colorful capers filled with rainbow bridges and rites of power! Who dares brave the Valley of Evil? Where will the Ewoks land when a mission of honor turns into a flight to danger? And what is the incredible secret of the Terrible Machine? There are discoveries and deadly games in store as the Ewoks face a call to arms, a chase to the end and a fight to the finish! The cuddly stars of Return of the Jedi take center stage in fun-filled stories guaranteed to make you sing "Yub Nub"! Collecting EWOKS #1-5.
112 PGS./All Ages …$15.99
ISBN: 978-1-302-91557-5
Star Wars © Lucasfilm Ltd. & TM. All rights reserved. Used under authorization. Text and illustrations for Star Wars are © 2018 Lucasfilm Ltd.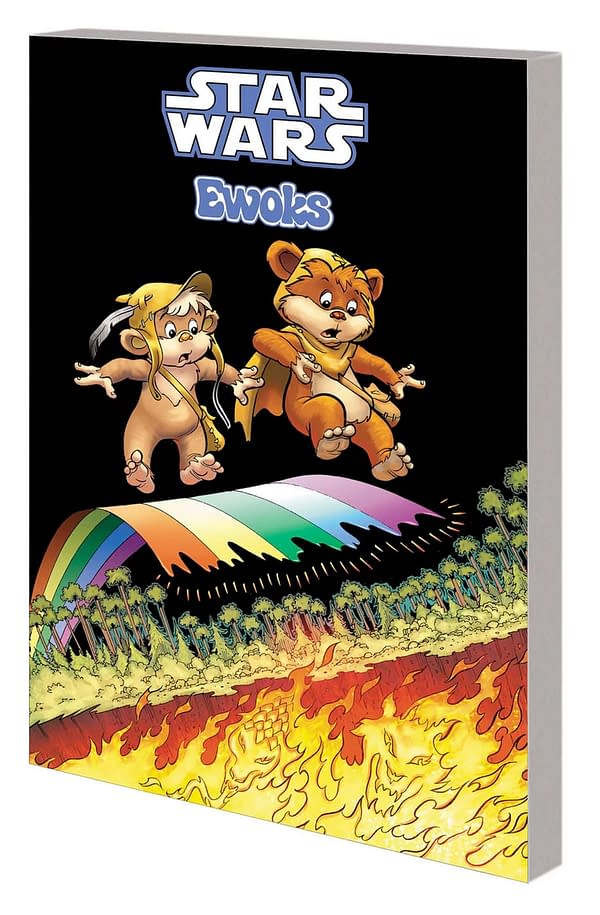 Enjoyed this article? Share it!