In Scott Snyder and Greg Capullo's Batman run, they gave Gotham a new backstory. A group of one percenters who controlled the city from the shadows, known as the Court Of Owls, that went back centuries. An Illuminati in secret who controlled the city, tolerated Batman and his villains, only interceding when he threatened their plans. And who evaded the attention of the world's greatest detective over most of his career.
Well, I understand from gossipy folk at San Diego Comic-Con, in upcoming issues of Superman and Action Comics, we will be introduced to a criminal group in Metropolis who have done something similar.
In Superman and Man Of Steel, we have seen a series of fires lit that have caused Superman much concern, with possibilities of arson. And from Superman's perspective, we have seen how he perceives his world, with his own personal mass surveillance system targeting words such as murder and kill, or screams of help. He's like a Metropolis-wide Alexa, always listening, privacy be damned.
But here's the thing about such levels of security, people start to rely on them. Believe they are infallible. And then drop their guard over any such threat. Because security systems can be defeated.
By criminal groups not saying words such as 'murder' or 'kill'. Operating out of Superman's sight. And when necessary, creating a distraction or five…
How long could a criminal underground exist without being spotted by Superman? Especially with a Metropolis population believing Superman would make such organisations impossible?
Action Comics #1001 is published this week…
ACTION COMICS #1001
(W) Brian Michael Bendis (A/CA) Patrick Gleason
Acclaimed writer Brian Michael Bendis' new chapter for the Man of Steel and the world of tomorrow begins here! The devastating repercussions from the Man of Steel miniseries still reverberate as Metropolis enters a new age! The Daily Planet teeters on the brink of disaster! A new criminal element has made its way onto the streets of Superman's hometown! The longest- running superhero comic of all time explodes off the page with art by fan favorite Patrick Gleason.In Shops: Jul 25, 2018
SRP: $3.99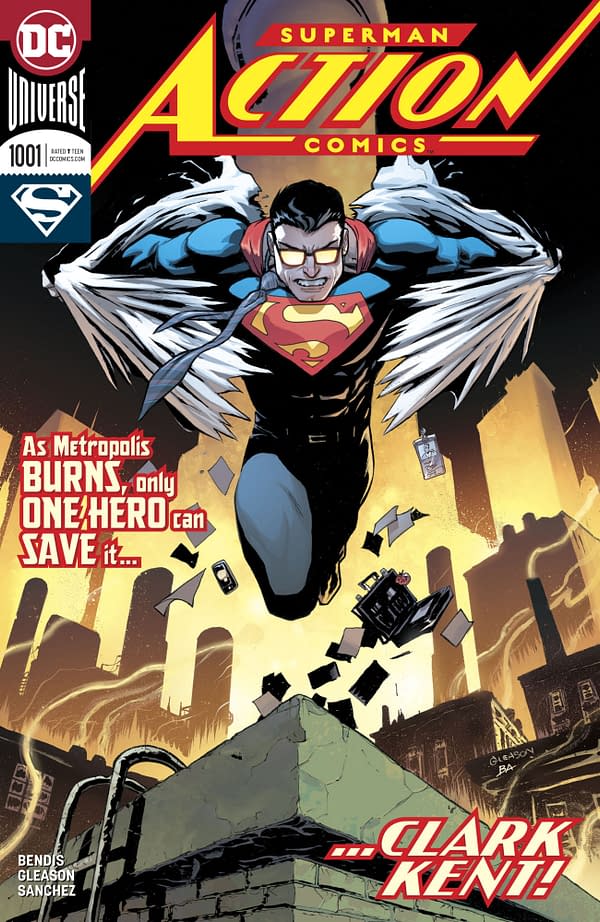 Enjoyed this article? Share it!