Bill Schanes To Step Down At Diamond Comic Distributors. Status Of Moustache, Unknown.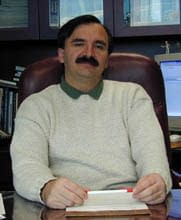 Forty-two years after co-founding Pacific and twenty-six years after joining the company, Bill Schanes, Vice President of Purchasing at Diamond Comic Distributors is stepping down from that role, for an advisory position that will last the rest of the year, at least.
Replacing him in his position is current Executive Director of Purchasing, John Wurzer. Whether he will inherit Bill Schanes' famous moustache or not, or if Schanes will be allowed to keep it as a goodwill gesture, I do not know.

A couple of weeks ago, I heard that Schanes would be stepping down from the company, to be replaced by John Wurzer, though he denied it at the time. Now, however, it is official.
Bill Schanes was not only a pioneer in the establishment of the comic book direct market that saw comic stores able to order accurately from publishers with better discounts, changing the very nature of the comic books that were created, but has also overseen the rise of Diamond to absolutely dominate the market, with a number of exclusive deals with the biggest monthly comic book publishers, as well as Diamond's move into digital.
He is listed on the Top 100 Comics Power List at twentieth place.