An Excellent Murder Mystery – A Binge Read Catch Up On The Fuse Vol. 1: The Russia Shift As you know, I'm always looking for new series to dive into, and there's nothing better than a binge read. My latest binge read catch up came from Image Comics, entitled The Fuse, written by Antony Johnston, with art by Justin Greenwood, colors by Shari Chankhamma, and letters by Ed Brisson. I started with The Fuse Vol. 1: The Russia Shift, which collects issues #1-6 of the series. What captured my attention right from the start was the setting. The story takes place on an orbital space station, The Fuse, which obviously has a super cool space-y feeling. I wasn't sure what to expect from the plot, but after reading it, I can easily describe it as an action packed crime story. We follow two detectives as they attempt to solve politically fueled mysteries about the happenings on this space station.
We meet main character Ralph Dietrich at the beginning of the story, as he is on his way to the space station to start his new job and life. When he arrives, we get a bit of information about how the place operates. If you're applying for residency you follow an orange line, visitors follow a blue line, and returning residents follow a green line. Right off the bat readers get a sense of order. After all, there has to some kind of structure with half a million people living in one place. When we meet Dietrich's partner Klementina or "Klem," the story begins to get interesting. A "cabler" has been murdered. Now, you might be wondering what a "cabler" is, and I don't blame you. For me, it took far too long for that to be explained. A cabler is a homeless person/nut job that lives behind/inside the ducts, pipes, and walls of the space station. Don't worry, Johnston does explain more about them as the plot progresses.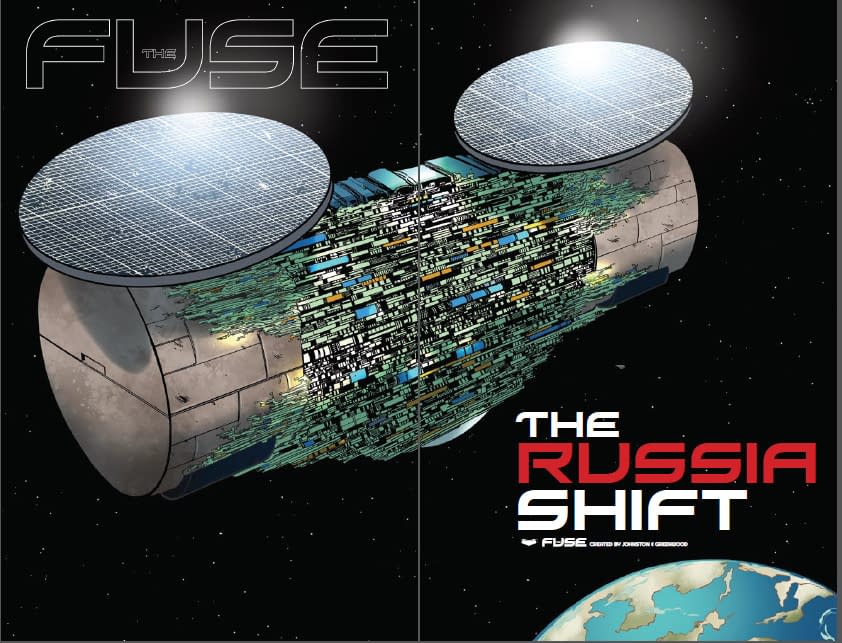 The dynamic between Dietrich and Klem is amusing to read. You get a sense of the hesitation they have with trusting one another in the beginning, but it changes over time. One particular example that defined the characters for me was when they were discussing how to go about finding information about the two cabler's being murdered. Dietrich suggested going to the cabler's domain and questioning the source, while Klem felt it was better to do the opposite. None the less, I felt very immersed in the story as I read, almost like I was a detective trying to solve things along with them. I don't want to spoil too much about the plot, but there is much more below the surface of these murders.
Overall, I felt that it was an excellent murder mystery. Justin Greenwood's art style has a rough feel to it, with bold lines and a lot of shadows. Even with the cool space-y feel, all of the characters look boney and rigid, which fits the overall feel of the story. Johnston provides us with a great, highly detailed, ARC and it's clear that he's put a lot of work into world building. The Fuse Vol. 1: The Russia Shift, is perfect for fans of suspenseful crime stories. The series just recently released their tenth issue. If you're looking for a new comic to read, grab this one, and catch up so you can prepare yourself for The Fuse's future.
Christine Marie is a Staff Writer at Bleeding Cool, and bibliomaniac with a love for all things creative. She hopes to one day be a Superhero/Disney Princess/Novelist. You can find her on Twitter and Instagram @AWritersWay or on her blog writerchristinemarie.wordpress.com.