Bitch Planet Matches Multiversity, Convergence And Justice League For Meta Moment
Today sees the final issue of Multiversity, the latest issue of Justice League and the fourth issue of Convergence. The former shows crashing realities as Grant Morrison brings all the plots from the one shots together into one final push. With comic books as the meta-way out and potential solution to everything. And previous Crises coming to the fore as a way to learn, survive and win. While over in Justice League #40… they are doing the same thing. A return to portraying previous crises…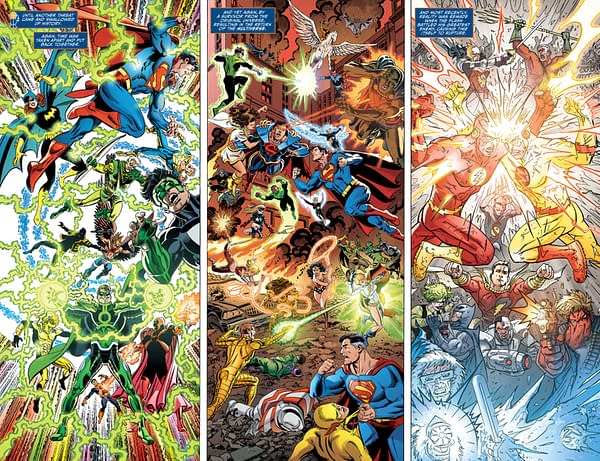 And the idea that this current reality is still being written, is unstable and has yet solidified.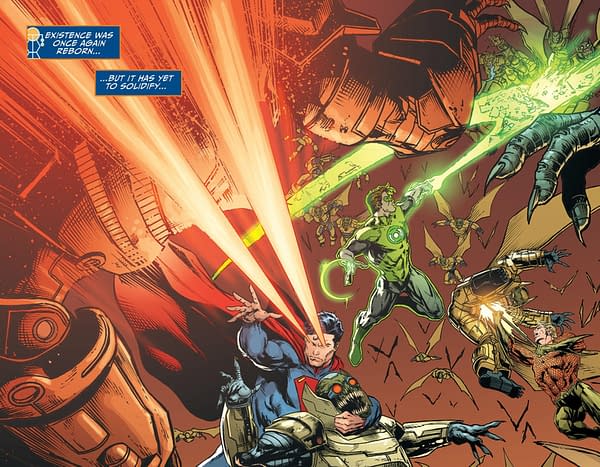 Which could handily explain a number of those issues about who did what in Batman Inc, which Robins were Robins and which were not, who was in Teen Titans when and what city their headquarters are in – issues that the Justice League writer Geoff Johns hasn't exactly helped unmuddy, in conflict with other writers working under Dan DiDio with other objectives. And now we have a canon explanation…
While in Convergence #4 we also see the history of the Crisis, as a publication, established as a real world event. And the "original heroes" from DC's publishing history revived.
So, for all this paper shuffling, folding and twisting, making the history of the DC Universe a multi-dimensional origami swan… can anyone else challenge them for a moment of true meta that can also be interpreted as story?
Not bad, final issue of Secret Avengers... You too final issue of New Avengers... but the winner is Bitch Planet #4 by Kelly Sue DeConnick and Valentine De Landro. Which, with it's fourth issue, ever to be dubbed "the shower scene", something that the creators spent a lot of time working on. And what have they got right? Well it contains this scene.
Which totally fits in with the story and is an important plot point on which the future direction of the book may depend upon, as you will see.
But also, by portraying the central panel on a secondary level to the other panels, the hole in the wall in that panel gains an extra dimension, a hole i reality, and an eye starin back from a different dimension, Our own. And, especially for male readers, making us very uncomfortably self-identify with that eye, owning the male gaze and being responsible for it.
No need to mention crossovers, just one simple moment of grabbing many-a-reader and making them an unwilling participant in the narrative.
Grant Morrison, Jonathan Hickman, Geoff Johns, Ales Kot, Jeff Kline? Kelly Sue DeConnick wins…
Today's comics courtesy of Orbital Comics, London, launching a Music & Comics Gallery on Friday, 12 comic artists have been tasked with taking an album of their choosing, and creating a new piece of cover art for it, with proceeds going to Brain Tumour Research. And on Saturday are running a Free Comic Book Day that they say won't hand out random grab bags and won't run out by midday. Londoners know what they are getting at…