Marvel has revealed the covers to its Free Comic Book Titles, one for the X-Men and one for Spider-Man/Venom. We've already talked about what the X-Men one can tell us, but what about the other? Well, the biggest news seems to be that despite being called Spider-Man/Venom, this book really stars a trio: Spider-Man, Venom, and Black Cat. And just as all three are featured prominently on the cover, the book's solicit reveals it will seed the upcoming storylines in all three character's solo titles.
Free Comic Book Day, FCBD, Spider-Man, Venom, Marvel
Free Comic Book Day 2020: Spider-Man/Venom will provide two exciting tales connected to the coming major storylines in Venom, Amazing Spider-Man and Black Cat from top creators Donny Cates, Ryan Stegman, Jed MacKay, and Patrick Gleason and more!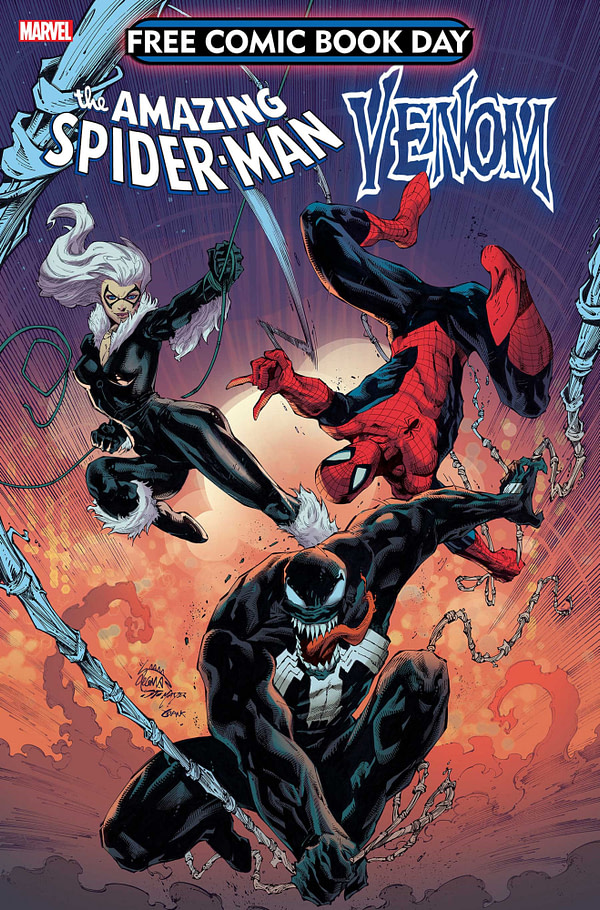 It's no surprise that Black Cat would join these two related characters in the issue, especially since the first issue of her solo series was the fourth best selling comic of 2019, beating the Venom-centric super-mega crossover event Absolute Carnage by two spots. Amazing Spider-Man was not included in the top ten.
Since then, however, as is the case with all comics, monthly sales have dropped since the speculator-baiting first issue, below the level of both Venom and Spider-Man, though Black Cat maintains a healthy ranking in the middle range of Marvel's line, which isn't surprising considering its winning formula: one-and-done stories building a large overarching "season" plot, popular guest stars each issue, and covers by popular artist J. Scott Campbell.
Perhaps what's most surprising is that this FCBD issue teases not a super-mega-crossover event starring all three titles, but rather major storylines in each book.