The Future of Black Label at DC Comics – It's All Stephen Colbert's Fault?
We first reported on this word spinning out of New York Comic Con direct from the bars in question, where we had reporters being briefed on current issues at DC Comics directly from some of the creators involved, over a few beers and shots.
And the only thing anyone seemed to want to talk about on the Thursday night was the effect that Batman Damned was having across the line.
The media fuss over the appearance of Batman's penis in the comic overshadowed the quality of the comic itself, within the publisher as well as in the public eye. It was considered a perfect storm of PR nightmare, as it coincided with AT&T's buyout of Warners and the appointment of a new President of DC Comics, Pam Lifford. And that, pretty much, this fuss was the first thing to land on her desk. And she had to deal with Stephen Colbert making jokes about how DC is a company that's just crass and trying to sell books by showing full frontal nudity, on national TV.
And while voices of outrage were few, voices of embarrassment within the company were legion. And editorial reworking of DC books either as a result, or in anticipation, of demanded changes has infected
Since then I have been told by some that it is the Black Label line that is getting the brunt of the changes. Batman Damned was the only one solicited but I have been told to expect delays across that line as editorial standards demanded of the DCU line are now being applied to these mature readers superhero books as well.
Black Label was a line that we first ran rumours ahead of San Diego Comic-Con 2017, as a new mature readers superhero imprint from DC Comics headed up by editor Mark Doyle. Then in early 2018, we ran more details, naming it as Black Label, and stating that it would feature Superman, Batman and a Wonder Woman project by Kelly Sue De Connick.
A month after that, it went all official.
But Doomsday Clock seems to be getting away with it. It is also a superhero comic book featuring Batman and Superman with male full frontal nudity. Of course, that isn't actually Batman or Superman on display, it maintains a previously established tone – including by the movies – and Geoff Johns knows how to play the game,
But for everyone else, I am told that it is reminiscent of DC Comics' micromanagement of the Wildstorm line, on Planetary, the Authority and Jenny Sparks, superhero comics aimed at an older-than-traditional audience, and of what happened with The Boys, the comic published by DC Comics that so offended its President Paul Levitz back then, that the comic was cancelled with its first issue and picked up by Dynamite Entertainment – and now a new TV series for Amazon. That won't be possible for Black Label books, as they use DC Comics intellectual properties – unless the serial numbers can be ground off, as they were for Frank Miller's Holy Terror Batman.
Either way, there is some hope that a balance in the force can be re-established. Just as no big media fuss is made in the upcoming few months.
Basically, keep looking at Stephen Colbert… and see what he does.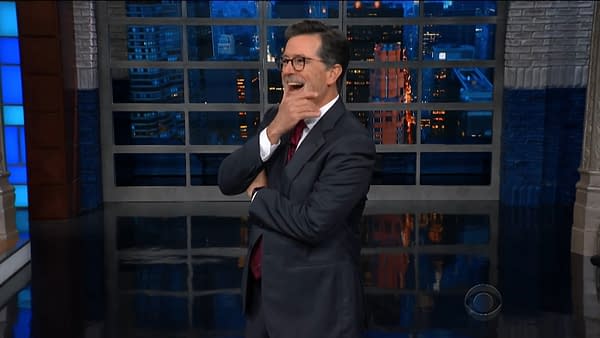 Apparently, no one really cares about what Seth Meyers said though…