The Blank Comic from About Comics is exactly what it says on the tin. 24 blank pages, stapled like a traditional comic, with a glossy blank cover. And now going to its ninth printing.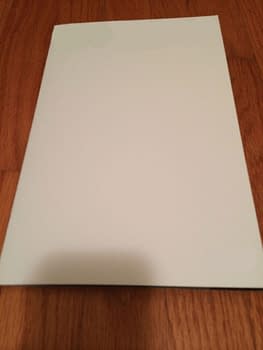 For its last printing, About Comics' Nat Gertler told me:
About Comics is now having its 20th anniversary as a publisher, and while we've published things that have gotten a lot of attention, like our reprints of the Negro Motorist Green Book, or our books of comic book scripts, Panel One and Panel Two. But if you ask me what I'm proud of, there's nothing on that list. Hundreds of thousands of pages of nothing. With this eighth non-printing of The BlankTM Comic Book, I know there are thousands and thousands of copies out there that are no longer blank, that have been used for 24 hour comics creation, or by kids creating comics, or have had their covers customized into non-blank covers by some amazing artists. Many people have told me that blank comic books are a stupid idea, and they're probably right… but usually, just after saying that, they say "but you know what they'd be good for?" Every one of these "comic books" is a pile of potential, just waiting for some creative energy to be applied.
Since then DC Comics also published a series of blank comic books – with the Batman, Superman and Wonder Woman logos. Those are, of course, out of print. And this one doesn't even have a logo. This time, Nat tells us,
About Comics is once again returning to lack-of-print the ever-popular The BlankTM Comic Book, These are pretty much what you'd think they are – 24 blank pages within a blank white cardstock cover – and are used for a range of creative projects, whether it's for doing sketch covers, for laying out a comic book, or for kids making comics of their own. Small specialty publisher About Comics has been producing these for a decade, mainly selling them to comics retailers in bulk.Whenever it's time for a new production run, these are offered at a substantial discount.

While during most times About Comics will sell 50-packs, currently priced at $70 postpaid, when gearing up for a new run they sell caselots at a substantial discount: 150 copies for $140 postpaid to anywhere in the 48 contiguous US states (and the District of Columbia, of course.) Preorders need to come by March 31, and the cases will arrive by April 30, shipped directly from the production facility. This deal is available not just to retailers, but to anyone wanting 150 of these pristine beauties: schools, artists, presidential candidates, anyone.

To preorder a case, please Paypal $140 to nat@aboutcomics.com , or send a check to About Comics, 1569 Edgemont Dr., Camarillo, CA 93010, or request an online credit card invoice by emailing questions@aboutcomics.com
We're happy to pass on the word…
Enjoyed this article? Share it!