Here is what you've got coming up from us as we prepare you for the season of screams. Plus check out that awesome Hellraiser cover.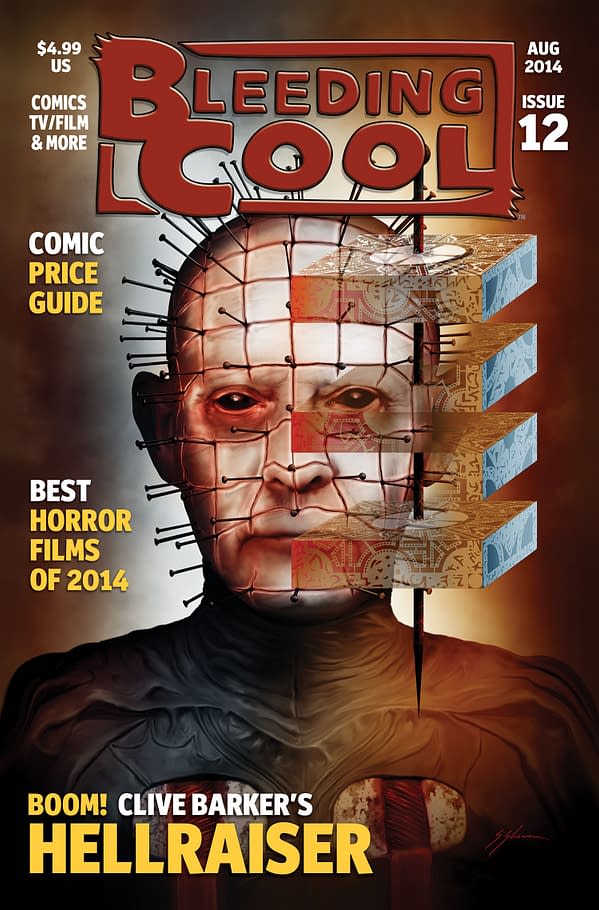 BLEEDING COOL MAGAZINE #12
Retail Price: $4.99 US
Full Color, 104 pages
PRODUCT DESCRIPTION: RICH JOHNSTON gets readers ready for Halloween horrors with real life ghost stories from the comic creating community! If you want to know what scares your favorite writers and artists, the newest issue of Bleeding Cool Magazine is the only place to find it! BRENDON CONNELLY takes us on a tour of the best horror films coming this year and spills on the frights you need to see to believe. Join us as we welcome CLIVE BARKER's newest HELLRAISER creation from Boom! and celebrate a life of horror in the pages of bone chilling comics. Pay for your comic collection with savvy tips – thousands of fans have turned back issue lead into gold with Bleeding Cool's Hot Comics, Vintage Paper, and Price Guide features. Come celebrate the comic book medium with us! Delivering over 100 pages per issue on a bi-monthly release schedule, each issue is full of articles that are NOT AVAILABLE ON THE WEB!
Enjoyed this article? Share it!