Bloodshot Salvation #5 Review: Paying Back the Father
[rwp-review-recap id="0"]
In the near future, Magic is trying to find out if Ray is still alive through a bizarre medium ritual.
In the present, Ray is being held by Magic's Christian extremist father, and he is trying to torture the nanites out of Bloodshot's system. At MI-6 headquarters, Ray and Magic's daughter is looking to be in a bad spot and may yet die due to the illness.
Plus, the Scarred Man is still looking to round up the nanite-enhanced operatives.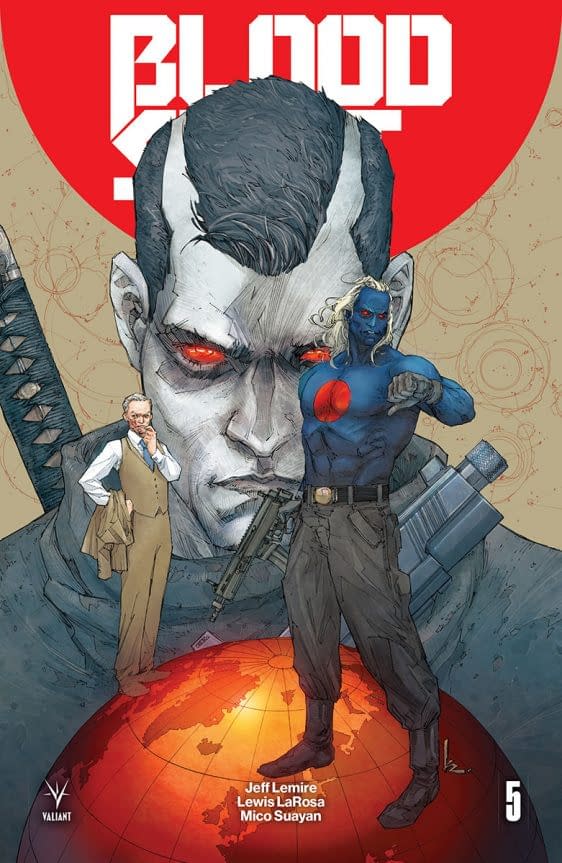 Bloodshot Salvation #5 is a heavy yet definitive improvement on the more cliched previous issue. It's dramatic, cathartic, and emotionally grounded. Despite how impulsive and reckless the decision was, you can easily understand why Ray went after the crazy bastard who tormented Magic in her childhood. It's also very easy to empathize with Magic's horror in learning that her daughter is very ill and looks like Bloodshot.
The highlight of the issue is—not to give too much away—when Ray finally gets out of his chains with the help of an old friend. What follows is a bunch of very bad things happening to very bad people, and it's awesome. It's the kind of "hell yeah" comic book moment that could have DMX's "X Gonna Give it to Ya" playing in the background at full blast.
Both Lewis LaRosa and Mico Suayan turn in some phenomenal work here. LaRosa takes care of the opening sequence, and it is aptly dramatic. He gives a lot of expression to the characters and plays with lighting very well. Suayan takes care of the bulk of the comic, and it's grimy, nasty, and textured. Both artists perform some astonishing work here. Diego Rodriguez plays off both styles with some great color art, and the resulting comic is absolutely gorgeous.
Bloodshot Salvation #5 is a very engaging read. Jeff Lemire's story continues to be enthralling, LaRosa, Suayan, and Rodriguez turn in some beautiful artwork. The overall comic is a great read. I highly recommend this one. Pick it up.
[rwp-review-ratings id="0"]
[rwp-review-form id="0"]