BOOM! Joss Whedon's Angel #0 Surprise Comic Drops In 8 Days
Last week we told you about a surprise release coming from some publisher under the code name "Tooth Fairy #0" …
…and it turns out that it's a surprise drop a-la-Beyonce of Joss Whedon's Angel next week, April 17th from Boom! Studios. This coincides with his first appearance in Buffy #4, out the same day.
American Carnage writer Bryan Edward Hill and Mighty Morphin Power Rangers artist Gleb Melnikov, under the oversight of series creator Joss Whedon, are reimagining Angel in the same continuity as the publisher's new Buffy The Vampire Slayer series.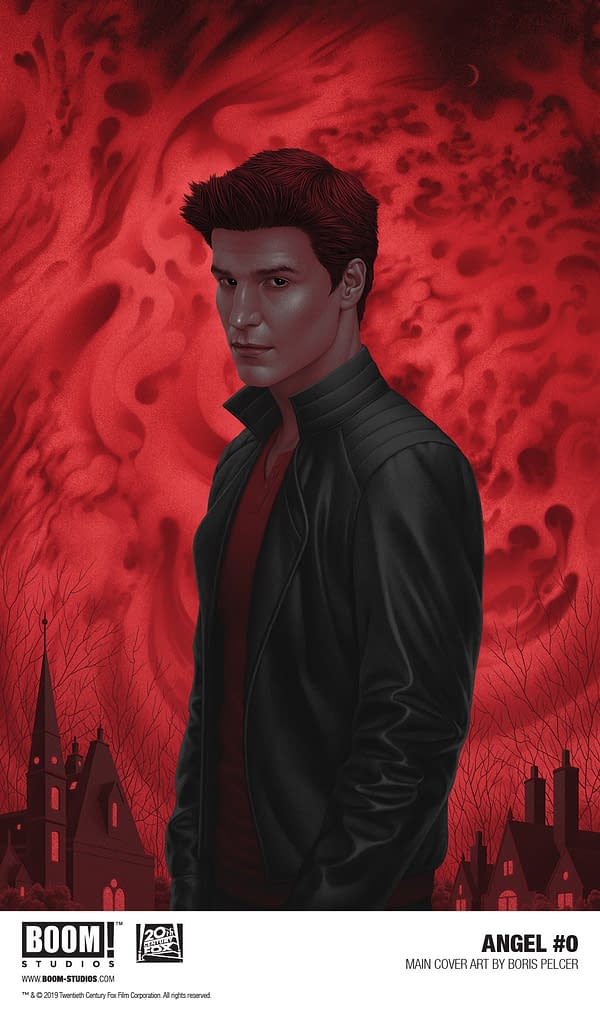 Here's how they've been describing it to those press outlets who played ball with interviews:
"Meet Angel – a vampire cursed with a soul who has spent centuries protecting humanity from the monsters that lurk in the dark…including himself. Now, looking for redemption for the atrocities committed by the monster he was when he was first turned at the age of 18, Angel stumbles upon a new demon uprising and a shocking truth: The restoration of his humanity can only come if he takes one more life: a certain Slayer from Sunnydale who he's never met…but may now be his greatest enemy."
He looks 18… and Buffy is his enemy…
I'm also told this issue features the first appearance of some important new characters in the Whedonverse – ones who we should expect to see have much larger roles in Angel moving forward.
If it's not clear, this is also the surprise item that Boom! Studios has been teasing for months, tying into the first appearance of Angel in Buffy The Vampire Slayer #4 that we were predicting.
But here's something folks haven't realized – this item was tied to the FOC orders on Buffy #3, which outsold issue #2. Now if regular sales trends continued, this would mean there would be enough copies of Angel #0 for every fan who was buying Buffy #4.
Except Buffy #4 outsold #3. And since the first printing red cover won't be available outside of this initial shipment to retailers, Buffy fans might want to call their comic shops now to reserve a copy. Because there aren't enough copies of Angel #0 First Printing for every fan who buys Buffy#4. Luckily that second printing code seems live on Diamond's vendor site…for now.
And the only thing harder to get than these first printings will be the one-per-store variants featuring Angelus. Don't expect to see this one ever reprinted, which might just make it the rarest Angel comic book ever.