In their continued plan to become indie comic creator's go-to mainstream corporation, BOOM! Studios have announced a new, as they put it, "original comic series" from DCeased writer Tom Taylor and Mighty Morphin Power Rangers artist Daniele Di Nicuolo. Seven Secrets #1 will debut from BOOM! this August and it appears the publisher is pulling out all the stops to help this new launch match the success of their recent hits. This includes James Tynion IV, and Werther Dell' Edera's Something is Killing the Children and Kieron Gillen (known in some circles as "Pun Master Flex") and Dan Mora's Once & Future. BOOM! Studios, in their press release, even put out a trailer for Seven Secrets.
Here's how BOOM! pitches the Seven Secrets, on which Tom Taylor and Daniele Di Nicuolo are joined by colorist Walter Baiamonte and letterer Ed Dukeshire:
[The series introduces] readers to seven powerful secrets—words, wonders, weapons, and worse—with the power to change the world.

For centuries, the Order has trusted in Keepers and Holders to guard the Secrets in seven briefcases against all harm but when their stronghold is attacked and the secrets put in peril, the entire Order must face their greatest fear—an enemy who knows too much and is willing to kill to get what he wants.

Now, the Order's newest member, Caspar, must discover the truth of the Secrets before the enemy does, or risk losing everything.
In addition to the trailer, BOOM! has previewed a variant cover by InHyuk Lee, a familiar collaborator of Tom Taylor's, who is also known for working on DCeased.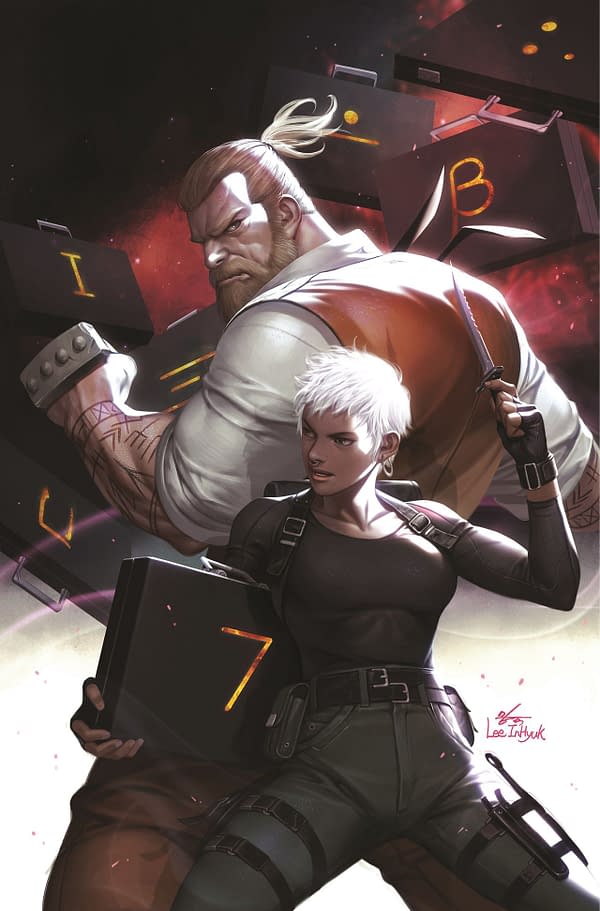 While BOOM! pushes the series hard with this new trailer and a gorgeous new variant, Tom Taylor, whose Twitter profile reveals a twinkle in his eye and a goatee that Fred Durst in his prime would envy, has humbly marketed the series on social media. His peers, however, have a lot more to say. James Tynion IV, enraged writer of BOOM! 's hit series Something is Killing the Children, tweets:
I just read through the first two issues of THE SEVEN SECRETS and I am SO ANGRY that this comic book is so phenomenally good. The characters are fantastic and the world and its mysteries are compelling. That rascal @TomTaylorMade has done it again!
Said rascal's Seven Secrets #1 will be out from BOOM! Studios on August 12th. Pick it up, and hopefully, it will make you as angry as James.
Enjoyed this article? Share it!