Brian Azzarello and Maria Llovet's Faithless Returns in 2020
Thanks to Richard Epstein and Sofia Annunziata, reporting for Bleeding Cool from the NYCC Diamond Retailer Breakfast.
Where Boom Studios' President of Publishing & Marketing Filip Sablik has just announced that Brian Azzarello and Maria Llovet's erotic thriller Faithless – which doubled its orders at FOC of issue #1 – will return in April 2020 with the aptly titled Faithless II.
Eagle-eyed fans knew this was coming thanks to Boom teasing it in the back of Faithless #6, released last week.
C'mon Boom, was Faithless: Second Coming/Faithless Comes Again/Faithless Harder too on the nose (or some other body-part) for you?
It's not surprising that the series is coming back after selling over 37,000 copies (updated at the retailer breakfast from 30,000 units) of Faithless #1 and buoyed by its so-called shocking erotic variant covers, which I'm told actually sell a large portion of their units here in the UK. Perhaps we can chalk that up to anxiety over Brexit?
This is also an important series for Boom because it kicked off their year of knocking on Image's door in a Marvel vs DC-esque creator-owned comics rivalry, which I'm told may not be considered entirely friendly on all sides despite my efforts to get BOOM! founder Ross Richie and Image supreme leader Eric Stephenson together for some kind of peace summit.
After the launch of Faithless, we soon learned that Doctor Kieron Gillen & Dan Mora had sold over 31,000 copies of the first printing to Once & Future #1 from Boom, all with just a single cover. Then came the juggernaut of then-not-Batman-writer James Tynion IV and Werther Dell'Edera's Something is Killing The Children #1 growing a ludicrous 170% at FOC to hit nearly 34,000 units of its first printing.
Both series have sold out of every subsequent printing of these issues (and the following issues too), putting Boom Studios on quite the hot streak – but like they say, you never forget your first time. And for Boom, the book that started it all was Faithless.
Six months may seem like a long time between Faithless series for some. On the other hand, Azzarello's Image series Moonshine took ten months off between arcs, so you could say that makes Boom the hare to Image's tortoise.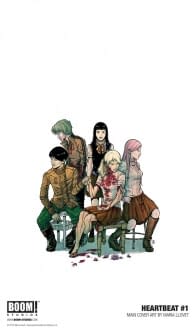 And fans don't have to wait till 2020 for their Faithless fix – artist Maria Llovet is launching a new series from Boom in November called Heartbeat, which gives us real Deadly Class vibes from that cover. Mixing high school, hormones and horror – the holy trinity of H words that have driven many a television hit on the CW – this book looks to channel much of the sexual energy and provocative storytelling that made Faithless a hit.
And if those Faithless readers all come back for Heartbeat, well…some retailers may not have enough copies on their hands. We know that every Boom Studios creator-owned launch is driving loads of speculator action but also attracting some loyal fans coming back after issue #1, so this series has all the makings of a sleeper hit.
And, remember, Boom! has had some issues getting enough copies of these new printings back in stores, which means that retailers may have to deal with some allocation if they don't order enough, as Filip Sablik has apologized for previously.
Catch up with more of our Retailer Breakfast coverage today with this handy-dandy tag.