Brian Bendis Locked in Desperate Struggle with Hackers as Crisis Enters 4th Hour
It seemed as though the world could finally breathe a huge sigh of relief Saturday as superstar comic book writer "The Great One" Brian Bendis had seemingly regained control of his Twitter account following a grueling three-hour ordeal wherein hackers captured the account and used it to post vague messages, Soundcloud links, and shoutouts to friends in the video gaming community. In retrospect, it was probably a poor choice for Bendis to use "SuckItQuesada" as his password, but hindsight is always 20/20, the saying goes.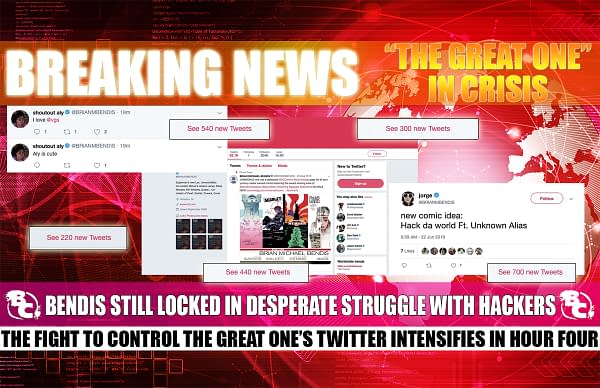 Hackers gained control of The Great One's account around 6:39 AM Pacific time, sending the comics community into panic after Bendis had seemingly changed his name to "Jorge" only to change it again just moments later to "Wyze is poor." It quickly became clear that this was not a stunt to promote an upcoming comic, and the writer's Twitter account really had become compromised by hackers while Bendis was likely still asleep in bed, dreaming about the next big DC Comics super-mega-crossover event he will write, Zero Hour 2: The Zeroest Hour.
Thankfully, by 10AM Pacific time, the terror seemed to be over, as Bendis had seemingly regained control of his account, changing his name back to Brian M. Bendis and removing the false profile photos, header images, and tweets from the account. However, not all evidence of the hack is gone, as the location of Bendis's profile is still listed as Honolulu instead of Portland, where Bendis resides. Additionally, Bendis appears to be engaged in an ongoing struggle with the hackers, as the "New Tweets" alert at the top his page has been dramatically increasing for the past 45 minutes, with hundreds of new tweets noted in the alerts but none actually making it to the profile. Presumably, "The Great One" is using all of the might in his thumbs to delete the tweets as soon as they appear, sweat pouring down his brow as he fights the battle of a lifetime, every bit as heroic as the fictional characters he writes in his comics.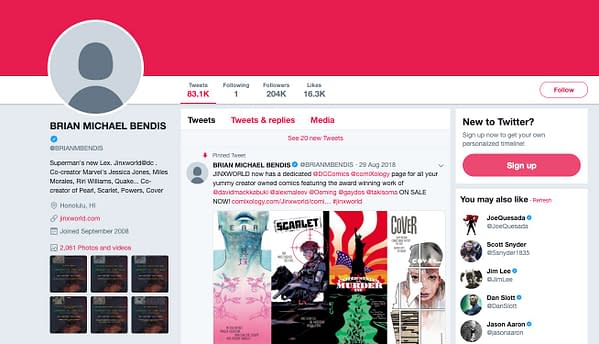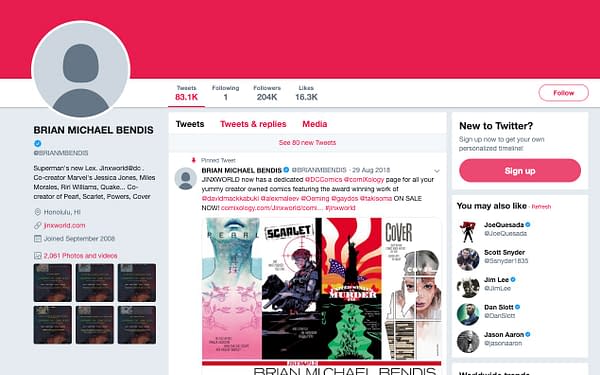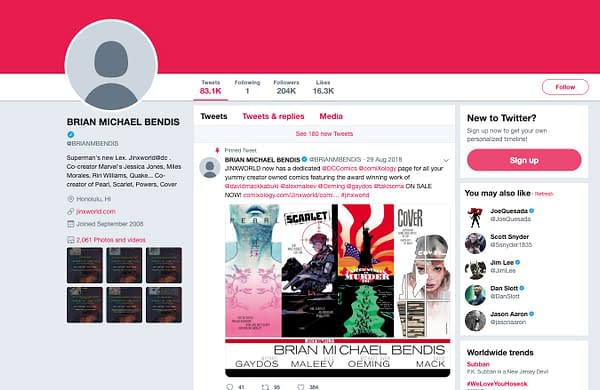 Godspeed, Great One.
Bleeding Cool will continue to monitor this situation and we totally aren't secretly hoping the hackers hack another high-profile comics pro next so we have something entertaining to write about, though, purely hypothetically, and we're definitely not advocating for this to happen, if someone did hack another high-profile comics pro, they should take the opportunity to unblock a certain Bleeding Cool writer from the comic book pro's account so we can exchange DMs and set up an EX-X-XCLUSIVE interview. Fellow comic book professionals are advised to remain on high alert as the hacker, or hackers, are still at large and could be looking for a new comic pro's Twitter to target for releasing rap videos about Bitcoin, which is ironically the exact premise of Gerry Duggan's upcoming creator-owned Image Comics series, or so we've heard.
We'll keep you posted, folks. We're pulling for you, Great One.