British Comic Creators React to Boris Johnson's Coronavirus Statement
Prime Minister of Great Britain and Northern Ireland, Boris Johnson MP, has just addressed the nation, telling us to stay alert, control the virus and plan to open up the country, in a very measured fashion. The government's motto "Stay at home, protect the NHS, save lives" has been replaced with: "Stay alert, control the virus, save lives". Easing of restrictions will also depend on the transmission rate for coronavirus remains less than R1 – so one infected person infects fewer than one other person. We got diagrams and equations. He talked about the importance of reverse epidemics in care homes and in NHS hospitals, as well as testing victims, tracing contacts, looking to hundreds of thousands of tests a day.
For the past 6 weeks Brits have been told to stay in their homes aside from taking one form of daily exercise, shopping for essential items, and going to work as a key worker.
Some restrictions will be eased as of Wednesday, such as people being permitted to take part in unlimited outdoor exercise and restart open-air sporting activities. People will also be permitted to sunbathe in local parks with other members of their household as long as they continue to abide by social distancing guidelines and remain at least two metres apart from people outside of their households. "You can sit in the sun in your local park, you can drive to other destinations, you can even play sports but only with members of your own household." A fine will be incurred for those who do not abide by these rules.
From tomorrow, anyone who can't work from home, such as those in construction and manufacturing, will be actively encouraged to return to work but the government advises people to avoid taking public transport possible, to drove to work, to walk or to cycle.nPrimary school children will begin to return to school from June 1st. "Our ambition is that secondary pupils facing exams next year will get at least some time with their teachers before the holidays," he added.
The government would "soon" release detailed guidance on how non-essential shops would reopen. No news on what that means for comic shops yet. Boris did however say that by July, subject to further scientific advice, he will hope to reopen "some of the hospitality industry and other public places, provided they are safe and enforce social distancing". However, "if we can't do it by those dates, and if the alert level won't allow it, we will simply wait and go on until we have got it right."
He will also address Parliament tomorrow and take questions from the public tomorrow evening. But might some British comic book creators have questions to ask that could, potentially be asked? Here's what they have been saying on social media.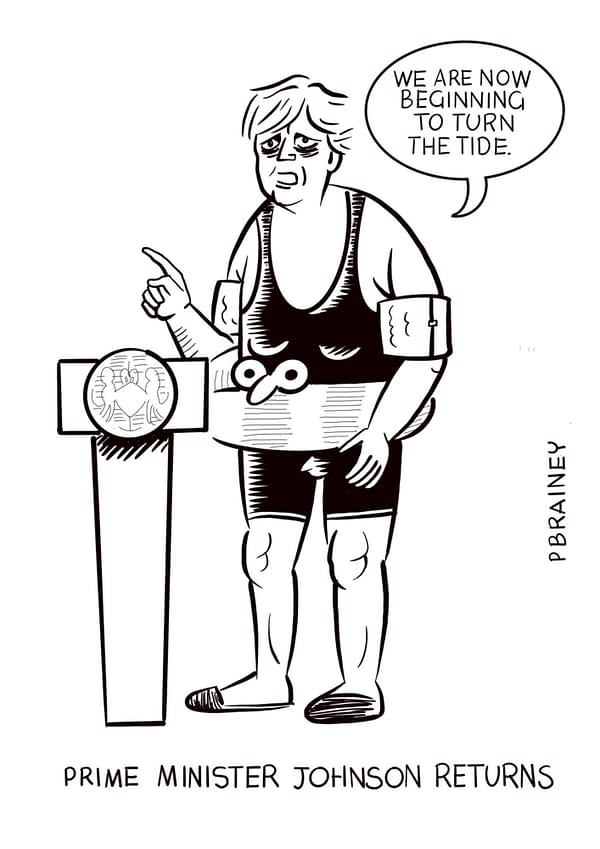 And you can catch up on how the current situation is affecting the comic book industry with this link. Here is Boris' address in full.