Bryan Edward Hill Hints at the Future of Batman and the Outsiders
Sometimes, a writer's longtime plans work out. Other times, not so much. Bryan Edward Hill took to the layer of hell known as Comic Book Twitter to speak his hopes into existence as he spoke about the possible future of Batman and the Outsiders. Known for the acclaimed indie series Postal from Top Cow and for being the bigger man in a one-sided beef with Black Lightning creator Tony Isabella, Brian Edward Hill is currently fourteen issues deep into his run on the Batman and Black Lightning-focused team book. When asked on Twitter what his plans were for the character of Duke Thomas, AKA the Signal, the writer replied with a promise, an explanation, and a plan.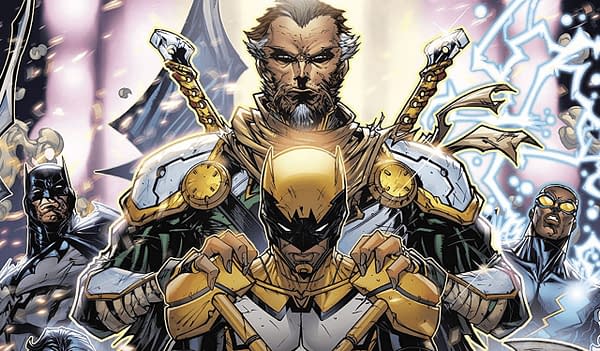 Bryan Edward Hill tweeted, of the possibility of writing a story about Duke's past:
If I have enough issues to get to it. Right now, I'm in "season one" of Batman and The Outsiders. "Season Two" is where I really put my Duke/Signal plans into action so if the book goes on, I promise I'll get there. I know Duke fans are irritated with me. I have a plan.

And frankly, because I'm a black writer, some of that irritation might be exponential. I get it. I do. I've set some things up with him that I have a plan to pay off. When I platform him, I want it to be integral to the whole arcplot, not just "service."
When a Twitter user, as Twitter users always do, took exception to Brian Edward Hill's use of the term "seasons" when it comes to comics, Hill did, in turn, what comics creators always do: reply to every negative tweet, no matter how silly the complaint.
The ever-patient Hill clarified:
"Seasons" in quotes because it's just an analogy. In truth, it's serialized storytelling with four issue arcs and one dominant arc plot across multiple trade-arcs with Levitz-principle arcplots shifting plot focus as they go. "Seasons" was easier to type.
In the world of mainstream comics, nothing is promised. As Dan DiDio's 5G seemingly falls apart and Batman runs that once were greenlit disappear into the night, it seems as if the future carries as much weight as a tweet. Bryan Edward Hill, king of cool heads and master of social media's rarest form of expression (the nuanced opinion), hopes to stay on Batman and the Outsiders long enough to explore the cast with depth and respect, making each character important to the core of the story. Will the writer get what he wants, or will it go the way of the Batman-that-never-was? Find out on the next "season" of Bleeding Cool.