Patrons of ubiquitous fast food restaurant Burger King in all the locations in St. Petersburg (and possibly other cities too) may see a familiar costume in an ad at the cash register. Who's that behind the cape-like curtain in the voting booth with the blue tights and the red boots?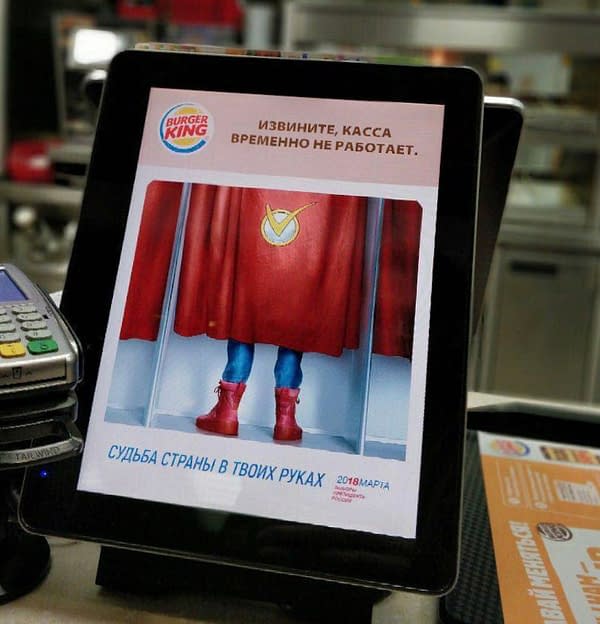 The photo was taken by popular Russian YouTube blogger Vika Kisimiaka, who explained to us that the ad is promoting Russia's Go and Vote campaign, which urges citizens to head to the polls and vote in the presidential election happening in March. The only problem is that many young people in Russia aren't planning to vote because they don't believe the election will be fair. Though the text of the ad claims that the "destiny of your state is in your hands," Vladimir Putin is certain to win no matter what.
We understand that Burger King in Russia currently has Justice League toys available with their meals and even play songs from the Justice League soundtrack in stores, so it would be understandable if some diners took the advertisement, which borrows heavily from Superman's style, as an endorsement of the voting campaign by Superman or DC Comics. An endorsement by Superman of Vladimir Putin? Maybe Putin is interested in funding that Red Son movie after all?
For Kisimiaka and other young Russians disturbed by the ad, like YouTube blogger KamikadzeDead, the question is whether Warner Bros. and DC comics knows that Superman's reputation is being used to promote an unfair election and how Russian geeks are supposed to feel about. We reached out to DC Comics for comment, but they did not respond.
Enjoyed this article? Share it!