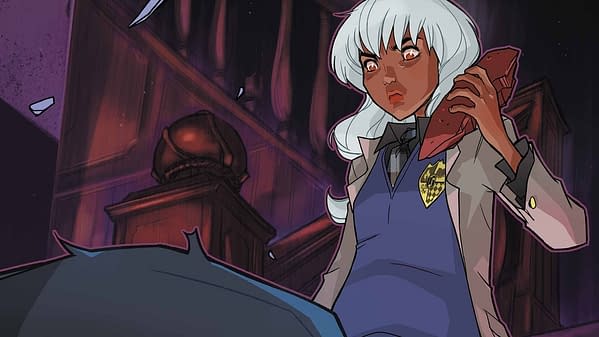 The bat is back in Gotham Academy #6 from DC Comics, written by Becky Cloonan and Brenden Fletcher, with art by Karl Kerschl. Normally, we are used to characters feeling at ease when Batman comes around, but not in this case. Olive is the opposite of comforted by Batman showing up, and as he attempts to capture Killer Croc, things get crazy. There are a lot of pivotal moments throughout this issue. Between the explosive opening scenes with Batman, and the captivating history of Killer Croc and Olive's mother, trust me, your eyes will be glued to the page. And that's only the first half of the issue!
I think what makes this story so enjoyable for me is, Gotham is a place that feels like home to many of us. Despite all the chaos, and the general doom and gloom feel, we can identify with it. Gotham Academy shines new light on the familiar. Over the past six issues, we have met a new cast of characters that already feel like family to me. I've become so connected to Olive's character, and that's due to the fact that Becky Cloonan and Brenden Fletcher are a duo of dynamite writers. They know how to keep our interest, make our hearts race, and emotionally connect us to the characters. Great writing in combination with Kerschl's original, detailed art is priceless.
There is often a lot of serious, suspenseful content in the comic, but you can almost always count on a bit of silly relief. For example, we get a peek into the Friday all you can eat pizza bar in the cafeteria. I don't know about you, but seeing Maps chow down on a hot cheesy piece of pizza made my mouth water. Scenes like this remind us that at the end of the day, this is about a group of kids. They feel the same way we all do, and are just very lucky to attend a school as awesome as Gotham Academy. The end of this issue wraps up some of the mystery that we've been trying to figure out thus far, but leads to something even more interesting. Now, even though I know pictures of a particular character that will be joining Gotham Academy have been shown recently, I won't spoil it for those of you that don't know yet. Overall, this was an incredible issue, and I look forward to issue #7's release in June!
Christine Marie is a Staff Writer at Bleeding Cool, and bibliomaniac with a love for all things creative. She hopes to one day be a Superhero/Disney Princess/Novelist. You can find her on Twitter and Instagram @AWritersWay or on her blog writerchristinemarie.wordpress.com.
Enjoyed this article? Share it!