Cartoonists Speak Out Against SodaStream Sponsorship Of Angoulême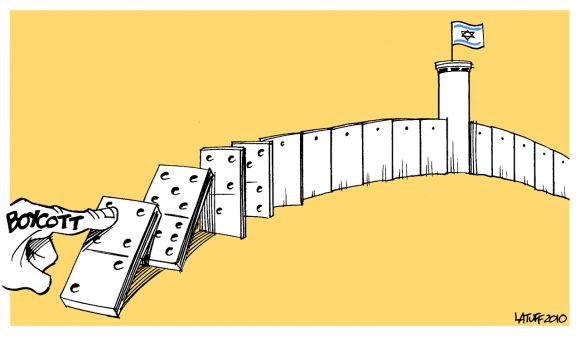 One of the official sponsors of this year's Angoulême comic festival is SodaStream, a company under considerable PR pressure over its factory built in Israeli illegally occupied land in Maale Adumim, to the east of Jerusalem. Though the factory management point out that they employ hundred of Palestinians on equal pegging with their Israeli counterparts, who would lose their jobs if the company closed it down.
A number of cartoonists from France, the USA, and the rest of the world have written a letter to the organisers of Angoulême, including political comic book reporter, Joe Sacco, a man aware of the politics at hand more than most.
The English version of the letter reads,
We, cartoonists and illustrators from all countries, are surprised, disappointed and angry to find out that SodaStream is an official sponsor of the Angoulême International Comics Festival.

As you must know, SodaStream is the target of an international boycott call for its contribution to the colonization of Palestinian land, due to its factory in the illegal settlement of Ma'ale Adumim, its exploitation of Palestinian workers, and its theft of Palestinian resources, in violation of international law and contravening international principles of human rights.

Angoulême has had an important role in the appreciation of comics as an art form for over 40 years. It would be sad if SodaStream were able to use this event to whitewash their crimes.

We ask you to cut all ties between the Festival and this shameful company.

Sincerely,
Khalid Albaih (Sudan)
Leila Abdul Razzaq (USA)
Avoine (France)
Edd Baldry (UK/France)
Edmond Baudoin (France)
Steve Brodner (USA)
Berth (France)
Susie Cagle (USA)
Sue Coe (USA)
Gianluca Costantini (Italy)
Jennifer Camper (USA)
Carali (France)
Chimulus (France)
Jean-Luc Coudray (France)
Philippe Coudray (France)
Marguerite Dabaie (USA)
Eric Drooker (USA)
Elchicotriste (Spain)
Jenny Gonzalez-Blitz (USA)
Ethan Heitner (USA)
Paula Hewitt Amram (USA)
Hatem Imam (Lebanon)
Jiho (France)
Ben Katchor (USA)
Mazen Kerbaj (Lebanon)
Lolo Krokaga (France)
Nat Krokaga (France)
Peter Kuper (USA)
Carlos Latuff (Brazil)
Lasserpe (France)
Lerouge (France)
Matt Madden (USA/France)
Mric (France)
Barrack Rima (Lebanon/Belgium)
James Romberger (USA)
Puig Rosado (France)
Mohammad Saba'aneh (Palestine)
Joe Sacco (USA)
Malik Sajad (Kashmir)
Amitai Sandy (Israel)
Siné (France)
Seth Tobocman (USA)
Eli Valley (USA)
Willis From Tunis (Tunisie/France)
Jordan Worley (USA)

Hilary Allison (USA)

Luigi Filippelli (Italy)

Nicole Burton (Canada)

Pino Creanza (Italy)

Marty Qatani (USA)

Dan Carino (USA)

Faujour (France)

Sarah Glidden (USA)

Dan Archer (USA)

Daniel Wernëck (Braxil)

Katie Miranda (USA)

Sean Ford (USA)

Jacques Tardi (France)

Dominique Grange (France)

Maximilien Le Roy (France)

Rym Mokhtari (Algérie), Carlo Benini (Italy)

Rosalba Ambrico (Italy)

Sofiane Belaskri (

Algeria

)

Faiza Benaouda

Shane Patrick Boyle (USA)

Seoud Messadi, Redouane Assari

(Algeria)

Pasquale "Squaz" Todisco (Italy)

David "Diavù" Vecchiato (Italy)

Faujour (France)

Marcel de la Gare (France)

Naïm Boukir (

Algérie

)

Sarah Khoury (Italy)

Derrouazin Alla Eddine
The authors of the letter also point out that Jacques Tardi has joined the list, but French media have reported that Bondoux has declined. The authors are calling for more artists to sign and prevent SodaStream from sponsoring next year's festival.
Cartoon by Carlos Latuff.