Catch As Catch Can: Livewire, Xena Warrior Princess, Dear Justice League, and Ignited
I read a couple more comics and realized I didn't have 300 words in me about each of them, but together, I do have 300 words total. Vita Ayala wrote two of these comics, Livewire volume 1 from Valiant and Xena #1 from Dynamite.
Livewire v1: This one I didn't feel any attachment to. I like the idea of keeping Raul Allen/Patricia Martín team on a single set of characters, (ie: Livewire and the Secret Weapons group) but the execution leaves much to be desired. The fight/conversation with the new villain takes way too long, the private military contractor sounded off to me (but then again, when's the last time I listened to a PMC employee speak?), and I didn't like the sidelining of the Secret Weapons team.
Xena: Warrior Princess #1: Aside from a couple pages from Olympia Sweetman and Rebecca Nalty that could've used a little more backgrounds, and a final panel that told the reader the writer's proud of herself, a good first issue. I must've seen an episode or two of Xena, but I can't recall anything about it, so going into the issue functionally fresh I can say I now understand Xena and the world quite confidently. I look forward to issue 2.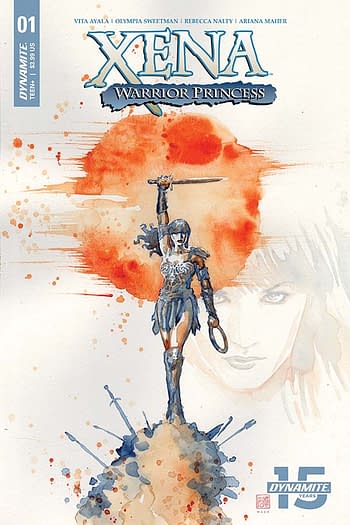 FCBD Dear Justice League: Gustavo Duarte's really good. Putting him on a YA title makes a lot of sense, and it'll be there that his talents for exaggeration and precise linework can flourish. Not much to say about Michael Northrop's story except that it's cute. If the whole book is as good as the two chapters, it'll charm me fully for sure.
FCBD H1 Ignition (Humanoids): It reads like another "superheroes, but in real life" comic. It's Humanoids, so it looks good. But I've read too many of these in my life. Unfortunately, there's quite a few of these, and in this case, H1 looks like it's well-researched. Mark Waid took his time thinking about it and Phil Briones turns in good pages. The comic mentions Kwanza Osajefyo as a co-writer, though he's not on the credits page.