Posted in: Comics, san diego comic con | Tagged: Aaron Lopresti, barbara kaalberg, chris ulm, dave olbrich, jc vaughn, Malibu Comics, mantra, rick hoberg, rob liefeld, robert mcginty, ross richie, sludge, terry dodson, the strangers, Tom Mason, ultraverse
---
Celebrating the Ultraverse: 25th Anniversary Panel at SDCC
Words and Photos courtesy of Bleeding Cool's Mike Sangregorio:
Friday night saw a panel that took a look back at the origins of Malibu Comics' Ultraverse, from its comics and creators to the effect it had on the industry. It was moderated by author JC Vaughn and included various alum as panelists: Publisher Dave Olbrich; Editor-in-Chief Chris Ulm; Rick Hoberg, artist of The Strangers; Terry Dodson, artist of Mantra; Aaron Lopresti, artist of Sludge; inker Barbara Kaalberg; Ross Richie, founder of Boom! (who worked in the marketing department); Director of Marketing Tom Mason; and Ultraverse superfan Robert McGinty.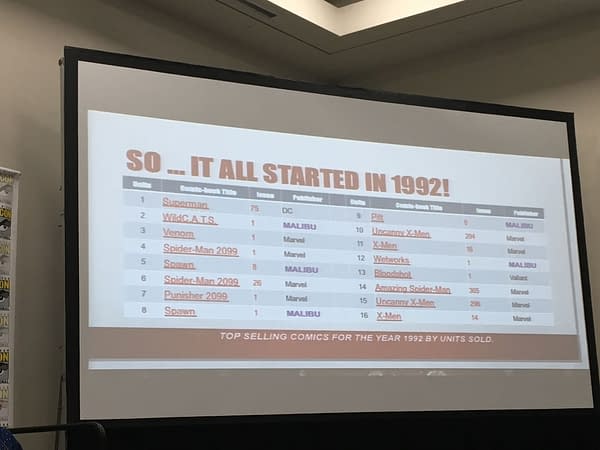 Ultraverse published 30 titles a month for five years without a break. Prior to Ultraverse there were many licensed works from Malibu and some non-licensed fan favorite titles such as Dinosaurs for Hire and a title called Walking Dead, unrelated to the later Image comic. Malibu also published the Men in Black comic which was adapted into the successful film series.
Olbrich has known Rob Liefeld since the latter was a teenager and remembers seeing the pitch for what would become Youngblood at some point during the 1980s. He mentions that there were plans to work with the creator before he found success working on mainstream titles such as DC's Hawk & Dove. Malibu's original plan was to publish the Image titles created by the founders who had left the Big Two. Olbrich added that the Image creators wanted to control all aspects of their operations and ultimately decided not to work with Malibu in that capacity. This hole created the perfect opportunity to launch a new superhero line that had been created from the ground up.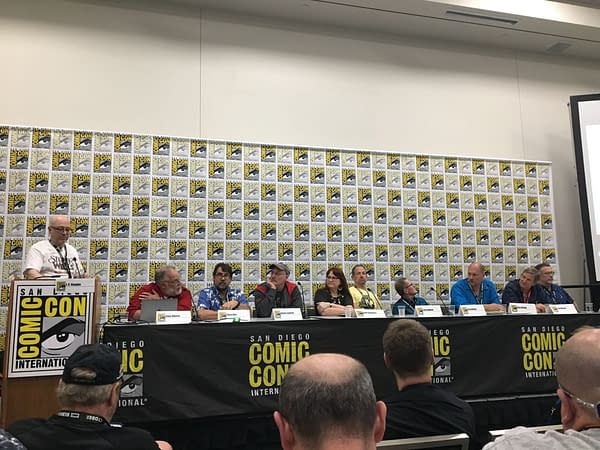 Ulm remembers that Ultraverse was meant to be "a writer-driven universe." Several established writers were recruited, including Steve Gerber, Steve Englehart, and novelist Larry Niven. Richie remembers that "Gerber was such a tremendous man" though those in attendance agreed that he was routinely late with scripts. Niven crafted the mythology of the in-story world which stemmed from a massive cosmic structure known as the Godwheel.
Of the creators themselves Mason recalls that "they all got along but they all disagreed." When story details were being hammered out there would be tremendous fights and arguments, driven by passion for certain ideas, but this never affected how the creators dealt with each other outside of the work environment.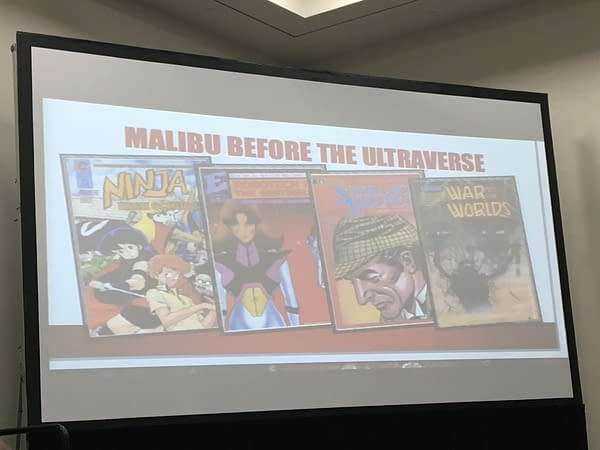 Ulm remembers that all involved met in a hotel room for a weekend to outline the initial titles. Partway through he tripped on a cord and accidentally dropped his early model laptop, on which he had been recording all of the notes. This resulted in him having to use a variety of notepads for the remainder of the weekend.
This use of technology in the early 1990s was not unique, and all in attendance remember Malibu as a comparatively high-tech company. All involved had email access, before the majority in the industry, and Ulm remembers at least one time when Gerber sent a script as a compressed file, which unfortunately was not delivered.
The line launched with three titles. Prime, the superhero similar to Fawcett's Captain Marvel; Hardcase (later featured in the Ultraforce cartoon); and team book The Strangers. Others that were pitched, either as stars or supporting characters included the Drunk Magician. The drunker he got the more powerful he got, though he often became so drunk that he could not control his powers. He was a creation of Gerber and Engelhart and "easily the most memorable of those not seen on the page."
Another character which was agreed upon from the beginning was the Night Man, who later starred in his own live-action television series.
Malibu had had a superhero title, The Protectors, prior to the Ultraverse, and it was decided that a few characters, scheduled to appear there, would be folded into the Ultraverse launch. This included a team known as the Exiles whose creation preceded the Ultraverse but who ultimately made their appearance in a series where all members were killed in issue four. It was Gerber's idea that "we should kill someone. Make them really dead. And have it never be mentioned again." Richie and Mason recounted how further issues were solicited, to keep the surprise a secret to everyone, even though there had never been any intention to produce them.
This type of new marketing was common with the Ultraverse who made up for their comparatively meager resources, and status as the newcomer, by trying a variety of things that were not being done in the industry at that time. This included television commercials, one of which featured Ulm as a comic shop employee:
There are also print advertisements on bus benches and in bus stops. Many of these were particularly targeted to be outside the offices of Marvel and DC. The marketing team would often find out the capabilities of their printer and work backwards from there. Any gimmick that could be applied to their books to set them apart from the competition would be considered.
In response to Marvel having hologram covers, the Ultraverse had first issues of which the entire cover was one single hologram. These were retailer incentives that Richie remembers distributing at early conventions to retailers who had supported Ultraverse and also those he was trying to court. These had to be printed in different layers, with foreground, middleground, and background all requiring different art.
As for the art of the titles, Darick Robertson worked on many of the original designs. Lopresti remembers that he while he was offered Hardcase, an issue that sold several hundred thousand copies in its early days, he pushed to work on Sludge (with Gerber) instead due to the monster comic feel being more in line with his passions and work product. Sludge sold far fewer, and Lopresti had to pen a few scripts himself when Gerber could not meet his deadlines.
Dodson recalls this being his first regular work in the industry and remains grateful for the chance that was taken on him and the freedom he was granted on the titles he worked on. Regarding Prime, Olbrich's original intent was to have Alan Davis work on it. The celebrated British creator told him that he would be retiring and was not interested. This retirement lasted only months. Norm Breyfogle worked on the title and, according to Olbrich, "defined the character."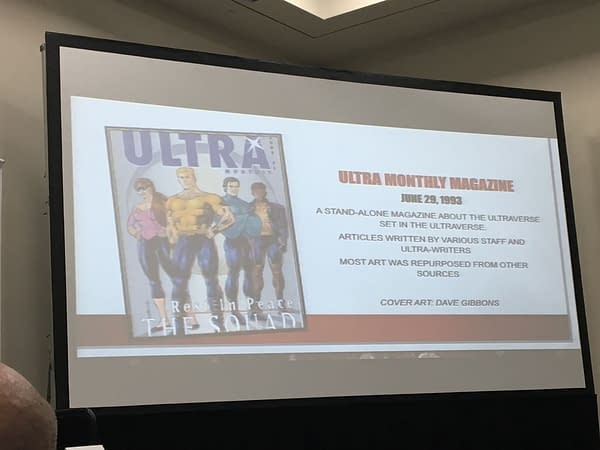 McGinty was happy to exclaim that his love for Ultraverse comics stemmed from when he "bought my first one in 1992 and my latest one today." He said that these titles had a West Coast feel both due to the fact that the action was not set in New York, as many other superhero comics were. They were a bit more free-spirited, and you could rarely know what to expect.
Ultraverse comics often had Ashcan editions that were given to retailers as previews for the upcoming titles. Richie reminded the audience that in the pre-internet days these low-cost comics (which had originally been used primarily to secure copyrights) were effective.
Another issue the line faced was timing in that all operations and release dates had to be moved up by weeks due to competitor Dark Horse announcing its Comics' Greatest World line (a shared universe that most notably produced Ghost and Barb Wire).
The Ultra Monthly Magazine was an advertisement catalog and fanzine that was produced as being from the point of view of a spectator within the Ultraverse universe. Ulm described it as a cross between a newspaper and People Magazine. The Malibu Sun was a solicitations and retailer magazine.
Other items from the early days included Walter Simonson having designed Freex. The first cover was shown and Olbrich remarked that the 'X' in the title was covered "by some energy blast, when that letter was probably the most valuable part."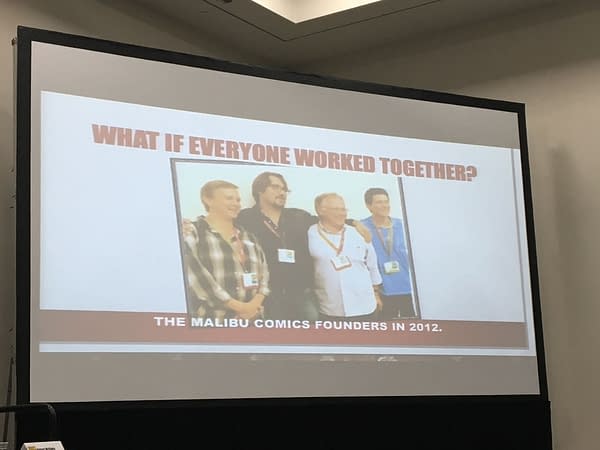 The character of Prototype, another future Ultraforce member, was originally called the Company Man. His pitch was that a corporation owned a superhero 100% and the series would explore what they would use them for (e.g. espionage, protection).
Throughout the entire panel there was energy and enthusiasm, and everyone seemed to still get along very well. Vaughn credits his own writing career in part to the passion he has for stories he learned while reading Ultraverse comics. When he asked every person in the audience who had something to do with the Ultraverse on a professional level to stand up, there were numerous people who did.
As for the line's later years and demise (the panel was running late and had to speed up toward the end) all in attendance agreed that "it all went south when Marvel took over." One of the last pieces of artwork shown was that of the Marvel characters meeting those of the Ultraverse, which occurred after Marvel bought Malibu Comics. No one in the audience seemed happy to see this.
---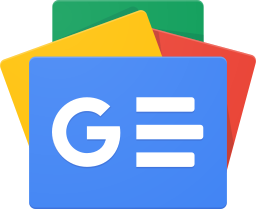 Stay up-to-date and support the site by following Bleeding Cool on Google News today!